BY TRACEY MacKENZIE
Today's kitchens have relatively few pieces of furniture in them. Central islands have assumed the starring role once played by tables. That's why it's important to carefully select the few pieces of furniture that we do add to our kitchens. Read on for guidance on where to find fabulous chairs, counter stools, benches, lighting fixtures and drinks cabinets to enhance your kitchen.


BENCHED
The Linea bench, crafted of suar wood, is unique because each piece of wood differs from the others. It's perfect alone or teamed up with a dining table as seating. $799. Available at Artemano.
HAVE A SEAT
The Vig barstool with its Scandinavian design will add a streamlined look to your kitchen. Angled walnut legs combined with a black lacquered seat make eating at the counter a pleasure. $349. Available
at BoConcept.
LIGHT LINES
Be the perfect host by serving your guests drinks from the Line wine bar, designed by Singaporean designer Nathan Yong. It has space for 24 bottles of wine along with two storage racks for stemware, an open cubby, and two drawers with leather pulls. Available from Design Within Reach.
HEAVENLY CONSTELLATION
Like a cluster of stars, the Ellio pendant lamp's glass globes seem to float above their metallic frame, casting a soft glow. $699. Available at Mobilia.
AROUND THE GLOBE
The Globe pendant light from BoConcept is a Modernist's dream. With its acrylic globe and futuristic design, it's an eye-catcher and a conversation piece. $3,619. Available at BoConcept.
CURVACEOUS COMFORT
The Caddell dining room chair, shown here in Cinnamon, is available in a multitude of colours and fabrics. Its barrel seat and dipped arms make it ideal for long evenings at the table with friends. Available at Anthropologie.
TIMELESS TROLLEY
Designed in 1952, the iconic Møller Trolley has been brought back into production. Made of hand-polished walnut, it doubles as a bar or serving table. It's all about timeless design, combined with superior craftsmanship. Available at Design Within Reach.
VELVET VOGUE
The Zolna chair is available in many colours and fabrics. Shown here in turquoise velvet, it's a comfortable addition to the kitchen or dining room. Available at Anthropologie.
ETERNALLY EAMES
The Eames stool by Herman Miller is part of the Eames molded shell collection (1950-2015) that was originally designed nearly seven decades ago. Still a favourite today, this stool bestows a touch of Modernist elegance to a kitchen island. Available at Design Within Reach.
BOLD AND BRASSY
A wire-brushed wood finish in black, combined with brass legs, make the Oscuro cabinet a must-have. This modern cabinet features two swinging doors and a removable wine rack for added space. Available at Article.
COOL CREDENZA
The Envelo sideboard is encased in brilliant white lacquer. Its walnut doors and drawers are equipped with stylish leather pulls. Available at Article.
GREAT SHADE OF GREY
A sculptural forged-iron look, combined with a wooden seat, gives this adjustable stool an industrial look of yesteryear. Available at Bouclair.
PENDANT POWER
The Grain pendant is hand-turned, making it unique. Crafted from solid wood, its natural look comes from an oil finish. It's powered by a LED light bulb for energy-efficiency. Available at Room & Board.
RED ALERT
The Caprice dining chair adds a wow factor to the kitchen or dining room. Reminiscent of the best of 1960s design, its shape is enhanced by its bold colour and glossy, durable seat. Choose from a chrome, white, grey or matching painted steel base. These chairs are also stackable. Available at Room & Board
GILDED GEOMETRY
The Neiva pendant is a study in intricate geometry. It boasts a complex design and bronze tones, and requires one 150-watt halogen bulb. $359. Available at Mobilia.
MARBLE MUST-HAVE
The Seaford pedestal dining table is as simple as it is lovely. A white marble top is inset into a polished brass ring, which sits on a brass-plated stainless-steel base. Perfect for a kitchen alcove or small dining room, it comfortably seats four but fits up to six. Available at Anthropologie.
DIVINE DIVAN FOR DINING
The Ava leather bench makes an interesting change from dining chairs. Plush upholstery, combined with tapered legs, makes this seating elegant enough for the dining room. Also at home in an entryway or foyer, it's available in a variety of colours and can also be custom-made. Available at Room & Board.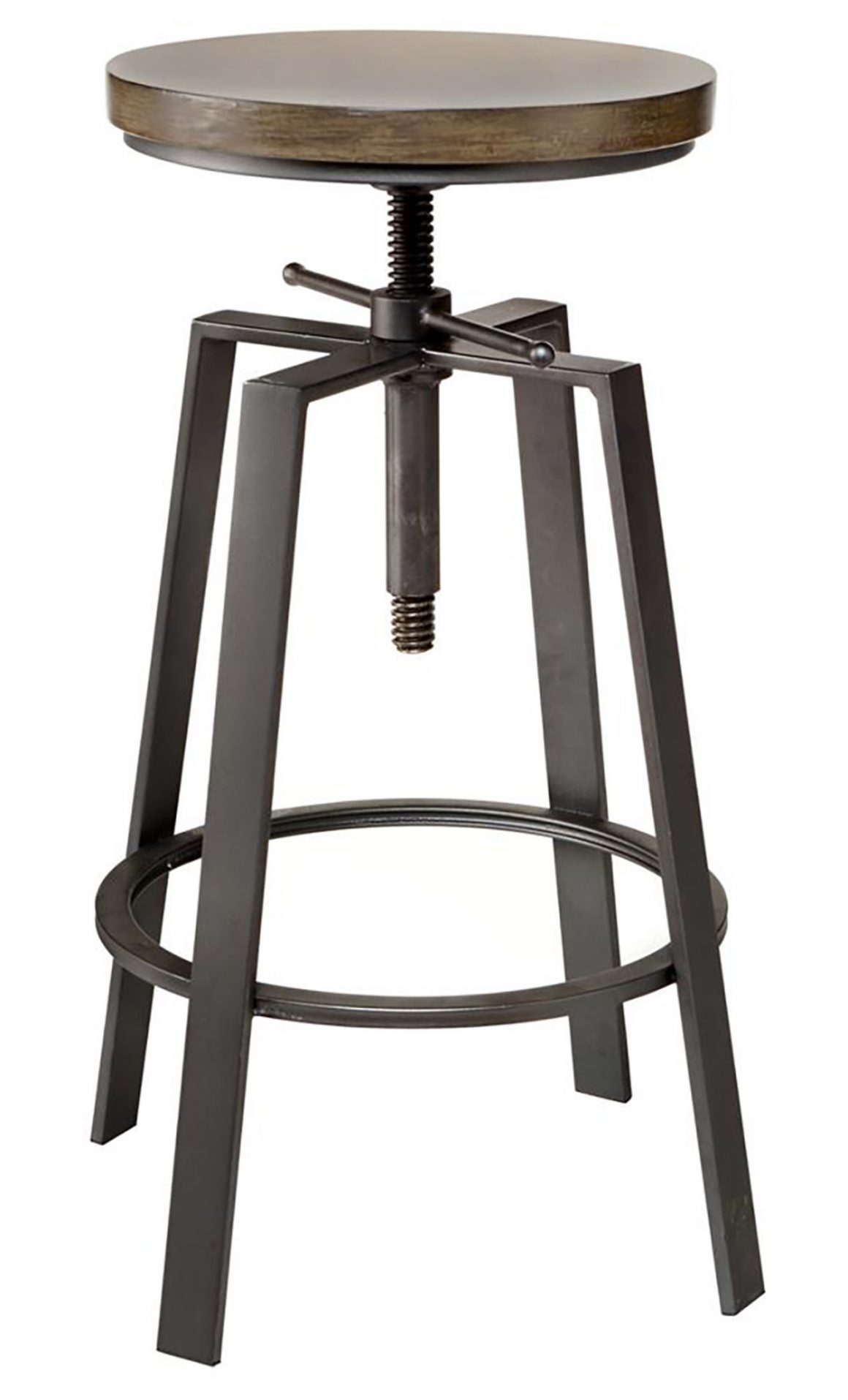 SWIVEL AND SWIRL
Its simplicity gives this wood and metal bar stool a vintage look that puts it right at home in a log cabin or contemporary home. It boasts an adjustable steel base, footrest and smooth wooden seat. Available at Bouclair.
SPACE AGE
More than just a pendant light, the Astra chandelier is a strong conversation piece. Available in both silver and brass finishes, this Mid-century Modern-style fixture has a '60s vibe. Available at Anthropologie.
RETRO REVIVAL
The Sareen buffet is the perfect blend of Mid-century Modern hipness and modern, sleek design. A walnut veneer frame surrounds a matte grey body, making it perfect for the living room, dining room, or office. $899. Available at Mobilia.
BANKING ON BANQUETTE BEAUTY
The Elowen banquette is upholstered in plush velvet, and has brass legs that are reminiscent of an Italian classic. Use it in the dining room for comfy seating. It also features two brass handles for easy lifting. Available at Anthropologie.
COOL STOOL
The Collins stool with its leather seat is versatile and functional. The seat is available in white, grey or black leather but the base is available in a multitude of colours for those who want to make a statement or add a touch of whimsy to their decor. In counter, bar and low heights. Available at Room & Board.
FORM AND FUNCTION
The Pike chair is not only functional and stylish, but comfortable too. Its molded plywood seat offers comfort and support during lengthy conversations, and the tapered legs make it attractive enough for both kitchen and dining room. Available at Room & Board
SPIN CYCLE
The Jamaica barstool from Knoll was designed by renowned Spanish designer Pepe Cortes. The contoured seat, which spins 360 degrees, rests atop tapered tubular legs. The perfect perch for a kitchen island. Available at Knoll.