Colour has become a delightful design element in kitchens in recent years. Cabinetry colours range from vibrant reds and oranges to cool blues and soft greens. Here's a sampling of some of our favourite colourful kitchens.
* Bold blue
The owners of this kitchen in Newcastle, Ontario, were planning to install white cabinetry but were shown how special colour can be. The kitchen was designed by Frankie Castro, creative director of Square Footage in Ajax. She extended the space from its original 280 square feet to 450 by removing a wall to the adjacent dining room. She also chose an unusual tile for the backsplash, which was the inspiration for the rest of the room's colour scheme, including the blue cabinetry.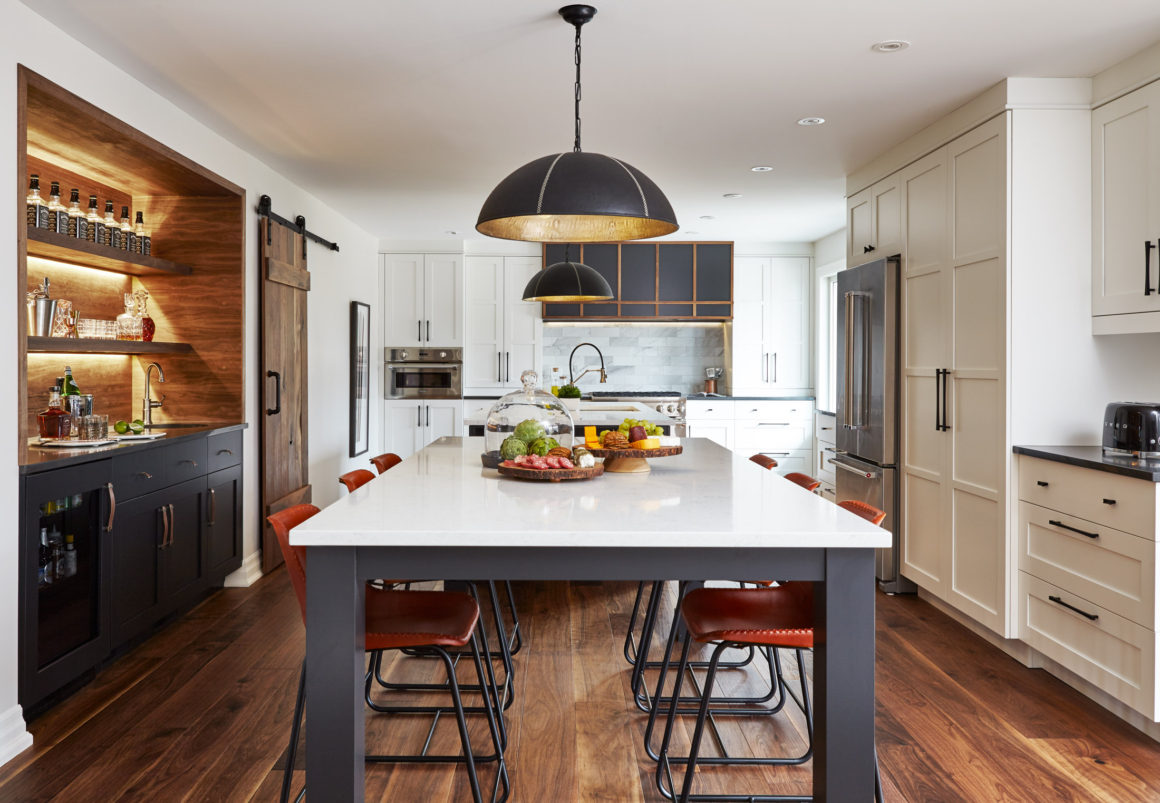 * Warm touches
A splash of red captures attention in this Oshawa, Ontario kitchen. The leather counter stools from CB2 are in warm contrast to the white cabinets and countertops, and the slate colour of the island and range hood. Designed by Frankie Castro, creative director, Square Footage in Ajax.
* Hot stuff
This vibrant kitchen was created by Vanja Santic and Dario Drinovac of ROOM8, a Vancouver interior design company that specializes in custom Italian kitchens and millwork. There's plenty of counter space—great for entertaining—and the cabinetry 's orange colour bestows warmth.
* Fabulous farmhouse style
We love this kitchen in Newmarket, Ontario that has a cozy farmhouse vibe. Designed by Barbara Milner, a Toronto-based designer and realtor, it boasts smoky blue cabinetry and a delightful breakfast nook along the window wall. Milner chose wood-and-iron chairs that can be pulled up alongside the table, with matching stools tucked under the stone island. The floor is white oak.
* Pull up a chair
In this Toronto kitchen, created by Downsview Design Centre, colour is used strategically on chairs and counter stools. The homeowners also asked their designer, Elianna Diamond, for blue countertops. It's not a common must-have, so it required some research. Diamond came up with this light stone surface: quartzite with intricate white veining. It is also used on the backsplash behind the range and along the wall in the bar area.
* Traditional tones
Homeowner/designer Vanessa Ferro and her friend Hali Gallerno, senior designer and project manager at Bloomsbury Fine Cabinetry, collaborated on the creation of this lovely traditional-style kitchen in King Township, Ontario. A subtle minty colour was used on the cabinetry, and the overall design was described as "English country manor meets Parisian bistro."

Says Gallerno: "This kitchen was meant to look like a collection of beautiful things rather than completely new." •