A virtual-grid shower door may sound ephemeral, but it marks a very real innovation, says Samantha Bock, marketing director at Fleurco, a Montreal-based company that has designed and made shower doors for more than 50 years. "Our new Latitude line provides the very au courant look of a grid shower door with none of the inconvenience," she says.
The design excitement over grid shower doors is going full steam in 2019. It's a fresh new take, with most versions involving a web of solid-aluminum framing around glass. Striking to the eye, but the numerous panes make cleaning labour-intensive. Plus, the frame's many corners and ledges allow soap residue, mould and bacteria to accumulate.
Fleurco's Latitude virtual-grid shower doors, launching in early spring 2019, offer an ingenious solution. The illusion of a grid is created by silk-screening the image onto one thin pane of tempered glass, placing another one on top, and fusing them together. "That way, there is really only a solid pane of glass," says Bock. "And because it is coated with our exclusive Microtek finish, water forms beads on the glass, which are easy to squeegee off."
Like all Fleurco shower products, Latitude doors are easy to install. And it is possible to create various configurations. Ideas and specifications are on the company's new website, www.fleurco.com.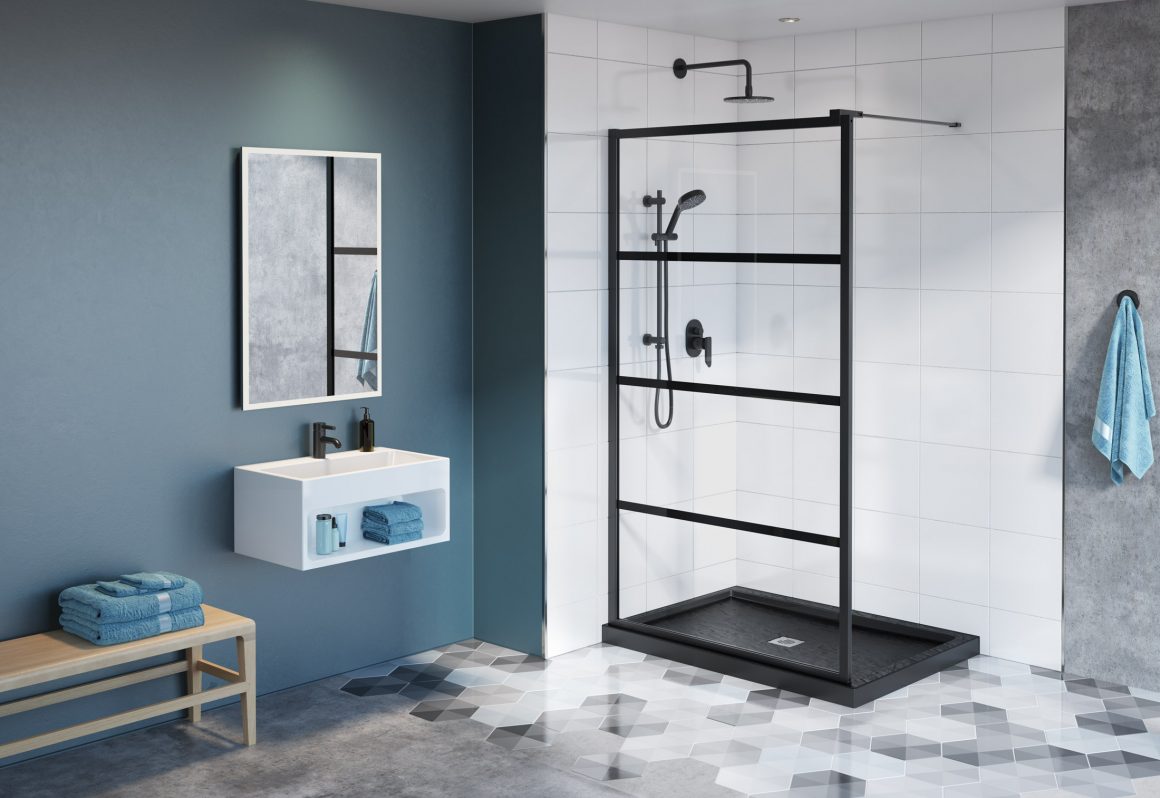 Latitude virtual-grid shower doors are framed in solid aluminum with a special matte black coating. The 79-inch-tall panels slide open and closed along an unobtrusive hidden rolling track. A simple and sleek vertical handle keeps the look clean and contemporary. And each door is protected by the company's 10-year limited warranty.
Fleurco's new line is designed to add a distinctive accent to bathrooms with either classic or contemporary decor. The look of the virtual-grid shower doors is urban and edgy, yet slightly retro. Because of this, designers are also adding them to Art Deco-style bathrooms. And many also find that they complement bathrooms that have a modern-industrial look, coordinating beautifully with natural wood and marble accents. 
To stylishly complete the look of a new virtual-grid shower door, Bock suggests pairing it with Fleurco's Aurora shower base. Made of marble-resin, these durable bases have a natural-looking textured finish that emulates wood, slate or stone. "And it comes in a matte black colour that perfectly matches that of the Latitude shower doors," she says. •


Fleurco
www.fleurco.com