PHOTOGRAPHY: COLIN PERRY
STYLING: NEGAR REIHANI
They were retired, but downsizing was not an option for the owners of this North Vancouver three-storey home. There would be no two-bedroom condo for them.
They commissioned a new single-family house with one-third more living space than they'd had previously for a total of 6,500 square feet. The blueprints called for three bedrooms on the second floor and another three in the basement.
"They wanted plenty of space so their three grown children and grandchildren could feel free to visit and would want to hang out," explains interior designer Negar Reihani, owner of Space Harmony, whom the owners called upon to complete the home's interiors.
The couple wanted to live large when it came to the decor, too. Having tired of their former traditional and classic style, they instructed their designer to give every inch of the new home a contemporary and West Coast edge.
Such an approach relies on incorporating natural elements, especially stone and wood. Reihani began by suggesting bleached, wire-brushed engineered oak flooring throughout, keeping the wall colour marshmallow white. In high contrast, a darker-toned wenge wood veneer was used on cabinetry in the kitchen and in the home's five bathrooms.
"In a large home like this one, combining different wood tones can add warmth to the space in a very inviting and chic way as long as you know how to mix and match them," she says.
Against the kitchen's rich brown cabinetry, a mammoth 16-foot-long island makes a strong contemporary statement. Topped with white quartz and with a waterfall edge on both sides, it can easily seat all the grandchildren at once for breakfast. Solid sheets of white back-painted glass serve
as a modern-looking backsplash, and the lack of grout lines assures easy maintenance, another must-have. Off it lies a small family room with a TV and over-sized sectional for lounging.
Early in the design process, the owners discovered they were unwilling to make as dramatic a break from the past as they had thought. So many items with sentimental value just couldn't be discarded – from prized antiques, such as 18th-century French decorative vases to memorabilia collected during their travels. Reihani proposed adjusting the design approach.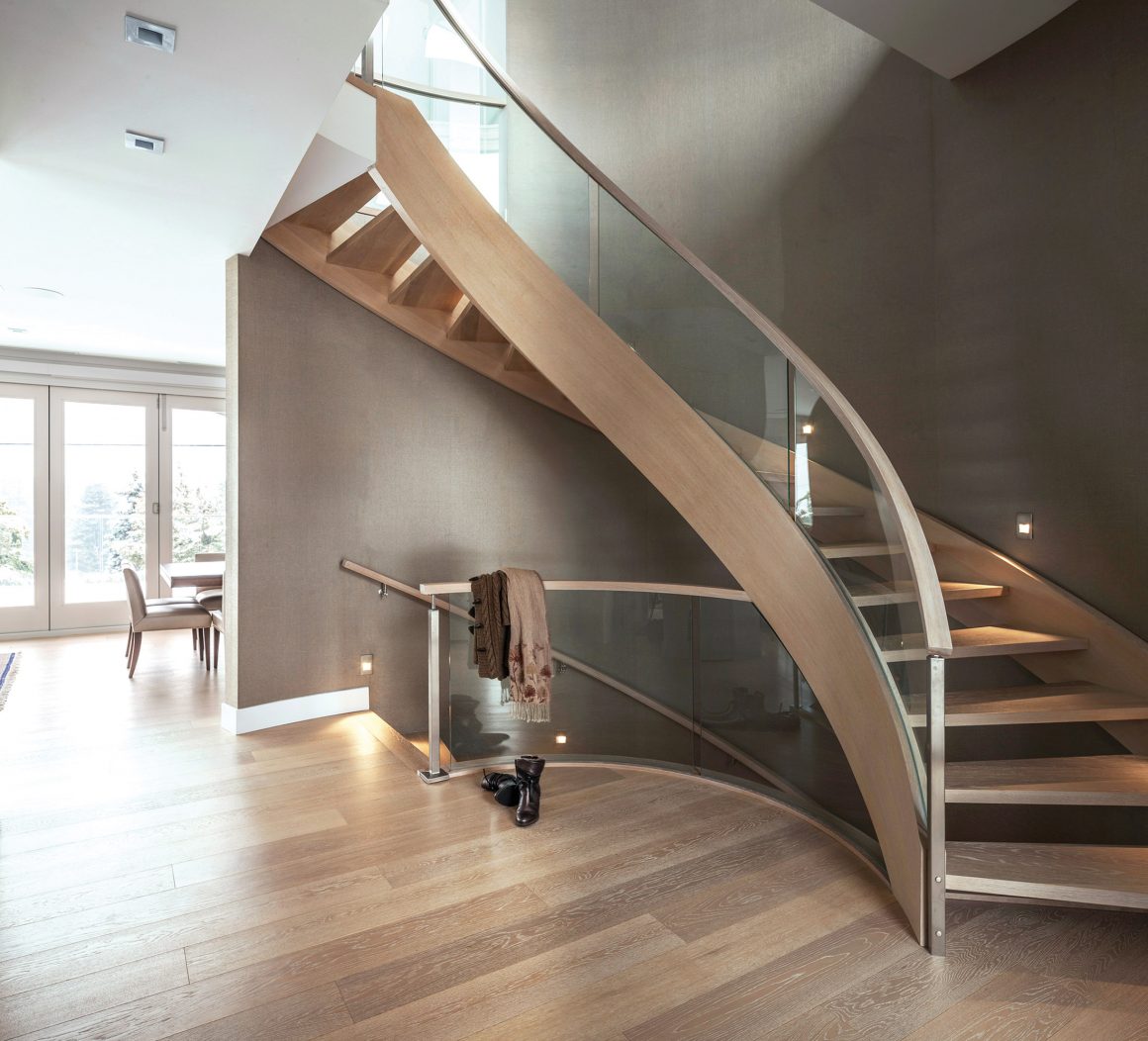 "In order to make the more traditional keepsakes blend, we went with very simple and clean lines everywhere as a backdrop," she says. "So when they introduced their more ornate pieces, there would be a nice balance."
In the open-concept main floor, for instance, the dining area is defined by a large chandelier. It has a contemporary look, but is crafted from the traditional materials that the owners favour: crystal and brass accents. The square table under it says contemporary, yet the owners' gold-trimmed antique china set does not look out of place.
A prized Persian carpet enjoys pride of place in the living room. On it, two identical ivory sofas in a transitional style face each other, a placement that looks uncluttered and modern, the designer says. Reihani picked up on pink and peach tones in the rug to highlight the accessories. The room's focal point, an elegant gas fireplace, takes on a contemporary edge with a long and linear look, while the Cristallo natural stone facing is pure elegance.
The main floor powder room also has a bold contemporary look. The designer solved the difficult window placement by centring a floor-to-ceiling column covered with a mirror. A glass-topped wenge cabinet seems to float in front of it, topped with a 36-inch rose granite pedestal sink. For contrasting texture, the walls are covered with a luxe-look grasscloth wallpaper in a graphite colour with subtle metallic undertones.
"The finished home is understated and elegant, as they requested," says Reihani. "And all their memories and beautiful things fit right in with the modern decor and a new lifestyle." •


Space Harmony
www.spaceharmony.ca
604-782-1450