Photography: Luke Potter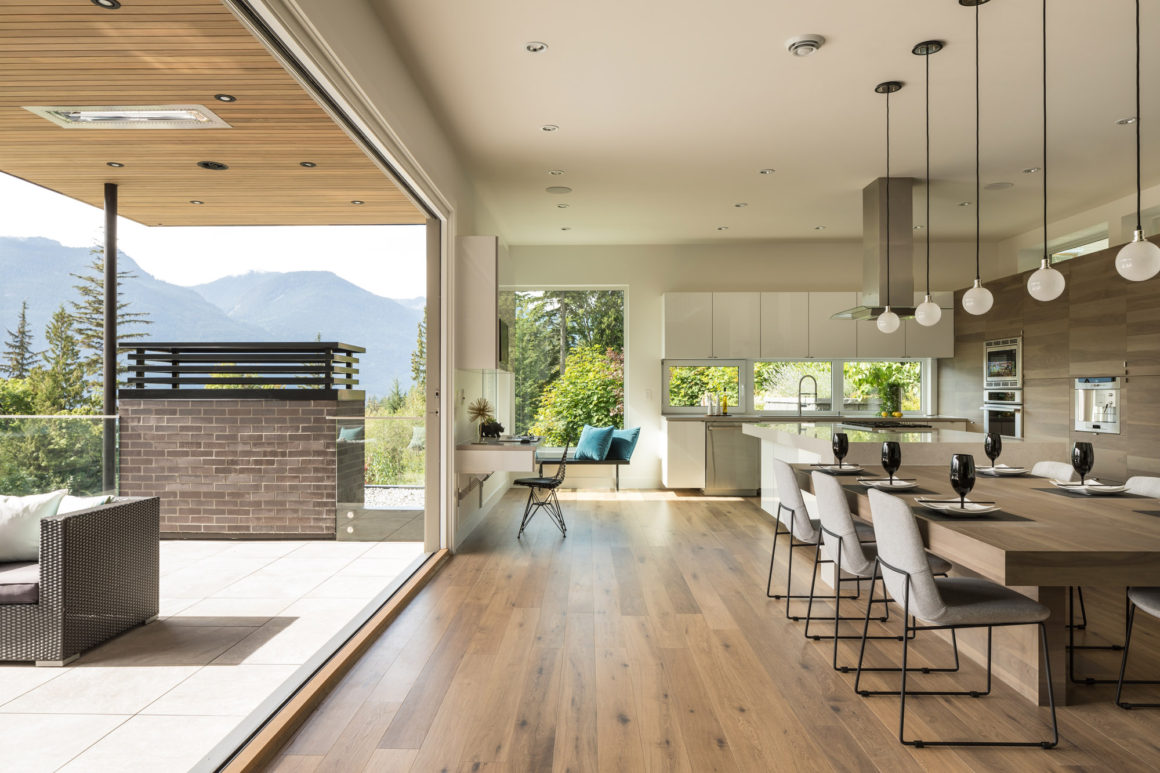 As an engineering student studying at McGill University in Montreal, Vancouver resident Avi Dhaliwal found himself intrigued by Habitat 67, the revolutionary, modular building designed by renowned Israeli-Canadian architect Moshe Safdie.
Seemingly a collection of interconnected cubes, the building – considered an architectural landmark – was conceived as Safdie's master's thesis at McGill and then constructed as a pavilion for Expo 67. It still sits on a man-made peninsula in the St. Lawrence River, overlooking downtown Montreal and the city's Old Port.
"I thought it was phenomenal," says Dhaliwal, who was studying structural engineering at the time and believed he would be designing bridges rather than homes.
Fast forward about a decade, and Dhaliwal ended up starting his own single-family residential construction firm – Canvas Homes – in which he functions as the designer, engineer and builder. With some successes behind him, he was commissioned by his parents to build a home in Britannia Beach, near Squamish. They gave him free rein, and visions of Habitat 67 started flooding his brain.
"It became my inspiration for the project, a chance to pay homage to that unique building," says Dhaliwal. And so, the "cube house" was born, in all its modern splendour, on the slope of a mountain overlooking Howe Sound.
It wasn't easy. The spectacular lot came with a 55-foot grade difference, making it difficult for excavation machines to manoeuvre, and challenging to pour a concrete foundation that was low in the front and 30 feet high in the back. Multiple retaining walls and site-grading were necessary and that's where Dhaliwal's training as a structural engineer was an advantage.
Outside, the house is a collection of stacked cubes, boasting various textures and sizes to create a compelling structure. There's western red cedar with a custom stain, acrylic stucco, HardiePanel siding, exposed concrete and anthracite brick on the chimneys.
Entering on the lowest level, visitors find themselves in an open foyer with soaring 22-foot-high ceilings and a taste of the modern decor and clean lines that define every room of the 5,700-squre-foot home.
Go up a level on a staircase of open risers and the expanse of the main level, with its many windows and stunning views of mountains and ocean, is awe-inspiring. "It's stunning, quite breathtaking," says Dhaliwal. The living room has no walls or barriers, just a lofty, tiled, two-sided fireplace to provide a bit of separation between the kitchen and family room and the dining room and living room at the far end. Eclipse doors leading to a large, square terrace contribute to the indoor-outdoor sense of the space in the summer.
Custom-stained white oak floors are a unifying feature that bring warmth to the open space, which is made brighter by the white walls and vaulted ceilings. "I tried to keep it as open as possible," says Dhaliwal, while balancing the less-is-more approach without going overly minimalistic "so it starts looking empty. You need enough details so it works."
He used colour separation to define spaces. Walnut is the wood that provides some darker contrast in the kitchen, with Shinnoki wood panels that are offset by Caesarstone quartz countertops in a colour called "Clamshell." The massive island with its integrated table appears to be floating and has an impressive four-inch edge on the countertops.
One nice touch that Dhaliwal added for his mother, who loves to cook, was the addition of windows where the kitchen's backsplash would normally be; they allow her to look at the gorgeous views while she prepares meals.
Dhaliwal, who now lives in the house as his parents wanted to downsize, says for him, the pièce de résistance is the master bathroom. Hands down the most expensive room in the impressive house, with the feel of a luxe spa, the bathroom features warm-taupe tiles and cool marble tiles, all highlighted by a unique backlit platform and niche areas. Some of the large tiles on the wall were so expensive and delicate that a broken one cost $2,000 to replace. The floor of the shower was constructed without a visible drain, so the water flows under a wall to a hidden linear drain to accommodate the oversized rain shower. "It's very special," says Dhaliwal. "Almost too nice to use."
His other favourite feature is the technology, which relies on the Control4 home automation system to control lighting, entertainment, security, energy, and other connected devices.
He says the up-and-coming Britannia Beach area, while still not very developed, is less than half an hour from downtown Vancouver, and the home will be a great house for a discerning buyer one day. Case in point: the large garage with 14-foot-high ceilings, tailored for luxury cars and ready to be equipped with a car lift to store extra vehicles.
"This is really a house for someone who likes the finer things in life," says Dhaliwal. He should know. •
Originally published in the Vancouver Autumn 2018 issue.
Canvas Homes
www.canvashomesbc.ca