Sinks near the front entrance for hand-washing. Guest bedrooms and broom closets that double as home offices. Backyard vegetable gardens. More durable furnishings and finishes. These are just a few of the changes that the coronavirus pandemic has sparked in interior design and architecture.
The virus, it turns out, isn't just changing how we live and work in the midst of a global health crisis; it is also influencing interior design trends that will continue to shape our homes long after the lockdowns are over.
"With people not travelling and spending so much time at home, their focus has shifted to their homes and second homes," says Andrew Curtis, a Montreal-based architect and partner at RobitailleCurtis. That's apparent, he says, in the high volume of inquiries he and his partner, landscape architect Sophie Robitaille, are receiving for both interior and exterior projects. It's also spurred heightened demand for construction materials and qualified workers, making it difficult to find everything from cedar posts to bathroom tiles, and the people to install them.
Curtis says clients are looking to tackle jobs they've been putting off for years: eat-in kitchens, backyard spas, chalet renovations. There is also more interest than ever in country homes.
Spending so much time at home placed extra demands on our living spaces. Our apartments, condos and houses had to do double-duty as offices, classrooms, gyms, playrooms, workshops. People made adjustments to get through in the short term, but interior designers say they are now busy helping clients find longer-term solutions.
Montreal interior designer Eugenia Triandos, co-owner of Hibou Design & Co., says there's a bigger-than-ever emphasis on adaptability and versatility . . . and hygiene.
"This thing rocked our world. Our everyday lives and routines of going to work, picking up the kids, coming home has changed," she says. "How we use our homes has changed, too. The guest bedroom is also a home office and the living room serves as a homeschooling station."
Triandos says all the handwashing we've been doing, and our redoubled emphasis on hygiene, have led to numerous requests for mudrooms with handwashing stations, or powder rooms at the front of the house. "It makes sense, even if you put COVID aside, to have a place to wash your hands close to the entrance," she says.
Vancouver interior designer Negar Reihani, founder of the firm Space Harmony, says the pandemic made a lot of homeowners more resourceful and budget-conscious than they were before. "Many of us found that there were small projects we could do ourselves. And if our budgets were restricted, we found bargain solutions," she says.
Reihani and her husband, an optical engineer who found himself briefly furloughed, used their time in lockdown to convert a rundown, unused workshop on a rural property that they own near Victoria into a cute cabin. They did most of the work themselves and used vintage, upcycled and discounted end-of-line materials.
"It was a little out of our comfort zone but we did it and it made us realize how resilient and adaptable we are," Reihani says.
Vancouver interior designer Chad Falkenberg, a partner in Falken Reynolds Interiors, says comfort is a major theme spreading through interior design, as it is through fashion. "I think we will shift to simplicity in the things that are closest to us, like the sofa we sit on to watch Netflix or the armchair we curl up in to read a book," he says.
Here are a few emerging pandemic-influenced interior design trends, according to Falkenberg, Triandos, Curtis and Reihani.
Coziness
Warm colours, nubby textures, houseplants. Everybody's looking for comfort where they can get it.
Falkenberg is a self-proclaimed minimalist, but when he and his partner Kelly Reynolds moved to a new condo during the first wave of the pandemic, they opted for "more soothing and warmer" colours than they would have otherwise. That turned out to be a prescient decision: the couple tested positive for COVID-19 in September and had to isolate at home for 10 days. Fortunately, they've fully recovered.
"We wanted the space to feel cozier than our previous home, so we bought more shelving for our books and things we've collected on our travels, and quite a few new plants to bring a bit of natural life into the space," he says. "Spending so much time in the space during isolation, when the fatigue and tiredness were a very real thing, was made easier. And even now that we're working at the office, it's so nice to go home at the end of the day to a place where we can relax and rejuvenate."
More durable, easy-to-clean surfaces
Eugenia Triandos says homeowners are demanding more durable, washable surfaces as their homes come under more intensive use. There is also more interest in materials such as unlacquered bronze and copper, which are believed to have anti-microbial properties, and in colourfast and moisture-repellent outdoor fabrics used for interior upholstery.
"When the whole family is home more often and the walls are being touched and the sofas are being sat on, everything needs to be lower-maintenance," Triandos says.
Private spaces
Open-concept design has reigned for a long time, but anyone who worked at a crowded kitchen table during lockdown knows how cherished a private, closed-off space is.
Negar Reihani says she has had many requests for home offices, even in the smallest condos. "Sometimes, all it takes is a small nook, like a broom closet, which can be turned into a mini-office," she says.
Personality
"When you are home 24/7, you really see how a space affects your mood, how it makes you feel," Reihani says.
Many of her clients are looking for ways to personalize white and neutral decor, which is often standard in new builds. "All day long in a grey and white house, things might start to feel sterile," she says. "People yearn for colour and warmth."
For a quick fix, Reihani recommends better, warmer lighting, unusual pendants to replace generic flush-mount lights, and bold wallpaper or one brightly coloured piece of furniture.
A greater appreciation for nature
Andrew Curtis says confinement has led to a greater respect for the great outdoors. That has led to more interest in second properties in the countryside, but also to a flurry of interest in backyard improvement projects. "People are looking for fire tables and spas. They want raised beds for growing vegetables," he says. "They want to make their backyards more comfortable."
Better home organization
Negar Reihani says that people who live and work at home are looking for ways to keep the various parts of their lives in separate compartments. She says better storage is one answer: "A place that is ordered and tidy, with space to hide things away, makes your brain work better," she says. "And emotionally, it's calming."
Greater respect for the environment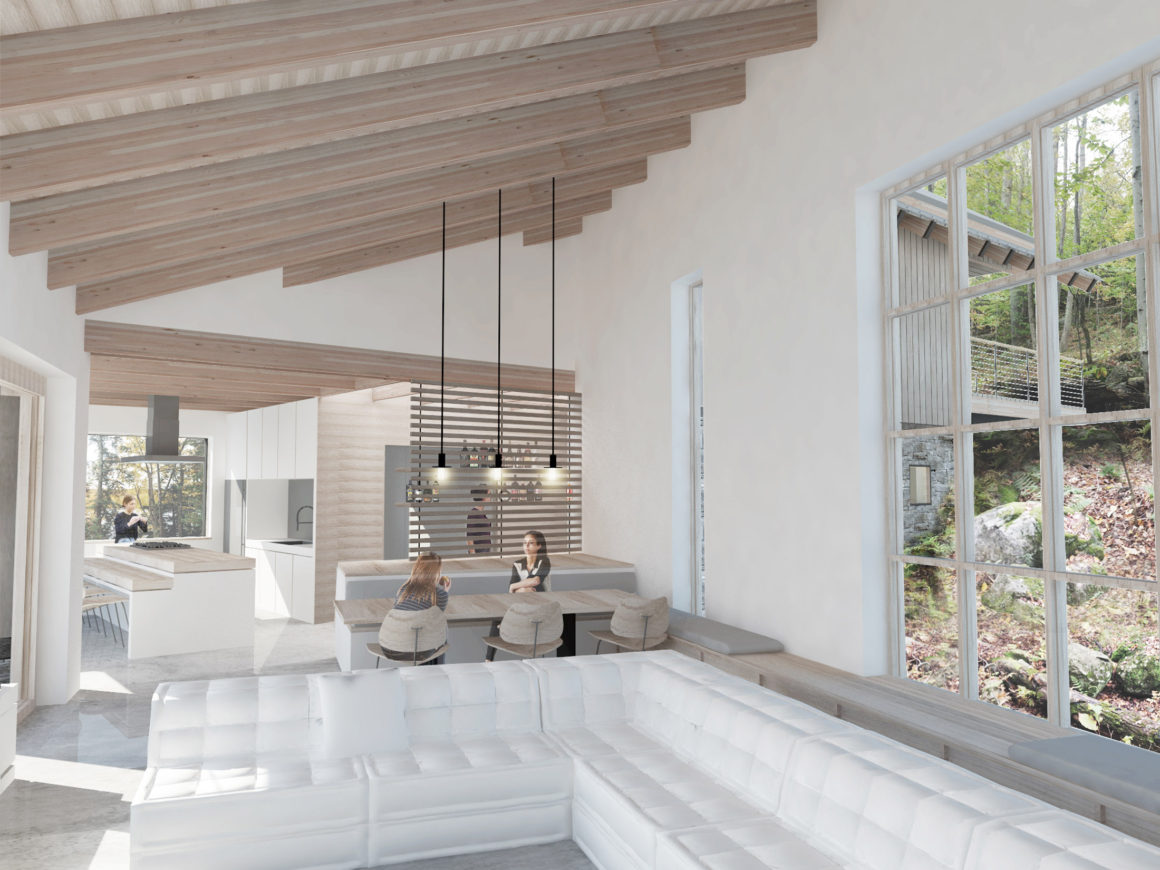 Andrew Curtis says that environmental concerns have been gaining traction for some time and are now front and centre in the consciousness of many of his clients. "There was a bit of a switch that got flipped with COVID," he says. "People are asking for more thoughtful design that considers the Earth."
The COVID-19 pandemic will continue to transform our lives, and those changes will begin at home. •
Falken Reynolds
www.falkenreynolds.com
604-568-9487
Hibou Design & Co.
www.hiboudesignco.com
514-574-0015 
Space Harmony
www.spaceharmony.ca
604-500-0120 ~ 604-782-1450
RobitailleCurtis
www.robitaillecurtis.com
514-508-9950