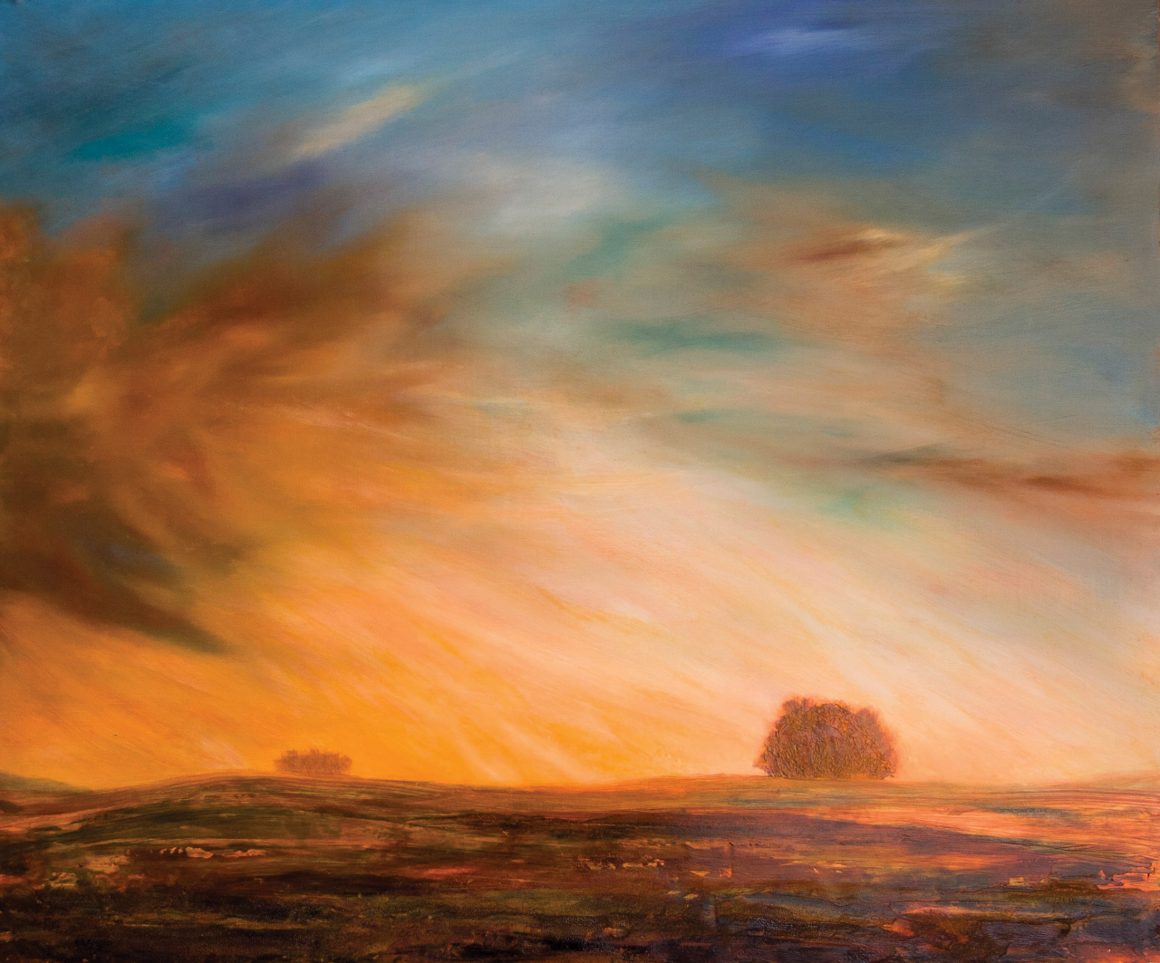 Gordon Pym was walking down a street in Westmount, Quebec one day when he stopped at an art gallery, transfixed by the landscapes he saw inside. "They blew me away," he says of the paintings by artist David Bierk. "I thought: 'if I could only paint like that.' " Inspired, he bought some oil paints and, in his words, "started fooling around."
Gradually, he began exhibiting work in small venues, joined an artists' group, and decided he needed to return to school. He put together a portfolio and was accepted into the Bachelor of Fine Arts program at Concordia University. He was graduated in 2009, retired from his day job in the textile industry, and converted part of his suburban Montreal home into a studio.
As a young man, after completing a science degree and starting work in a lab at a textile company, he had enrolled for a part-time art degree at what was then Sir George Williams University in Montreal, but he never finished – his career was taking off and his family was growing.
One of his early breaks came while he was still in school, exhibiting his work at a popular restaurant, an arrangement that was supposed to last six months. "Seven years later, I was still there. I'd change the work up often. I sold a lot of it; it gave me confidence," he says. More small shows and group exhibits ensued and then, in 2012, he had his first solo show at the Viva Vida Art Gallery in Pointe Claire, Quebec, the gallery that still represents him. Most of his work sells locally, though some pieces have found their way into collections across Canada and in the U.S.
Pym's work is heavily influenced by Tonalism, a New England school of painting landscapes popular from the 1880s into the early decades of the 1900s. "A lot of people adopted that hazy, gauzy quality," Pym says, describing it as "an envelope of colour. It's very atmospheric. The skies typically take on surrealist colours. David Bierk was at the peak of this kind of work."
Pym says his own work "was kind of a stylistic thing that developed. The horizons started to get lower in the paintings, the skies came to dominate. That really appealed to me."
Many of his earlier landscapes tend to be on the darker side. However, in the past year, and for most of the paintings in his current show at Viva Vida, he adapted his palette, opting for brighter colours. "I made a vow to stop using burnt sienna or burnt umber," Pym says. Instead, he added more turquoise, blues and quirky greens.
He describes his subjects as minimalist: trees, seas, skies, vistas with limited human interference – no barns or buildings, just the occasional road. "I'm constantly vacillating between overt realism and a symbolic kind of abstraction," he says.
"I've probably been painting the same two or three trees over and over. A lot of the things I've been painting have been internalized. I'll often use photographic references, but most of what I paint is made up and imaginary and part of that symbolic alphabet I have in my mind," he says. Even so, he adds, he occasionally needs to get outdoors to reinforce those mental images: "I need to restore the imagery, to go and look at things again, study it so I can use it in my work."
With a vacation home near the ocean in Maine, it might seem a natural fit to paint in that setting, but Pym says it's something he's never managed to do successfully. "I'm a studio painter; I'm not a plein air person. I've tried it," he confesses. Between worrying about his composition, the ever-changing light and colours, struggling with large canvases – not to mention battling bugs and sunstroke – he prefers the studio environment. "Some people do wonderful work outdoors, but it was never my thing."
Recently, Pym's canvases have been large – mostly 40-by-60 inches, though he says he feels drawn back to painting smaller canvases. "I want to go back to a more intimate size, smaller and in a series, so you could see eight paintings on a wall in a gallery and say they're all part of the same theme."
Known primarily for his landscapes, Pym also loves drawing. To fulfill his degree requirements at Concordia, he needed drawing credits, and found he was passionate about roads: the elevated highways and overpasses that were built in Montreal in the 1960s, when he was young and impressionable.
"They were Quebec's introduction to modernism. I've always thought they were really neat and dramatic," he says. "Then, when I started to draw them, I realized that, like me, this modernist construction had started to get old and fall apart. I got very proficient at it and got a reputation for drawing." On the basis of that reputation, he was asked to teach a drawing class at the Beaconsfield Arts and Cultural Centre, which he did for a number of years. Now he teaches at the art centre at Viva Vida Gallery, where he's given classes both on painting and drawing.
"I have this belief that everyone can draw," he says. "It's my experience that if you just give people the right push, a little bit of teaching, that everyone can draw." •
Gordon Pym's artworks can be viewed at
Viva Vida Art Gallery, 278 Lakeshore. Rd., Pointe-Claire, Quebec 514-694-1110, www.vivavidaartgallery.com