Photography: Larry Arnal
Styling: Karen Kirk
"I love the whole Victorian vibe," says Hélène Joy, owner of this charming old Toronto home. It's a good thing she does, because she plays Dr. Julia Ogden on the popular TV show Murdoch Mysteries, which is set at the end of the Victorian era.
After a hard day of work playing a Victorian, Hélène returns to her home, another Victorian. Born and raised in Australia, she says "I had never seen anything Victorian before I moved to North America. I do enjoy old architecture and craftsmanship; they knew how to make things."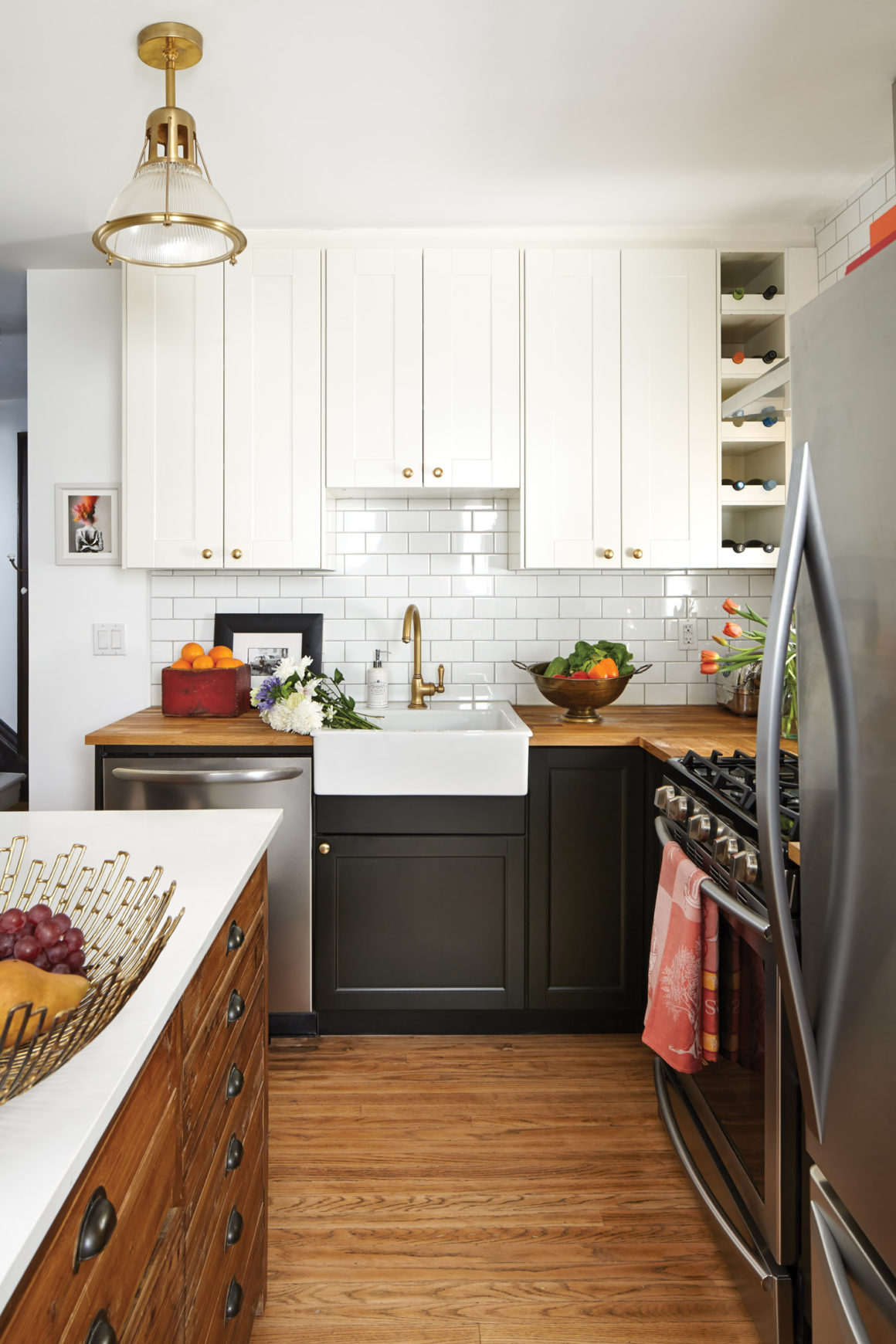 Hélène has lived in several places on the continent, but settled in Toronto a decade ago. "This is the longest I've ever been in any city," she says. "It's the only city where I've bought into real estate."
Toronto, she says, is a great city for actors and, at the time, was an excellent place to invest. "It's really fun to be here. Toronto has an eclectic vibe."
Although she's serious about her acting career, Hélène has a parallel career buying old houses and turning them into rental properties. She's helped by her real estate agent and property manager, Marco Pontes, and she says, "None of this would be possible without him." In addition to her own home, she has eight apartments in five properties. Several are in the west end, which she says has "lovely old homes that are untouched. They'd never really had any major renovation work done, so there's a great clean slate."
The clean slate that was her own home spoke to her as a beautiful, solid old edifice. Only a few changes had been made over the years – for example, sinks were installed in every bedroom when it had been used as a rooming house. Otherwise, "it was really untouched," Hélène says. "There was a bathroom with the oldest bathtub, the oldest toilet, a little sink on one side, and then room after room with nothing in it. It was kind of like a beautiful rustic farmhouse shell." This was exactly what she had been looking for: something that would give her the feeling of living in a beautiful cottage, albeit in the city.
One area that had seen renovations was the kitchen … about six decades ago. "The kitchen floored me; it's so beautiful in its simplicity," Hélène says. "It was probably put in in the 1940s. It had a small counter with a sink in the middle and four cupboards above. In the corner there was an old gas stove and a fridge. It had linoleum from the '30s that I had such a soft spot for; I had to be talked out of using it."
Hélène's plan called for an apartment on the ground floor that would be rented out, and she would use the second floor and the attic as her private apartment, giving her approximately 2,000 square feet. The renovation involved as few changes to the floor plan as possible. One of the three bedrooms on the second floor was incorporated into a kitchen. One of the two attic bedrooms became a bathroom; the wall shared by its closet and the other bedroom's closet was removed so that there is now one large closet in Hélène's bedroom. On the second floor, a wall was punched out to give access to a new outdoor deck.
The relatively few changes to the floor plan contrast with the changes to the structure itself. All the plumbing and the electrical system were updated, as were the boilers for the household hot water and the radiators. Many walls were rebuilt, but Hélène kept whatever original ones she could because she likes the irregularities in them dating from the lath-and-plaster era of housebuilding.
Hélène's apartment now comprises a kitchen, a study, a large living room with adjacent dining room, a spare bedroom and a bathroom on one floor, and a large master bedroom and bathroom in what was the attic. The renovation has kept many of the elements that she loves such as the original doorknobs, floors, pocket doors, fireplaces and stained-glass windows. Some doors made redundant by floor-plan changes have been used to make cupboards.
With the help of her friend, the photographer and stylist Susan Findlay at Scarlet's Table, Hélène's apartment displays treasures from near and far, some old and some new. Many were acquired during her travels to Asia and the Americas, and others were discovered closer to home. Hélène mentions The Door Store and Smash Salvage as two favourite local sources. She's also acquired some pieces by artist Marjorie Campbell, who works in felt. It all makes for an eclectic and vibrant mix.
"It's perfect, comfortable, but also delightful," she says with satisfaction. "I've always needed a lot colour around me; that's why the place is a blank slate with white walls. Everything I own has colour in it. I like beautiful art and original things. This feels very nourishing."
With Murdoch Mysteries having been renewed for another season, and Hélène's nomination for a Canadian Screen Award, her acting career is going just fine, thank you, but she keeps the future and its possibilities in mind because she doesn't know what direction the show will take and what that means for the fate of her character. "I've always been pragmatic, realistic about the acting profession," Hélène says. Work is not guaranteed.
Although real estate is currently a parallel career, it can be expanded into a full-time occupation if necessary. However, Hélène has worked hard to ensure her financial security. She wants to keep acting until, as she puts it: "I'm a little old lady. I'll stop only when I can't read the lines anymore." •
Originally posted in the Toronto Summer 2017 issue.