Photography: Larry Arnal
Styling: Ildiko Horvath
Ildiko Horvath embraces colour—the brighter, the better. She turned her passion for pigment into a thriving furniture-painting business called Restored4U.com. She scours online sites and second-hand stores for rundown vintage and antique pieces that she then brings to life with vibrant chalk paint and découpage. Ildiko also offers video tutorials on Etsy.com.
Originally from Hungary, Ildiko was a professional pianist before moving to Canada in 1997. She began renovating the Oakville townhouse she shares with her husband Graham about 11 years ago.
"Graham bought the house about six months before we met, and it was very cookie-cutter," she recalls of the bland 2,400-square-foot property. "It's in a nice area, so my goal was to make it reflect our personalities."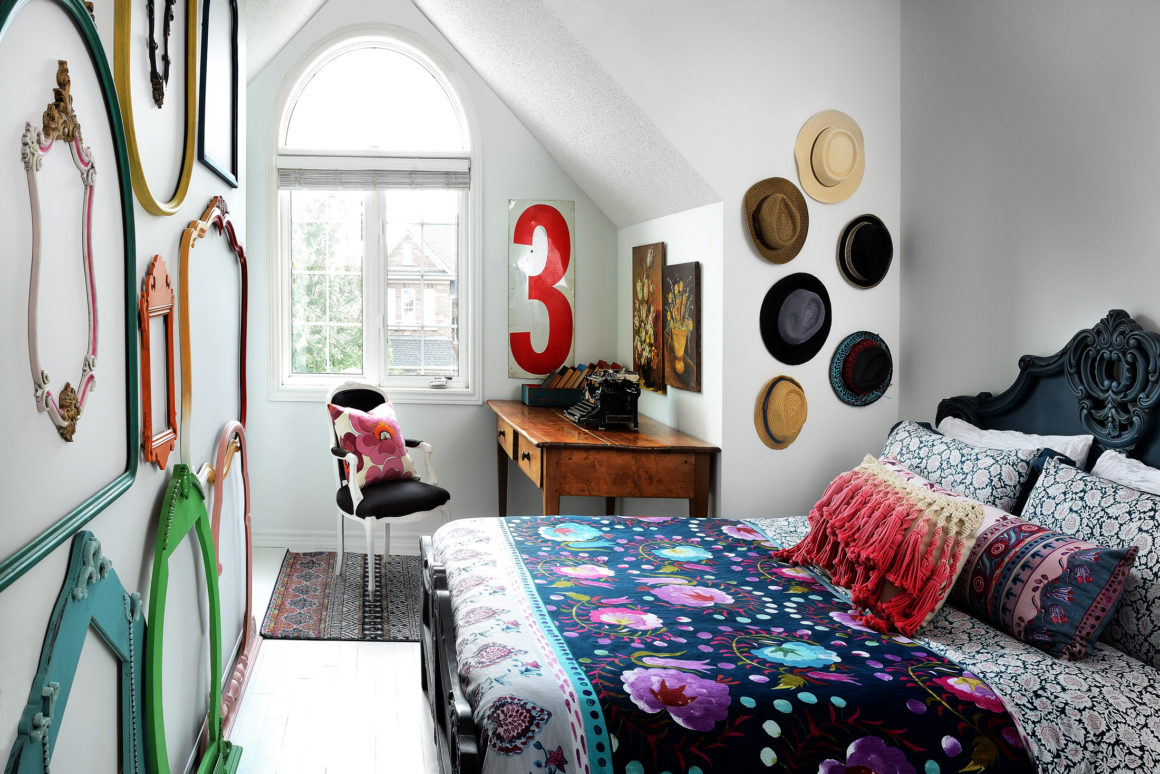 Room by room, the artist completely revamped the furniture, walls and floors with layers of paint, texture and textiles. "Every time I had a nice piece that didn't sell, I made it work somewhere," she says.
The first space to receive Ildiko's attention was the main bedroom. "My starting point was the bed, which I found on Kijiji, and I chose a blue and white colour scheme," says Ildiko, who then painted a Union Jack onto an old dresser. "I always like to add something unexpected."
She did just that with a canary-yellow lamp, an orange nightstand and a rich red trunk placed at the foot of the bed. She also ripped out the upstairs carpeting and installed unfinished hardwood, which she painted white.
In her step-daughter Kristina's bedroom, Ildiko played up the angles of the space by hanging painted pictures and mirror frames on the wall. "I like the roof line peak and architectural ceiling in that room," she says.
She scored the vintage carved bed on Kijiji, painted it a deep indigo blue, and added luxurious linens from Anthropologie.
The main bathroom was gutted. "It had a corner tub, my pet peeve," she says. To stay on budget, the couple kept the plumbing in the same spot. After searching in vain for the perfect vanity, Ildiko found a vintage dresser in Ottawa that spoke to her. She painted it a rich charcoal grey, added glam glass knobs, a quartz countertop and two round white vessel sinks, resulting in the vanity she wanted.
Downstairs, she gave a leftover piece from a sideboard new purpose by making it a spot to hang hats and bags in the entryway. She paired it with a bench she'd found 20 years ago in an antiques store, on which she hand-painted bright flowers, to create an instant mudroom.
In the kitchen, Ildiko painted the original cabinets a crisp white, accenting them with black hardware. An adjacent narrow wall was a great spot for a 200-year-old oversized armoire.
"There's never enough storage right in kitchens," she explains. "I found it on Kijiji. The wood was dried out and the finish was old and tired." With its new life as a china cabinet, the robin's-egg-blue showpiece houses Ildiko's pretty dishes and serving ware.
A living room wall showcases her collection of colourful woven baskets, which she picked up online and in thrift stores. She painted the square coffee table a beachy turquoise, lending some Caribbean fun to the space. Graham chose the dark hardwood flooring throughout the main floor.
Ildiko always fills the home with fresh flowers, which nicely top the 1950s-era white Saarinen-style Tulip dining set she bought online in a stroke of serendipity. "I found the table and four of the chairs on Kijiji, but really I wanted six," she recalls. "A few hours later, someone else was selling two Tulip chairs, exactly the same as the ones I had bought, which completed the set."
Ildiko enjoys getting creative with Annie Sloan Chalk Paint, an ultra-matte product launched in the UK that works especially well on furniture without priming or sanding, she says.
"I've been featured many times on their site, and I like that this paint dries very quickly, so you can go on to the next step," she explains. "They have 42 colours, but you can make 3,000; they're meant to be mixed with each other."
Working from her home, Ildiko also takes on custom-commissioned work from clients, who give her the freedom to play with colour and texture. All too often, she falls in love with many of the pieces she finds and paints. "But then, my hubby keeps reminding me that this is my business, and that I need to sell them," she says, laughing. •
Originally published in the Autumn 2020 issue.
Restored 4 U
www.restored4u.com
289-218-8224