PHOTOGRAPHY: STEPHANI BUCHMAN
STYLING: ALI BUDD
There's an old saying: Children should be seen and not heard. It makes one wonder because, until about the middle of the 20th century, the open-plan concept for home design wasn't common. The average house was divided into many rooms, and it wasn't all that easy for Mum to keep an eye on the children while she was busy in the kitchen.
This Rosedale heritage home used to be one of those houses. Lauren Levy and her husband Benjie liked the site and the bones of the structure when they saw it but knew immediately that it would need to be renovated.
"It wouldn't suit our lifestyle," says Lauren, who has a large extended family and co-owns the maternity clothing boutique Ani + Wren. "It had an outdated style and a lot of closed rooms. We have four kids age six and under, and we need to see what they're doing."
The house also had other quirks, including a master suite that occupied the entire third floor. A full gut job was called for, courtesy of builder Bryan Letofsky of Jordyn Developments, with the rebuild following the design of architect Drew Laszlo. Because it is a heritage house, the front facade is unchanged, but the rest of the place is now thoroughly 21st century.
It's also thoroughly the Levy family's eclectic style, achieved with the help of interior designer Ali Budd. "Lauren and her husband like a lot of colour," says Budd. "This is not like anyone else's house. Lauren's in the fashion biz, and she's willing to take risks. The decor is specific to her."
How specific is specific? In the Ali Budd tradition, the home features many custom-made furnishings designed by her company, including a standout dining table whose Escher-like surface design was suggested by Lauren and interpreted by Budd, then built by the craftspeople at Cabinet and Marble Treasure.
"It's still one of my favourite pieces," says Budd. "Two different companies worked on it. It's inlaid wood clad in marble, and there are three different wood finishes."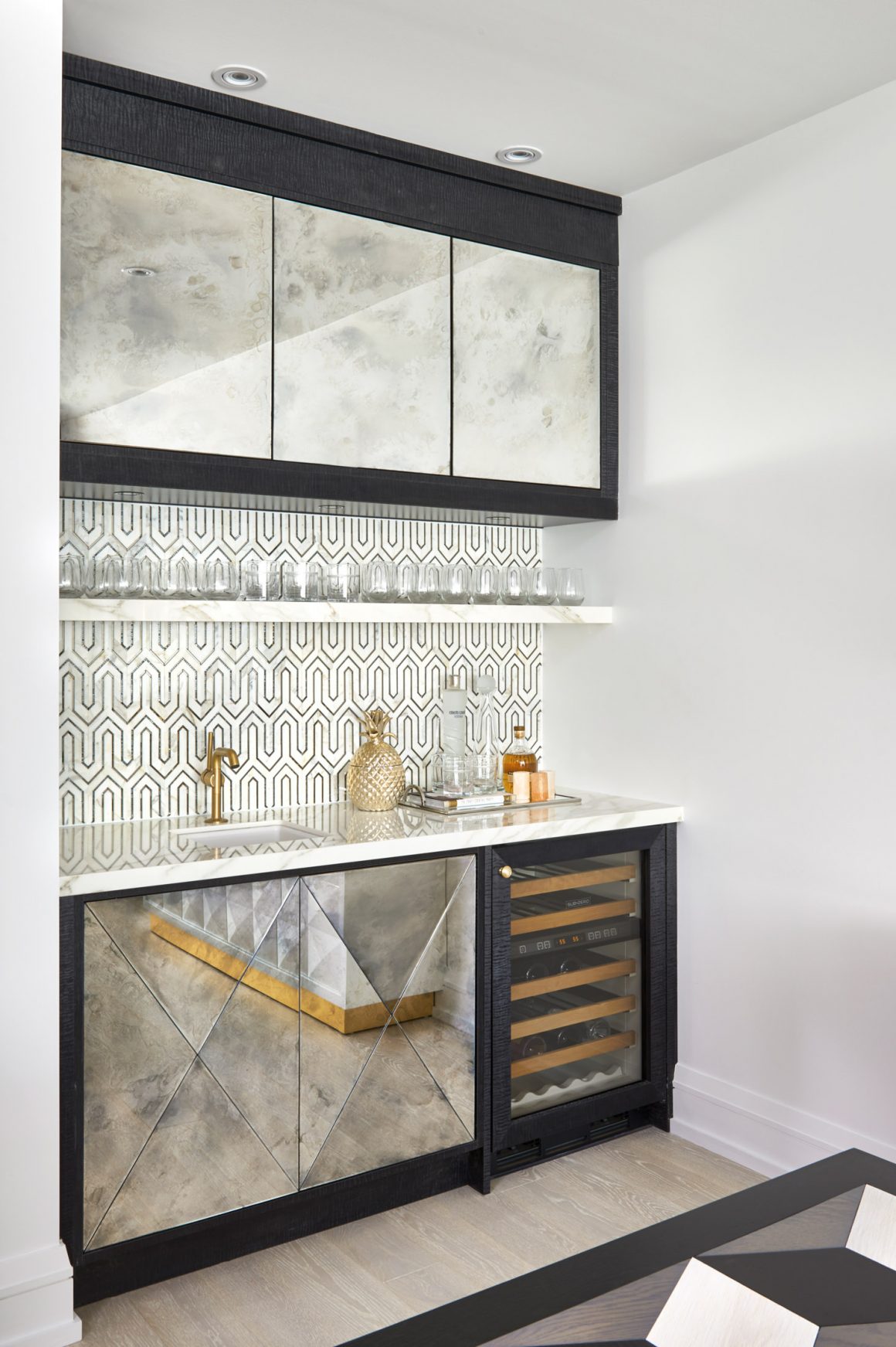 In the same room, there is a wet bar with a backsplash of tiles flown in from Germany. It has a pattern different from the tabletop, which is different from the buffet front, but the patterns work together, because they all feature angular designs in shades of black, white and grey. Dark teal green velour upholstery on the curvy dining chairs provides a warm contrast.
There's plenty of room in the 3,000-square-foot home to accommodate all that pattern and colour without the space seeming overdone or crowded. Budd got there by "constant mixing and matching and pulling; designing all at once," she says. "You have to juggle, play with scale, proportion and finishes, mixing and matching until you have just the right amount of crazy. It's always about the edit."
Adds Lauren, "My husband and I love colour. We're open to colour and pattern. We like a cool, chic aesthetic but it must be functional. There's a fine balance between looking amazing and being highly functional. Ali is so good at that balancing act."
During construction, Benjie was very involved in terms of logistics, while Lauren gave most of the input to Ali in terms of furnishings and decor. "The biggest thing was the kitchen, the main-floor area," Lauren says. "I knew the great room would be used a lot. As that area began to come together, I visited often. I was so excited to see it evolve over time. I knew it was where the family would be spending the most time together."
The Levy family has been here for three years now. Lauren says that the home feels lived in. She and Benjie wanted their home to feel "modern and current but not cold and sterile. This is a home, not a museum."
That conclusion is amply illustrated in home life. "We entertain a ton," Lauren says. "We have a big family, lots of friends. There's a pool in the backyard; we have no cottage. In summer, the house is just a revolving door. Every Sunday we have people over, or they drop by. It's what I've always wanted. I love that we have a place where people can hang out." •
Ali Budd Interiors Inc.
www.alibuddinteriors.com
416-519-5328
Cabinet
www.cabinetfurniture.ca
416-923-9234 ~ 416-777-9234
Cooper Bros.
www.cooperbros.com
416-789-7671 ~ 1-877-785-4330
Drew Laszlo Architect Inc.
www.dlarchitect.ca
416-781-5800
Jordyn Developments
www.jordyndev.com
416-637-2046
Marble Treasure Inc.
www.marbletreasure.com
903-303-8007
Watchtower Interiors Inc.
www.watchtowerinteriors.com
647-341-1927