PHOTOGRAPHY: LARRY ARNAL
STYLING: MICHELLE BERWICK
It started with a plan to get rid of the discoloured tile grout in the master ensuite bathroom – and turned into a complete renovation of all four storeys of Alex and Cindy Tsen's North York townhouse.
"We wanted to retile it, then said we might as well do the whole floor," says Alex. From there, the idea snowballed from room to room, floor to floor. "Then we thought we might as well move out for two months and do it all."
The couple bought the 1,500-square-foot home 10 years ago, but with two daughters now aged 5 and 8, decided they were outgrowing it. They had been hunting for a larger home but, daunted by the high cost of detached houses in their neighbourhood, they gave up. Instead, they decided to stay and turn the house they had into their dream home.
On the practical side, that meant creating storage, lots of it, to maximize space. On the design side, it meant having fun with colour.
"I didn't want just white," says Cindy. "I was not afraid of using colour." Her favourite is one that her interior designer, Michelle Berwick, the owner and principal designer of Michelle Berwick Design, calls "minty sage green." It can be seen all through the open-concept main floor kitchen and living area, starting with the front door and patterned tiles in the entryway. The same colour was carried into the kitchen for the lower cabinets. It was Berwick's idea, and is a choice Cindy loves, but doesn't think she would have been brave enough to use on cabinetry, or even would have thought of using it there, on her own.
On the top floor, the master bedroom level, Berwick proposed painting the wall behind the bed black, and adding a yellow barn door to the ensuite bathroom. "She gave us visuals. It helped make the decisions easier when she showed us a black wall with the kind and colour of headboard we were looking at, and with a yellow door," says Cindy.
Berwick says she creates those vision boards for all her clients, and it helps them understand how the different design elements will fit together. As for the bold colour proposals, she says, "I suggest stuff like this all the time, and 90 per cent of the time it gets shot down. I had assumed they would do the same, but they were going for everything."
The other big change on the master-suite floor was the creation of an office area for Alex, who works at home. Previously, he says, the room was dark and dingy, his work space small and cramped.
Contractor Kim Cordeiro says she and Berwick worked closely with the couple to ensure that all the pieces they designed would best use the available space, but that it was especially important when it came to that office for Alex. "He likes everything out of the way, doesn't like clutter. We worked hard to get the functionality just right," says Cordeiro, a partner in Lavida Contracting.
The second floor is the children's space. Previously, there were two bedrooms and a bathroom, but Cordeiro removed a closet from one bedroom to fit two beds so the girls share sleeping quarters. She turned the second into a playroom, with storage and a built-in desk and homework space. If, as the girls get older, they decide that each wants her own space back, it would be easy to rebuild a closet, Cordeiro says.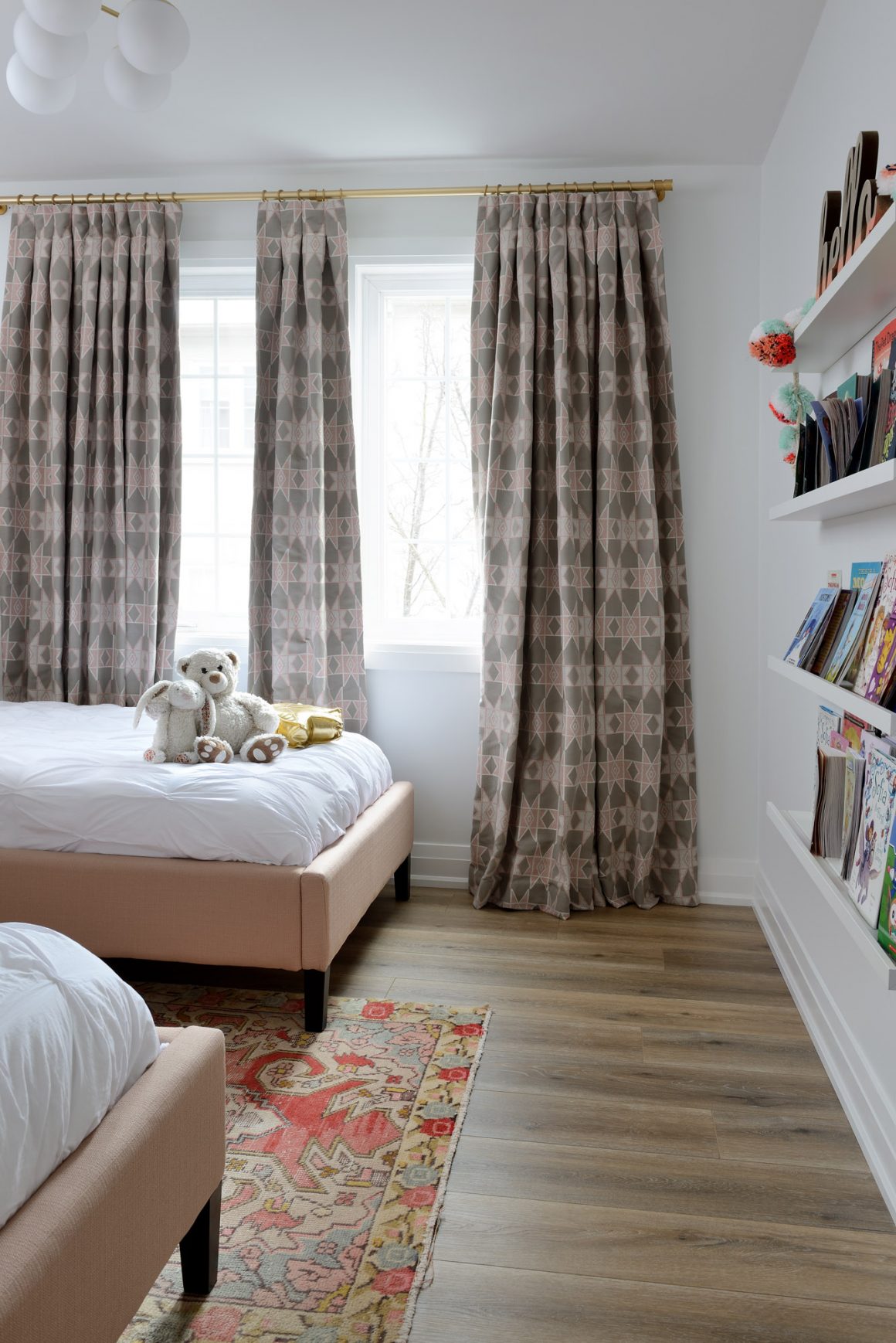 Their mother says that for now they love their new play space and sharing a room. While it's brought them closer, there is a downside, Cindy says. After they get tucked in, and their parents turn off the light and close the door, the girls often talk and play together long after they should be sleeping. "It helps with sister bonding, but it definitely makes for much later nights."
The other positive side is that it gives both the adults and children separate places to entertain their friends.
The basement floor leads to the garage and has a laundry room, but its main function is as a storage area, with built-in cabinets through most of the space. Berwick created a loft area over the storage, where the children can watch television.
"It's like living in a fantasy hotel," says Alex. "Everything is new; you can't complain about anything." •


Michelle Berwick Design
www.michelleberwickdesign.com

Lavida Contracting
416-728-2390