PHOTOGRAPHY: YOUNES BOUNHAR
Plans to remodel this galley kitchen in a downtown Toronto townhouse literally hit a wall – a concrete one. But while they were willing to compromise, the new owners weren't about to sacrifice style, says co-owner Jason McMurtrie.
"We updated the kitchen first because we spend a lot of time there and it was so outdated," says the paralegal who lives there with his husband Christopher Schmid. "And as the focal point of the house, we wanted it to show our character and style."
When the couple bought the 12-year-old home, they envisioned an open-concept main floor. Their dream was dashed when a powder room and an adjacent hallway proved to be unmoveable. So the kitchen remained a galley-style space.
The homeowners called upon Martin de Sousa, senior designer at Binns Kitchen + Bath Design in Toronto, for the revamp. And they threw him a major challenge, requesting that he retain the appliances, which had been recently upgraded and inherited from the previous owners. They were all from prestige manufacturers, and included a wine fridge, a massive 48-inch double-oven gas range and imposing stainless steel refrigerator. Though beautiful in design, the designer found them out of proportion to the 180-square-foot kitchen.
The solution: "I used one of the tricks of the trade, which was to install even more stainless steel to make what was already there look intentional," says de Sousa. His design called for a streamlined, integrated range hood, which also helped bring the ventilation system up to code. It is discreetly tucked into a long charcoal grey upper cabinet. The lower cabinets are covered in an Aluma-Steel finish that echoes the gleam of stainless steel. Together, these elements conspire to create a sense of unity, he says.
The designer also wanted to highlight the area as a dedicated cooking zone. To emphasize it, he used warm white quartz slabs to create both the countertops and the backsplash. The overall effect is seamless, clean and highly functional, which was important to the homeowners.
De Sousa also removed the existing pantry and inset the refrigerator and microwave into a bank of tall grey lacquer-finish cabinetry. It makes the appliances more discreet, and provides more storage than previously. "And it makes the kitchen look larger by extending them into the breakfast nook," he says.
Some warmth was needed to counterbalance all the metallic surfaces. Underfoot, the designer had installed 12-by-24-inch textured porcelain tiles in a soft grey-sand colour. And on the wall opposite the range he added a feature wall of light-toned distressed palm wood. Three open floating shelves add further design interest.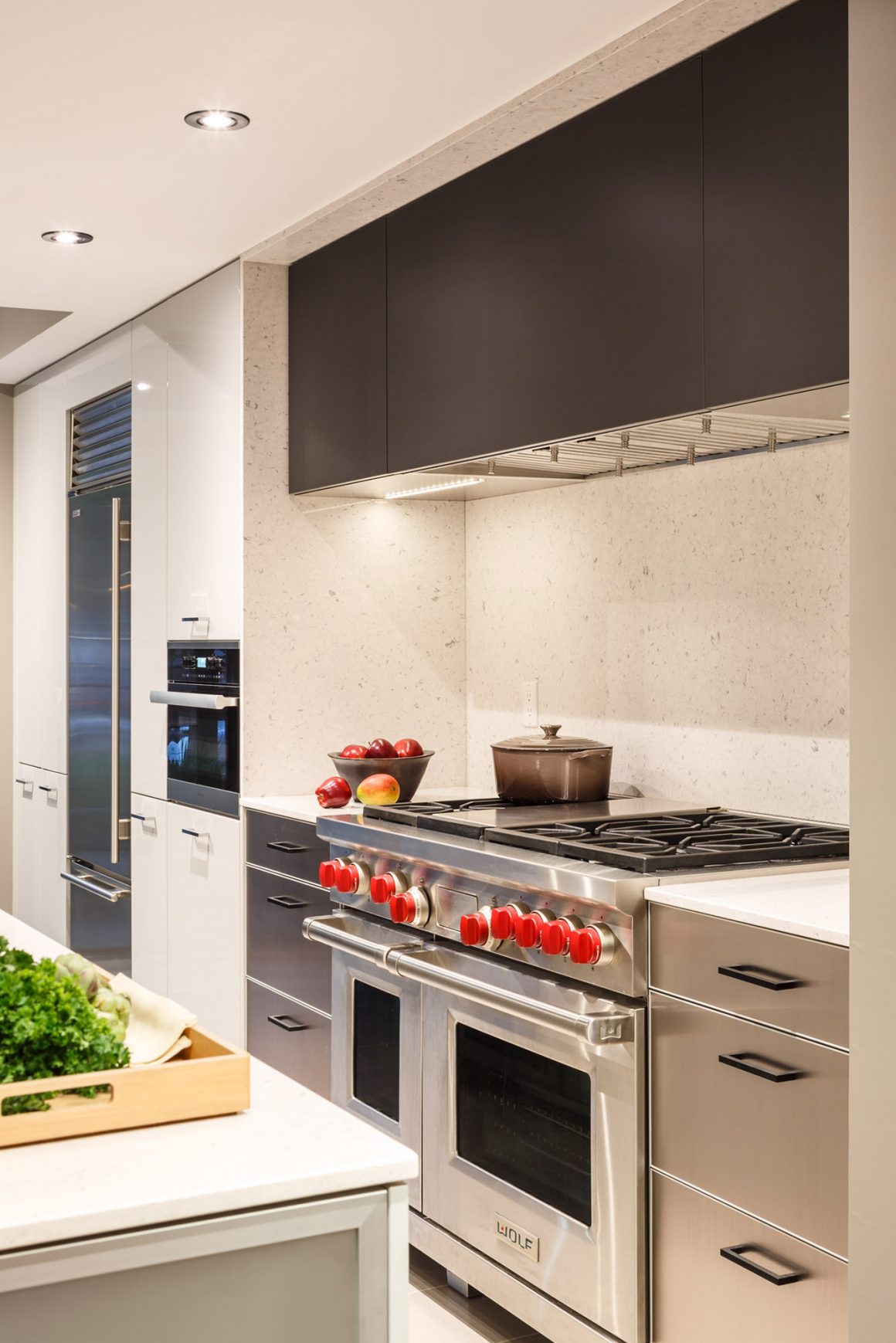 It's the mix of function and style that most pleases the owners. The old kitchen layout had no functioning drawers. Now everything the couple needs when cooking or entertaining is within reach.
"And we love the modern look and think it will be relevant for a long time," says Jason. "So much so, we've used it as a starting point for the rest of our home." •


Binns Kitchen + Bath Design
www.binns.net
416-286-2222