PHOTOGRAPHY: VALERIE WILCOX
STYLING: ANNE TURCIC
It was natural that Anne Turcic, a wedding and event designer in Hamilton, known for her love of romantic baroque style, would turn to that style when her husband promised her the kitchen of her dreams for their 25th wedding anniversary.
She grew up with three older brothers. Today she has two sons. Her older brothers and her husband's brothers all have sons and no daughters, making her an aunt to 11 more boys. When the opportunity came to redesign the kitchen of the family's 40-year-old Stoney Creek home, she thought this was the perfect moment for pink.
The storybook kitchen renovation with its pinks, gold and whites, ornate cabinetry and crystal chandeliers is a dream come true for Anne. "I've liked pink since I was 10 and decorated my bike with pink crepe paper and streamers," she says. "I've always loved it." She admits her husband Dave got "a lot of heckling" from his hockey buddies: "What do you mean, a pink stove?" But now, she says, he and their sons feel just as at home in the new kitchen as she does. When picking the paint for a ceiling medallion above one of the chandeliers, she says, they all picked pink over white. But then again, she notes: "They do have their man cave."
The project took 18 months to complete and, when all was said and done, it exceeded its original $100,000 budget, demonstrating once again that few renovations ever go as expected. The relaxed ceramic subway tiles on the wall behind the rose-coloured Lacanche gas range had to be taken down and reinstalled to fix a leak in the water pipe running to the pull-out brass faucet for filling pots.
And then other parts of the project were delayed because some of the new appliances, although purchased from Canadian suppliers, were manufactured in Europe and held up because of transportation issues and other reasons. Such was the case with the two tall, narrow stainless-steel Liebherr fridges, imported from Germany, that are panelled, armoire-style.
"The French Barn arranged to fly our stove from France," Anne says. "And our cabinetry people went above and beyond to make it the kitchen of my dreams. Despite many complications along the way, it was working alongside Cromade Cabinetry and QuartzCo that made it all worthwhile."
Anne is a perfectionist. She went to the United States to buy the brass faucet, and she painted and distressed all the hardware and drawer pulls herself so they would match the antique white of the kitchen cabinets perfectly. "I want what I want," she says, reflecting a single-mindedness that has made her a success at organizing weddings, parties and other events. "In my mind, it all made sense."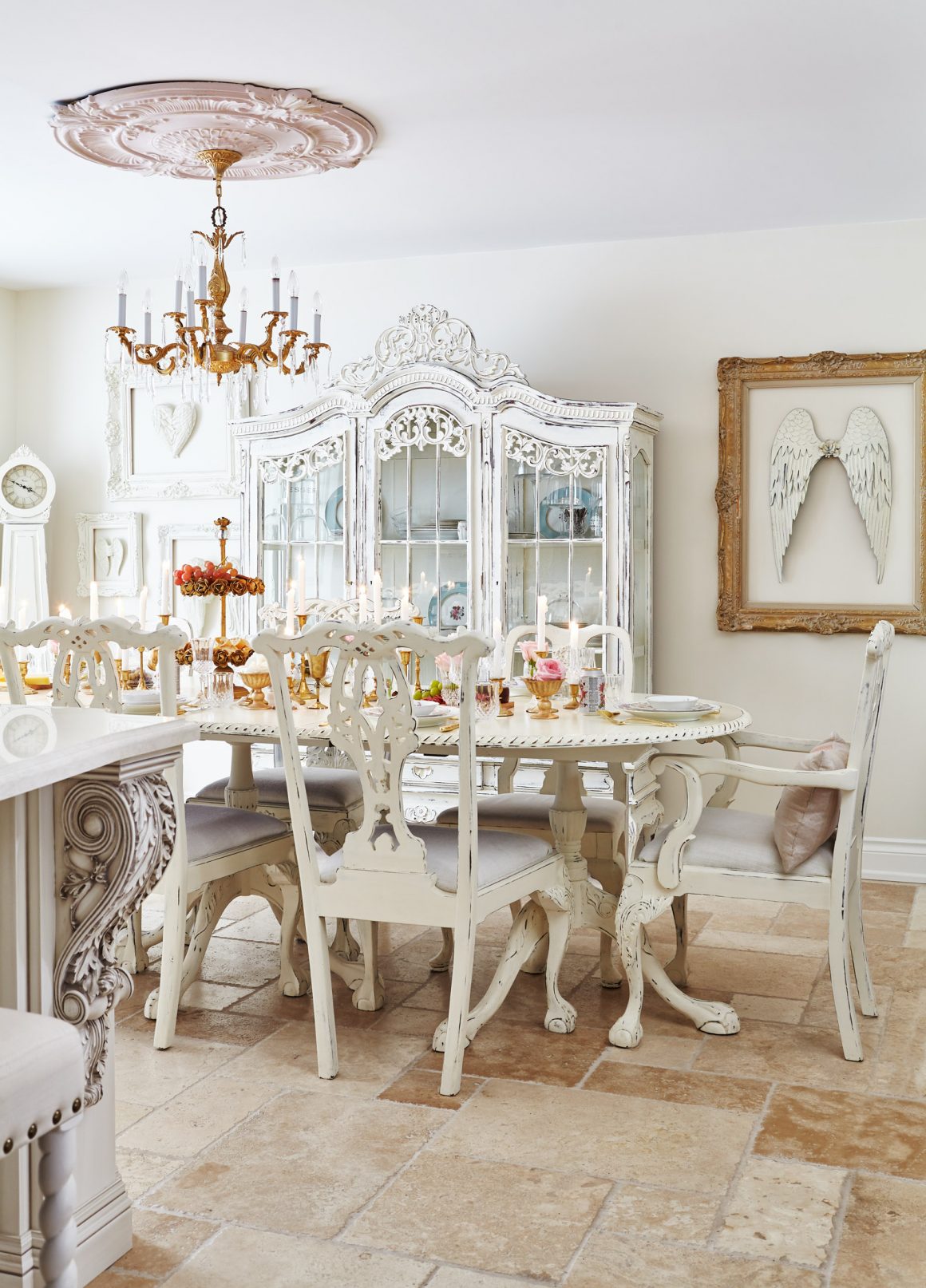 The nine-foot-long 18th-century Chippendale hand-carved table and china cabinet were imported from Paris. Anne bought them on a Facebook page called Junk in da Trunk. She sourced the vintage brass chandelier at Vineland Antiques.
The new kitchen is a full one-third larger than the old one. The old dining room was folded into the new 500-square-foot kitchen space, now perfect for the entertaining she likes to do. She took advantage of the extended renovation time to go through her own pretty things: vintage china, crystal, mirrors, antique furniture. It's inventory she has collected over the years for her business, Anne & Co., a photography studio and small event space, where she also sells custom-made, painted furniture.
At times, she says, some of the contractors she was working with were skeptical about her vision, particularly whether the whites, creams, pinks and golds would match. But that's where her years of loving colour, going right back to her childhood, served her well. Anne says she knew how to match undertones so that all the colours would harmonize.
And, she adds, she couldn't be happier with the end result. Three months after the kitchen was completed, she and her husband went to Europe for the first time. Of course, Anne stopped in at the Palace of Versailles outside Paris to see its famous romantic baroque design.  She could see that Louis XIV set the design bar very high: "Thank God, I didn't go there first!" she says. • 
CroMade Cabinetry
www.cromade.ca
905-688-6222
QuartzCo
www.quartzco.ca
905-892-0395