PHOTOGRAPHY: LARRY ARNAL
STYLING: JANE LOCKHART
Every new experience in life is accompanied by a set of lessons. Instructions are not usually included, unfortunately. That's because many of life's teachings are plucked from the bin labelled "live and learn." It's a place where prices may vary, and returns are not accepted.
But these life lessons don't always have to be imparted the hard way. Sherri and Patrick O'Hanlon can attest to that. They gleaned a few inspired insights from their experience of transitioning from a large single-family home to an empty-nest condo in Markham, north of Toronto. The main take-away they walked off with: There is a definite upside to downsizing.
It helps, though, if you know what you like, are clear about what you want, and work with a trusted designer.
"There's a sense of well-being when you can edit things in your life," says Sherri. "It's a great feeling when you get to clean out."
With their three children now on their own, the couple decided to scale back, moving into the top-floor unit of an six-storey condo complex about a year ago. The building was still under construction when they bought, so they opted to combine two units to meet their needs. They ended up with 2,500 square feet that includes two bedrooms and an office. It is smaller than what they'd had, but still large enough to accommodate family for an overnight visit.
"We got to design the condo ourselves," Sherri says. To do that they enlisted the help of the professional who had styled their previous home, designer Jane Lockhart.
"I've worked with Jane before. We work really well together. She helped make the walls work for me, from flooring to curtains, fabric for the chairs. I really respect what she does. I trust her," Sherri says.
Making the walls work may sound like an odd priority, but an essential one for Sherri who is an avid photographer and who, over the years and with some encouragement, has come to display her work in her home.
Lockhart says the aim was to design a living space that balanced the couple's needs for entertaining and privacy, and create an ambience that is "modern but warm."
"We hit that target," Lockhart says with confidence.
The designer created areas that serve as private sanctuaries. One is a small reading nook off the kitchen. It is one of Sherri's favourite spots in the condo, where natural light streams in. "It's nice and warm," says the homeowner. I love the chairs there; they don't have arms."
Another spot is a sitting area in the master bedroom, where Sherri can spend quiet time. It has a small fireplace and a sink and counter where she can prepare tea or coffee.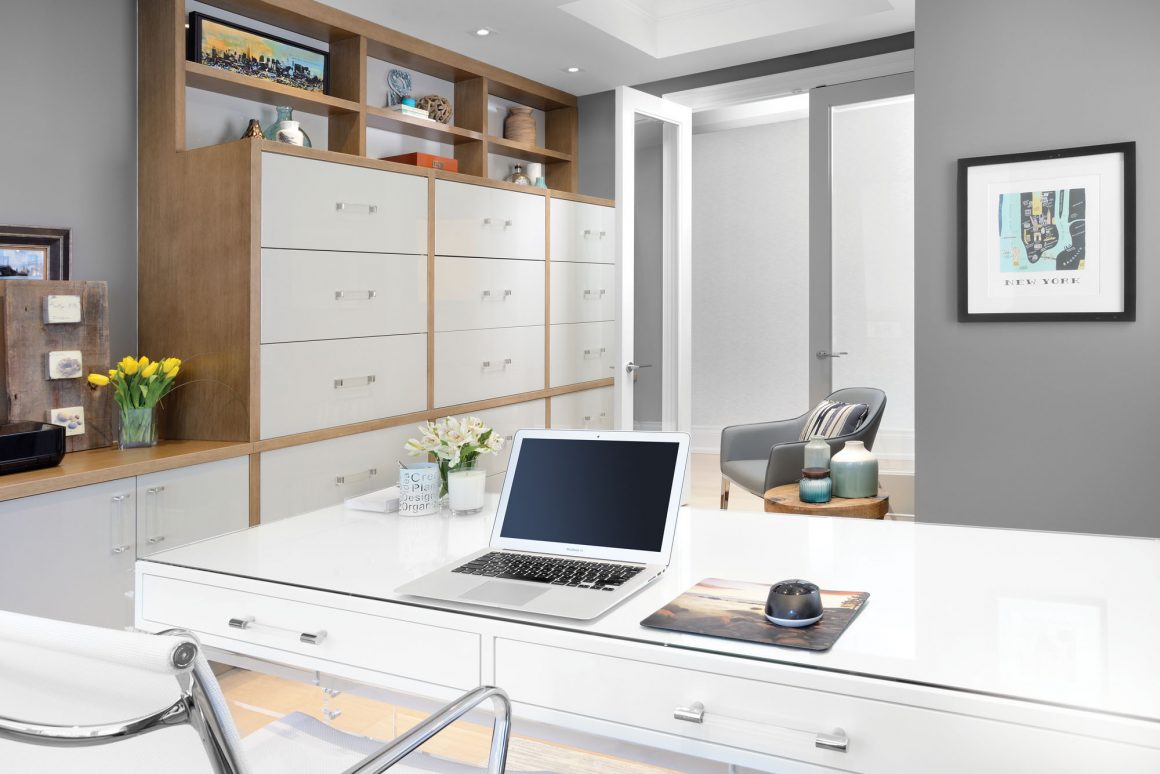 The bedroom itself is spacious and elegant, with a custom-made headboard set within a wall that was given a stylish grey metallic finish. And what's a master bedroom without a walk-in closet? There is nothing downsized about this space, however.
As Lockhart addresses it: "There is nothing more annoying than being disorganized." So she made sure her clients had space for everything. That space is appointed with a stately chandelier and under-counter lighting.
"It's very easy to be organized with that," Sherri admits, referring to the space. "It's a luxury."
The focal point of the living space is, of course, the open kitchen and living room area. The couple did not want a formal dining room. They had one in their previous home and decided against having another.
"We tend to be pretty casual," Sherri says. Instead, Lockhart designed a space for a custom-made live-edge maple-top table that sits perpendicular to the island, which is fitted with a quartz counter.
In the living room, a sleek horizontal electric fireplace set in a wall of stone draws attention. "It's modern, but it's very functional," says Sherri.
Adjusting to life in a condo took a little bit longer for Patrick than it did for her, she says. But they both enjoy their new living space. "It's very organized. The colours are all very comforting and soft."
She was even surprised by how much she enjoys living on the top floor of their eight-storey building. "What's nice about that is we are not too far from the neighbourhood. We're at the tree level. We can see the birds fly by, hear people outside, but when you close all the windows, it's very, very peaceful."
She is pleased with the move and how the new living space looks and feels. "It was time to downsize. It was a good decision for us."
She also enjoys the convenience, especially when they travel. "It's very nice to turn the key and let the concierge know you will be away."
As for Lockhart, she looks at it from another perspective. This new home has given the couple a setting for the next chapter of their lives to unfold.
"It's a really attractive space, but it's not overdone," Lockhart says. "It's modern with a soft edge, a soft feel.
"It's almost like a Canadian beauty, featuring the same materials that Canada has: stone, wood, the maple table, the finishes – all in a modern context."•

Jane Lockhart Interior Design
www.janelockhart.com
416-762-2493