Its name is mud — mudroom that is. But despite the unpromising moniker, in today's houses, mudrooms are taking on new importance and lots of style.
No longer an afterthought, "Eighty per cent of the large renovations we do have mudrooms on the wish list," says builder Dave Evans, partner at Cliff and Evans Ltd., a construction company in Toronto. In most homes, it can be found just off a side or rear entrance, as in the detached single-family home in Moore Park that his company renovated. Families prefer the convenience of using the door closest to the garage or driveway. Front doors, he points out, are reserved to welcome guests.
The mudroom sees a lot of traffic, which is why planning one should start from the ground up. Here designer Kate Zeidler gave the floors a style upgrade using soft grey porcelain tiles that emulate natural stone. Bonus: they are also highly durable and easy to maintain. Evans often suggests a honed finish rather than a glossy one that can be slippery when wet. And no matter what the period of home — this one dates from circa 1915 — modern conveniences such as heated floors are a must. "That way, you always have warm boots to put on, and they help speed up evaporation of any water that is tracked in," he says.
People with children and pets perhaps are most keenly aware of how important the mudroom can be, says designer Rhonda Thornton, owner and creative director at Bloomsbury Fine Cabinetry in Toronto. "Between school and activities, there can be a lot of gear and clutter," she says. "People now are investing more to have a space that is both organized and inviting."
Thornton designed the one in the home north of the city she shares with her husband and three children, ages 22, 19 and 16, plus three dogs. A solid maple bench has served the family well for more than 10 years. Underneath are storage bins carved with the names of each family member. Small children especially like having a space reserved just for them, she says, and they can keep such things as hats, mittens and scarves out of sight.
Thornton was ahead of the curve in incorporating a mix of open and closed storage, now a big trend. Sports gear and other paraphernalia not used every day can go behind a closed door. "People want a less utilitarian, more quality-furniture look today," says the designer. "It's also important to respect the overall style of the home." By adding a few details, Thornton was able to give traditional English-style cabinetry a look that fits beautifully in the French-style country cottage.
And you can ramp up the style by adding luxe details and personal touches without losing any function, says interior designer Dvira Ovadia, principal at Dvira Interiors in Toronto. She fearlessly covered the mudroom bench in her updated traditional home in the Allenby area with vibrant striped wool fabric by Paul Smith. This despite the fact that her two children, aged five and eight, clamber on it to reach their backpacks on the hooks above. "It's very durable fabric and the stripes hide stains," Ovadia says.
She ran durable natural slate floors underneath. Not only does she love the rich look, but they also remind her of growing up in Brussels. The farmhouse apron sink is not only European chic, but practical for rinsing gear and potting plants. The designer had both elegance and her children in mind when she chose the white wallpaper. She likes the sense of whimsy the gold bumblebees provide and the fact they are an international symbol of welcome. "Every detail is beautiful and was chosen with my family in mind, to make them feel happy when there," she says.
Every mudroom is different, and there are no fixed rules for decorating it. Except when it comes to combining it with the laundry area; most designers advise against doing so, says Sarah Gallop, owner of Sarah Gallop Design Inc. in Vancouver. "Ideally, they should be in separate areas of the house; a crossover can be messy," she says. Sometimes that is not possible, such as in the mudroom area she designed for a newly built home in the Cambie Corridor area of Vancouver. Gallop kept the two at opposite ends of the space. They are visually separated through the use of different colours and textures: smooth, pure white surfaces in the mudroom, soft grey tones and a mix of tiles in the laundry area.
Dog-washing stations, though, are an increasingly popular feature that does belong in or near the mudroom. Here the designer included one across from the washer/dryer. It consists of a sink large enough to comfortably lift the homeowners' small French bulldog for a quick rinse. "For larger dogs, I often design a small tiled-in area with hand-held shower attachment," she says.
Making the most of available square footage is important. Especially true of mudrooms in smaller homes, such as the "farmhouse chic" one designed by Barbara Mangoni, founder and principal at South Hill Interiors in Toronto. The usual impulse is to use open shelving to create the illusion of more space, but that's not what was done here, she says of the century home her company recently renovated. "In a more contemporary design like this one, clutter will make the room look cramped," she says. "You want as much behind closed doors as possible."
To keep it light and bright, she had white Shaker-style cabinetry built around a window to one side of the door. It faces one opposite, under which a simple open bench provides a place for removing boots. To the side, an industrial rustic wall rack holds coats and backpacks. Underfoot, the same wide-plank engineered oak with a hand-scraped finish runs to the doorsill. "Putting down tile would have broken the line and made the area look smaller," she says. "Plus, the wood adds a nice warmth, like a big welcome mat."
Everyone's dream: a spacious, gorgeous, organized mudroom. And that was what the owners of a newly built home in Pointe Claire requested, says their interior designer Mélyssa Robert, owner of Mélyssa Robert Design. "I put in contemporary sliding barn doors, which can hide any clutter from view," she says. "But with three kids, the couple still wanted everything as organized as possible."
So the designer created customized solutions for each member of the active family. And, because the family wanted this to be their forever home, Robert made them adaptable to grow with the residents. A touch especially appreciated in winter is a custom rack for drying gloves and mitts set over a heating grate.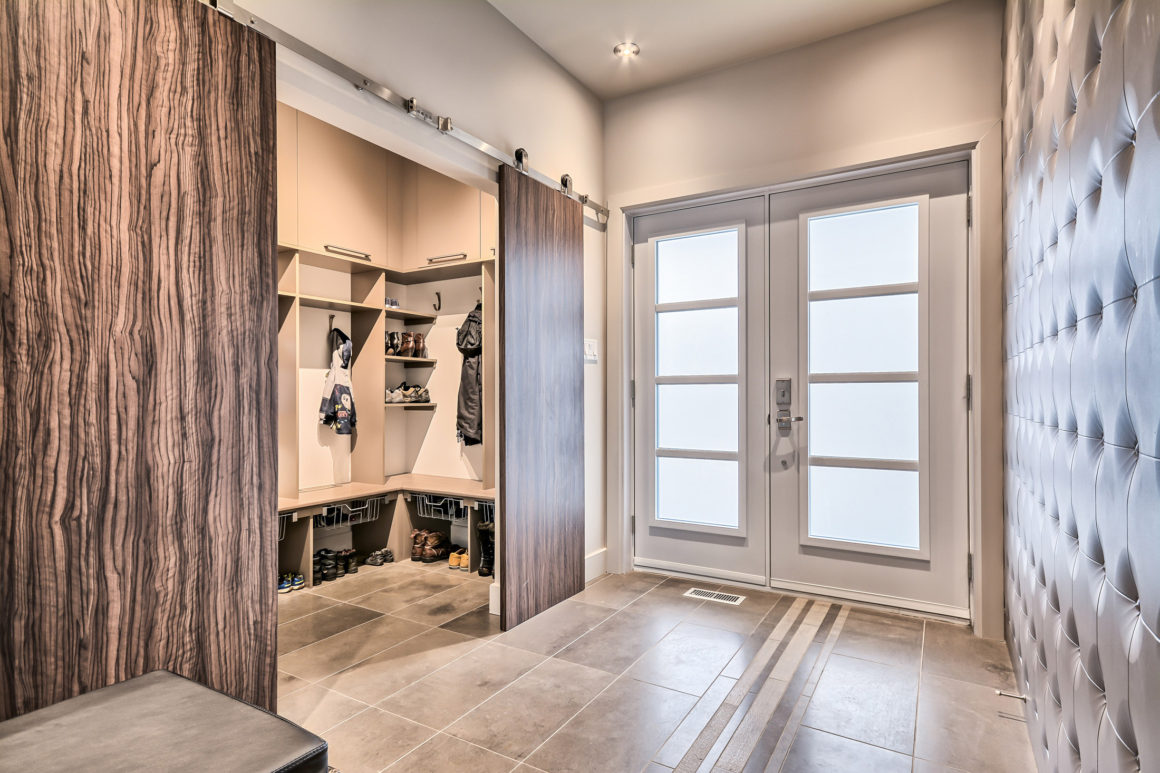 She also had to meet the challenge of using eco-friendly materials, also a big trend. This mudroom breaks with the new norm in that it's placed near the front door. Turns out, that's the one the family uses. "It doesn't matter where you place the mudroom," says Robert, "as long as it works for your lifestyle — and is as beautiful as the rest of your home." •
Dvira Ovadia
www.dvira.com
416-562-2252
Melyssa Robert
www.melyssarobert.com
450-858-3326
South Hill Interiors
www.southhillinteriors.com
416-970-1703
Cliff and Evans Ltd.
www.cliffandevans.com
416-628-7186
Bloomsbury Fine Cabinetry
www.bloomsburykitchens.com
416-782-7900 ~ 905-853-7700
Sarah Gallop Design Inc.
www.sarahgallop.com
604-952-4448