PHOTOGRAPHY: DARKO SIKMAN
STYLING: LAURA AGNEW AND VANJA SANTIC
Over the years, a designer develops a network of preferred suppliers: businesses and people who can be counted on to deliver the goods and services necessary to complete a project. Among these, there are often a few whom the designer establishes an especially close relationship with, whom she knows are guaranteed to elevate a project from great to extraordinary. Such is the case with Laura Agnew and Dario Drinovac.
Agnew is the owner and principal designer of Laura Agnew Interior Design, and Drinovac is a designer and co-owner of ROOM8, a store that offers high-end home furnishings as well as design services.
This 5,000-square-foot home's interior is a prime example of the Agnew-Drinovac collaboration: sophisticated, daring, unusual.
It's the third home that Agnew has done for her client. He gave her pretty much carte blanche with the interior, knowing that she understood his taste. Shortly before the project took off, he got married, and thus the home's design aesthetic reflects his wife also.
"My client told me that he wanted something different and special," says Agnew. "He really is the type of guy who likes things more edgy, more fashion-forward. He doesn't want to see typical things. His wife's style is also edgy, and she helped pick these colours. They're a very fashion-forward type of couple."
Choosing ROOM8 for nearly all the home's furnishings and millwork, as well as some panelled ceilings and walls, was an easy call for Agnew, who says, "Dario has the most cutting-edge products." Drinovac ensures that ROOM8's offerings are in the forefront of design that is the result of superb construction. He relies on Italian design and workmanship to get the look and quality, supplying items from such companies as Modulnova and Baxter Made In Italy.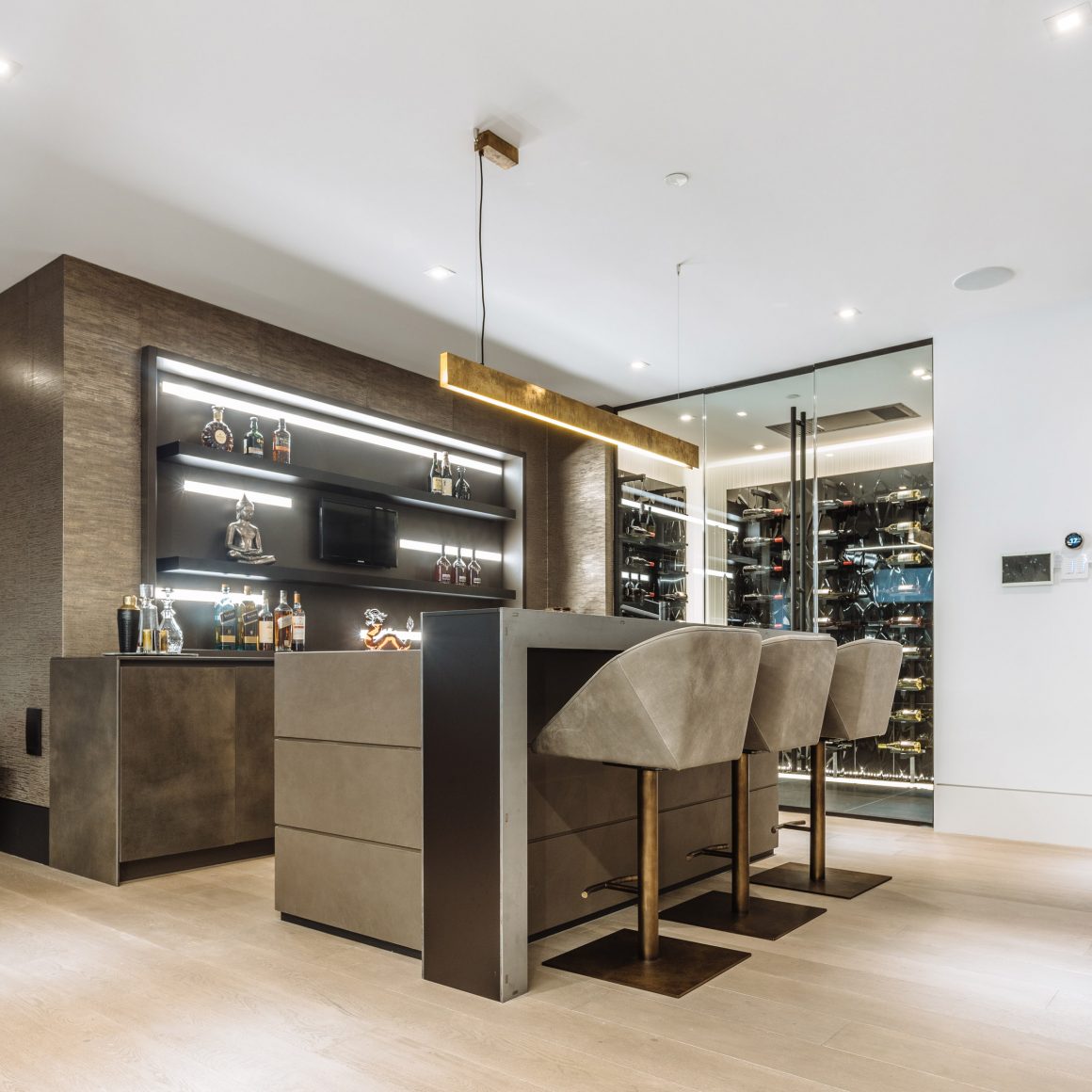 Building on the home had started several months before Agnew joined the project, providing a major challenge. Because many of the home's furnishings were to be made to order in Italy, "time was of the essence," says Agnew. "The house was already under way, and ordering stuff from Italy can take five to six months. My clients gave me free rein, and I was allowed to cancel orders already made."
The element of trust was strong; for instance, Agnew met only once with the wife to discuss the interior, with particular emphasis on colour choices. Already knowing the husband's preferences, Agnew was relieved that "it was fun working with his wife. She's decisive. It helps that she's an artist, and these colours appealed to her too."
Another challenge for Agnew was dealing with interiors on which work had been started without her input. "I spent time trying to understand the space, what could and couldn't change," she says.
It was a challenge for Drinovac, too. "I focused mainly on the architectural concepts, the volumes and particular finishes," he says. "There is an enormous amount of open space. The more open the space, the fewer places to hide mistakes. It's five times harder to do modern homes versus those with crown moldings; crown moldings hide problems. The challenge is to install perfection into a structure that is never perfect."
ROOM8 was responsible for huge amounts of millwork throughout the house, in kitchens, great room, office, bedrooms, bathrooms, man cave, media room. Drinovac gives full credit to the installers – DB Custom Millwork Installations – for meeting exacting tolerances.
There are several outstanding details among the cabinetry. In the great room, for instance, the large unit encasing fireplace and television has titanium panels as accents. The kitchen cabinetry is from ROOM8's Blade line, made by Modulnova and featuring, among other finishes, slim laminated porcelain surfaces for doors, drawers, and more.
Drinovac and team also supplied most of the freestanding furniture and elements such as lamps. Furniture, most by Baxter Made In Italy, has sumptuous finishes and upholstery. A case in point: the spectacular four-metre-long sofa in the great room, which is upholstered in "Kashmir leather" so fine that it looks like velvet.
Between the two of them, Agnew and Drinovac were able to produce fully realized interiors in a relatively short time. Combining leather, glass, fabric, wood, metal, lacquer, and porcelain to stunning effect, they have given their clients a home that is indeed fashion-forward. •


ROOM8
www.room8.ca
604-734-1323

Laura Agnew Designs
www.laura-agnew.com
Instagram: @lauraagnewdesigns
604-719-2733