Victoria artist Shawn O'Keefe is best known for his paintings of exquisitely tranquil landscapes that depict the many moods of Vancouver Island's forests and coastline. But their serene surfaces belie the frenetic pace of the artist's work life.
By day, O'Keefe oversees art direction and graphic design for a craft brewery in Victoria. He also owns his own graphic design firm, Artificial Flavour Graphic Engineering, which handles projects ranging from magazine illustration and logo design to designing skateboard and surf graphics for a variety of lifestyle brands. And he's part of an art collective that produces experimental artworks. "I'm a little all over the place," he says with a self-deprecating laugh, "but it keeps both life and my work exciting."
Through it all, over the past 15 years he has developed his own focused approach to painting. A search for manmade structures or people in these works is in vain; the artist intentionally omits them. Freed from the limitations of any pre-set narrative, viewers are freer to evoke their own memories or be open to new experiences.
O'Keefe reduces forms to their essential geometry, using big colour blocks to reference their essential shapes. He also injects a more freeform and improvisatory style that features a bold use of colour. "I'm always impressed when I see painting that can capture the essence with only a few strokes," he says. "In my own work, I try to get the most I can out of the least number of strokes."
Canada's legendary Group of Seven painters were "definitely a huge influence." Having studied graphic design at Malaspina College, now Vancouver Island University, O'Keefe says he feels an affinity with founding member Tom Thomson and colleagues. The Group of Seven painters also worked as graphic artists early in their careers. O'Keefe credits this background for his use of strong, spare lines.
The artist grew up in the 1970s on a little farm in the Cowichan Valley with parents who encouraged his artistic leanings. He was surrounded by art. His mother ran a hairdressing business inside the family home. Between appointments, she would work on a painting or drawing, and encourage her son to do the same. Inspired by Mad magazine, O'Keefe dabbled in cartooning, too. And he was exposed to the "hippie arts-crafts movement" by his parents' friends from the San Francisco Bay area, who would bring books and magazines when visiting.
By the late 1990s, he was experimenting with graffiti art, and learned to use spray paint. He continues to use it today along with the more traditional acrylic paints he generally works with. He occasionally executes landscapes on canvas, but prefers two-by-three-foot maple or birch-wood panels. And although he likes the idea of painting en plein air, he finds it more practical to make sketches and studies while on hiking or camping trips with his family. "My wife Susan is more into outdoor activities, such as mountaineering, rock-climbing and surfing, than I am," he says, "but I do love being out, immersed in nature."
The sketches are turned into paintings at night and on weekends after his day jobs. He has carved a light-filled studio out of a converted carport in the couple's Maplewood-area home. A collection of guitars, electronic equipment, and a drum kit are also stored there. In the rare moments he gets to unwind, he likes to sit in on jam sessions with the couple's two sons, Graeme, 16, and Ian, 14.
Two or three evenings per week, the artist also can be found in a separate studio space above a record store in downtown Victoria. There, he and two other artists, Blythe Hailey and Sean McLaughlin, stretch their own canvasses and work on large collaborative paintings. Known as the Woodpile Collective, they have developed a process since 2003 in which they sometimes work together; at other times, they each tackle a work in sequence.
"It's a very crazy, free approach, and lots of fun," O'Keefe says. "We start with no sketches, no concept. We just paint." Colour palettes tend to be on the wild side and very little is held sacred when it comes to creating these works. Often one artist will take the work in one direction only to have another take it in a new one — even painting over a previous effort.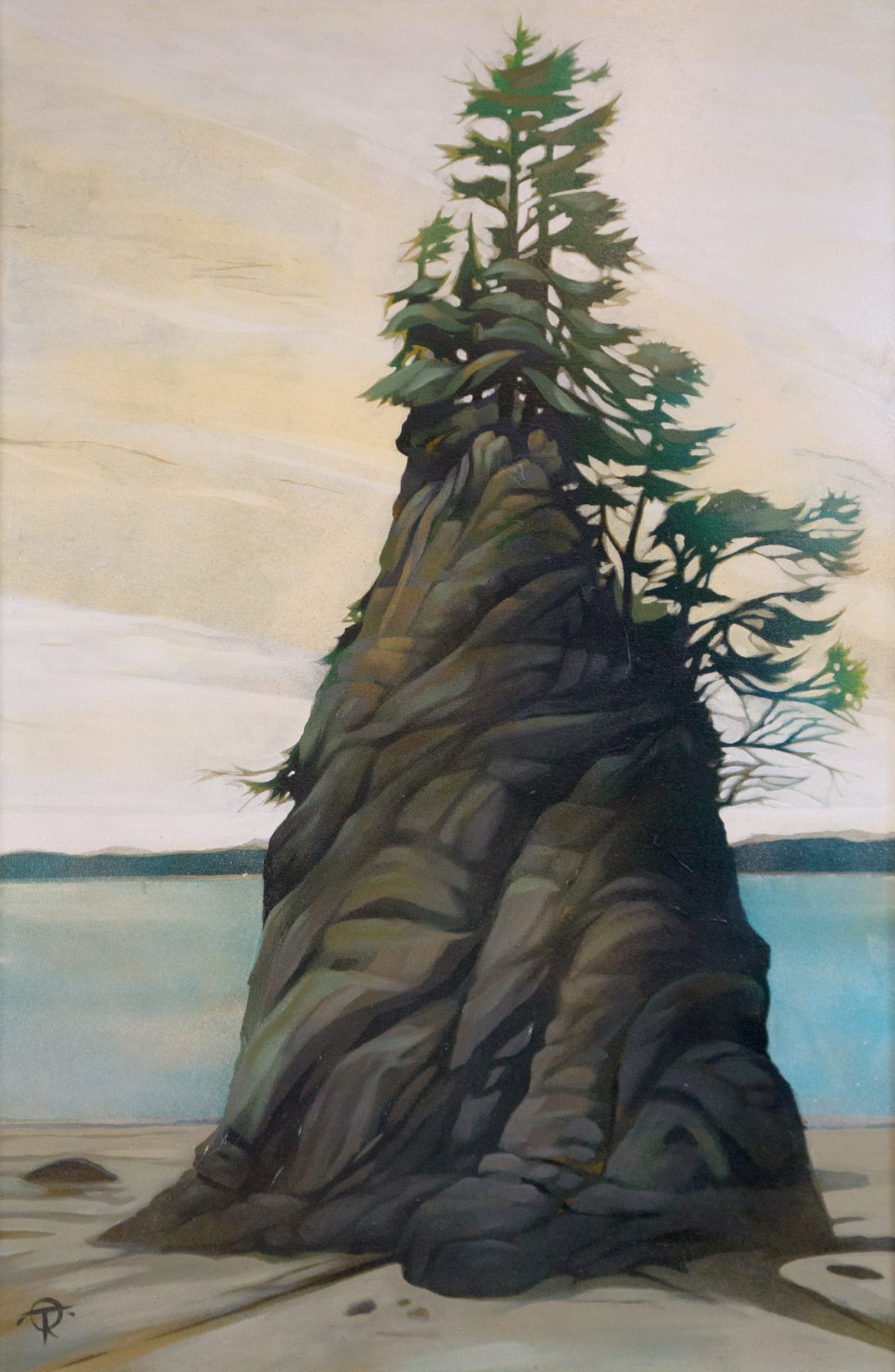 Some of this improvisational style carries over into O'Keefe's solo landscape paintings. In them, he sometimes becomes quite aggressive with the spray paint and purposely leaves evidence of its use. He believes this crossover approach has widened the appeal of his work. Often the younger crowd who view the Woodpile Collective's quirky graffiti-filled canvasses linger to view O'Keefe's landscapes.
His works have been shown in a number of shows, both big and small, over the years. These days, he also occasionally holds pop-up exhibits in local coffee shops or other venues. He sells his paintings mainly online through his website, www.Trust36.com, and can be reached directly for sales and commissioned works at shawnokeefeart@mail.com.
O'Keefe's plans include some forays with his family, deep into British Columbia's interior, sketchbook in hand. "And I'm hoping my schedule will allow more time for painting, which I really love," he says. •
www.instagram.com/trust36
www.trust36.com
www.phillipsbeer.com