PHOTOGRAPHY: MAXIME BROUILLET
She is a first-time homeowner who loves her home. But don't dismiss her declaration as simply a passing fancy that might not survive the test of time. That would be a mistake, because she is a woman who is absolutely, unquestionably, insanely, unabashedly and outright ecstatically in love with her living space.
However, it was not love at first sight. The emotional relationship needed time to grow. And like many stories of this kind, it all started oh, so innocently, when a girl met a house.
They first ran into each other back in 2014, on a residential street in Notre Dame de Grâce. She was young and single, with a bright future ahead of her. The two-storey brick detached house was old, a little tired, with all outward appearances suggesting its best days were possibly behind it. But she saw something. There was a spark. And this unlikely pair began their courtship.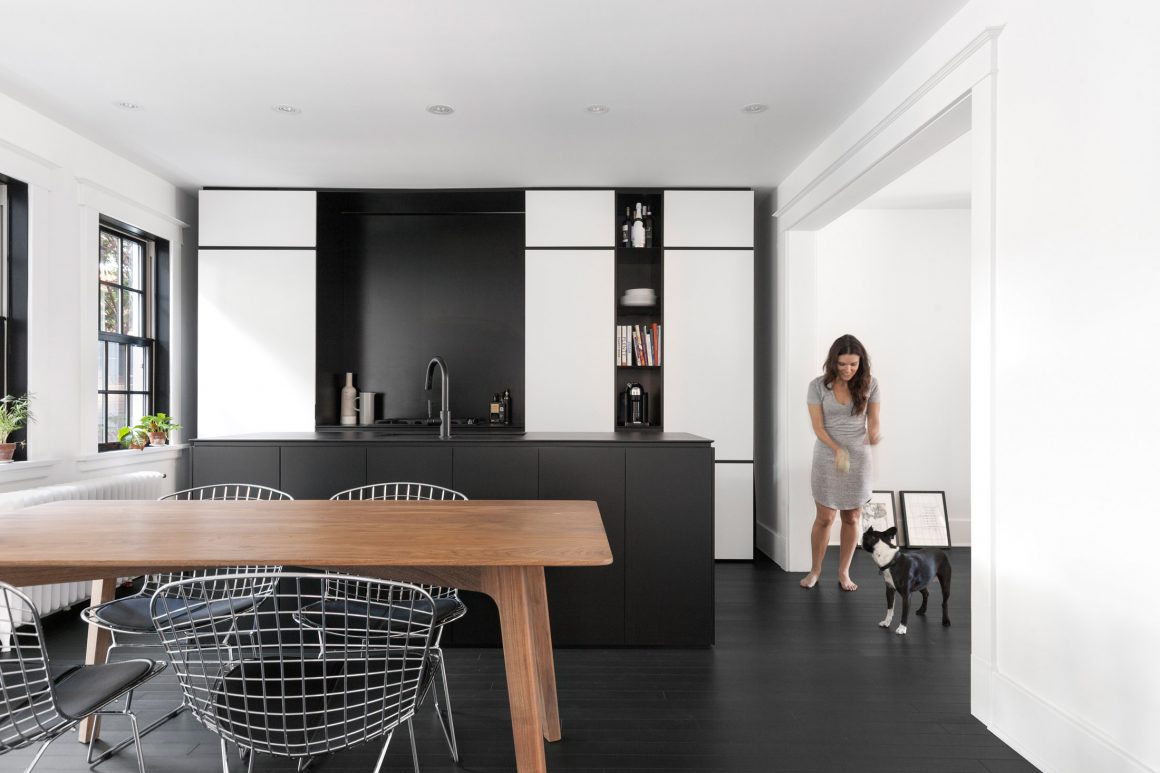 "I was looking for a home that needed some love," the homeowner says. "I was looking for something that no one had ever renovated."
Although she had been looking for a house just like this one on the western edge of the city, she knew she needed help. So she turned to an architectural firm she had heard about and admired, the award-winning Montreal-based la Shed. "Every time I saw a project by them, I really liked it," she says. And the collaboration began.
"I told them I really like that, I really like this," is how she tells the story. "I told them I didn't want colour in the house. I want white, black, grey. They are my colours. I liked the style of the house. I told them I saw it with black windows. I wanted light, a lot of light."
Renée Mailhot is an architect and one of the founders of la Shed who oversaw the process that transformed the interior of this 1927 home and added an extension off the back. For her, the project focused on creating a contemporary look within a traditional setting, which meant keeping many signature elements of the original design.
"To do contemporary, we don't have to wipe out the traditional elements; we integrate them," Mailhot says. And that requires finding a balance. They extended that view of duality to the owner's black-and-white colour scheme. "Everything revolves around this."
The biggest change, Mailhot says, is the impact of adding natural light into this old home, which was achieved mainly through the extension that was added to the structure. A two-storey addition with a skylight and floor-to-ceiling windows that lead to a backyard deck was added, while interior walls were removed to allow the light to be drawn inward.
"What they did with the light in the house – it's amazing," the homeowner says. "Before, it felt dark and small with all the separations."
Throughout the home, the all-white walls are in firm contrast to the black wood floors, which are finished in a custom stain.
In the kitchen, the all-black island – with it black rectangular sink and black faucet – is topped with Dekton countertops. It fronts a wall of cabinets featuring white panel doors. "We didn't want to be traditional" in this space, Mailhot says.
"We wanted something very contemporary in a traditional setting," she adds, referring to the backdrop that is the rest of the house.
In the living room, the traditional elements were given more consideration. The brick fireplace was modified, upgraded to include a gas appliance in accordance with Montreal's new rules banning wood-burning devices. "We kept the spirit of the fireplace, but enlarged it," Mailhot says. "We gave it a modern uplift."
Another melding of contemporary and traditional styles is showcased in the stairs leading to the second floor. The original wood stairs were removed and replaced with a steel structure anchored within the wall on one side and framed by the original wooden bannister on the other. The floating stairs that have open risers are finished in black; the bannister along with the wood detailing is painted white.
Upstairs, the same black floors as on the main level contrast with the all-white walls and ceilings. There are two bedrooms and a music area, along with a sleek light-filled ensuite bathroom.
In the basement, which is dominated by the garage, the owner requested that a glass wall separate the spaces, giving a small gym a full view into the parking area. "I just thought it would make the space look bigger," she says. When the garage is clean, "it's beautiful."
"I still can't believe this is my home, that I did this," she admits, as she reflects on how far she and her house have come. "I decided to do this on my own. I did this from start to finish, completely on my own."
She revels in her good fortune of having found it. "I go from one room to the other and I say: 'I love this, I love this.' "
"I am happy with the neighbourhood. I am happy with the house. I wouldn't do anything differently."
Ah, don't you love it when a relationships defies the odds? •


la Shed Architecture
www.lashedarchitecture.com
514-277-6897