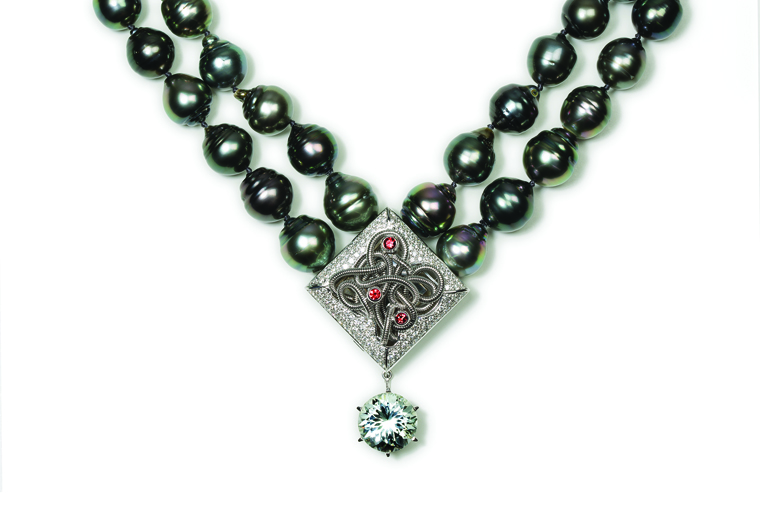 A REAL GEM
Gloria Bass celebrates 40 years of designing jewelry
STORES WE LOVE
Gloria Bass Design
1361-1 Greene Avenue
Westmount
514-933-7062
www.gloriabassdesign.com
BY JULIE GEDEON
How perfect that a ruby traditionally marks 40th anniversaries, as that's how long Gloria Bass has been crafting fine jewelry, and it's her favourite gemstone. "I just love that bright red," she says as she mulls over the suggestion of designing a ring with the precious stone to celebrate her impressive career.
She also has a penchant for pearls. "I'm just amazed at how many types and colours of pearls are available these days," she says. "They just naturally light up a face and shoulders."
Bass' knowledge and artisanship of jewelry and gems have earned Gloria Bass Design an enviable reputation throughout North America and Europe. Singer Phil Collins is among the famous people who have stopped by her Greene Ave. store in Westmount to purchase gifts.
Her passion for jewelry design began when she accompanied her husband to southern California where he was studying for his master's degree. "We both went on student visas, so unable to work, I had to find something to do," she recalls. "I was always good with knitting, sewing, crocheting and other crafts and found myself drawn to the jewelry courses because there really wasn't anything like that in Montreal back then."
When Bass returned to Montreal, she continued to work on her designs in her basement. Wanting some expert feedback, she looked up David Kucer, a fifth generation metalsmith. "I just rang his doorbell one day and asked to show him what I had made," she says with a laugh. "He looked at everything without saying a word for at least five minutes and then he looked up at me and said, 'You have golden hands.' I'll never forget those words and the sincere look on his face."
Bass spent six years perfecting her goldsmithing by "working on the bench," and apprenticing with a European jeweler. Realizing she needed to break out on her own to take her work to the next level, she opened a tiny shop on Queen Mary Rd. in Snowdon. Six years later, she moved to Westmount's posh Greene Ave.
Noting the quality and originality of her work, the Royal Canadian Mint invited Bass in 2000 to be among four prominent jewelers to design a collection of her own to herald the millennium.
Customers are excited to tell her when they've recognized someone wearing her jewelry. "I have a few signature styles," Bass explains. They include her popular stacking rings that immediately relate her goldsmith and gem artistry. She is also known for the wrapped wire/coil technique incorporated into many of her necklaces and bracelets.
As soon as customers walk into her store, Bass notes their style of clothing, how much jewelry they're wearing, and what their personalities seem like so she can begin to determine what design would suit them best. "I guess that's how I'm using my psychology degree from McGill," she laughs.