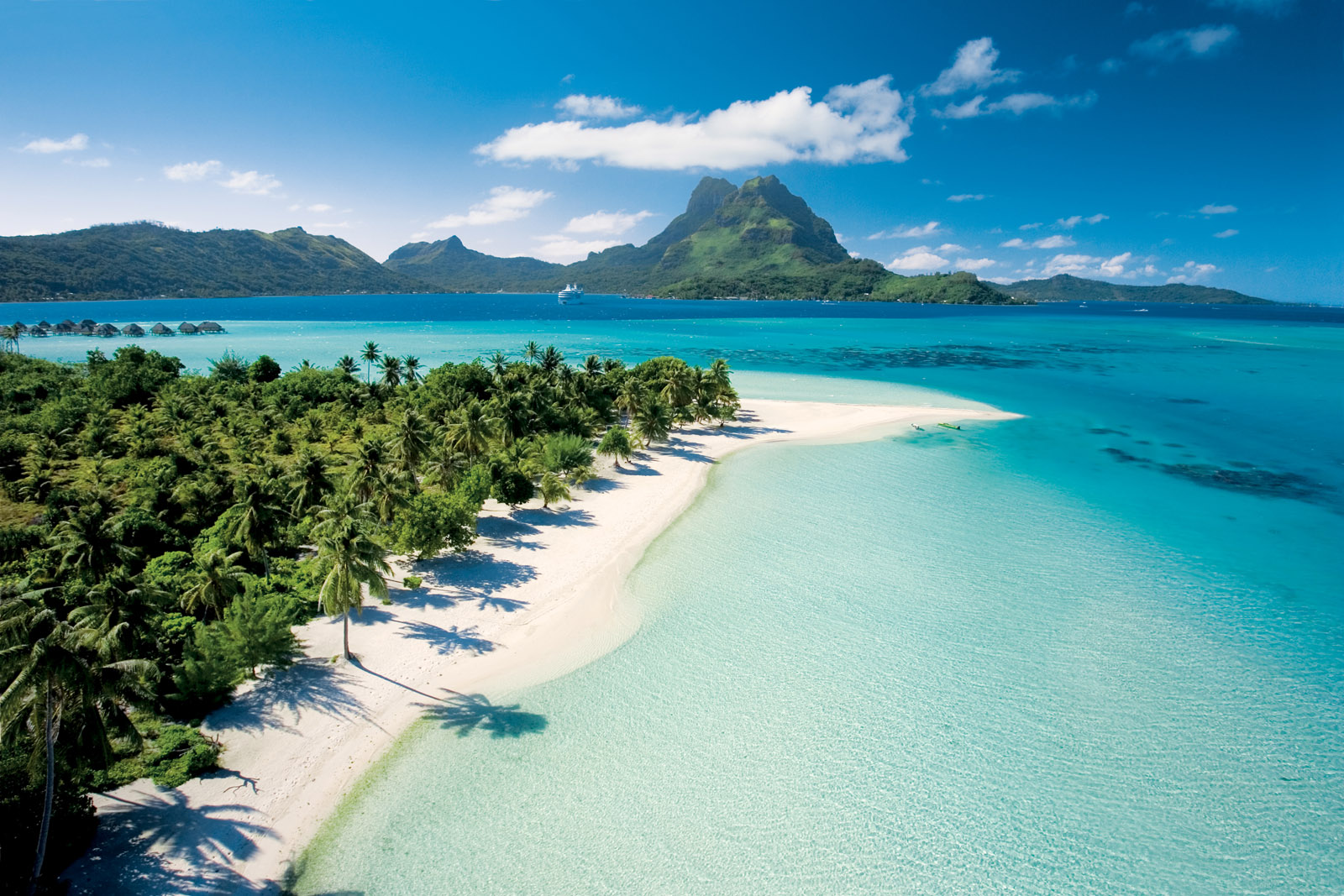 McLennan_Tahiti_2013_0179
Enjoy time on our private beach in Bora Bora.
French Polynesia is an idyllic destination for anyone who needs to unplug from the busyness of life
BY CLAIRE NEWELL
Dinner for two at a table set on a private beach, lit only by a hurricane lamp and the moonlight.
We sat with our toes in the sand staring at the ocean and the bright stars in the sky, sipping champagne. My husband and I were at the St. Regis Bora Bora Resort, where our five-course French meal with a Tahitian-vanilla flair was being impeccably presented by our waiter, who rode a bicycle from the kitchen to the beach to deliver each course.  It was one of the most memorable meals I have ever experienced and something I will never forget from my trip to Tahiti and French Polynesia.
The moment I arrived in the capital, Pape'ete, I could tell that I would not be disappointed by the trip that I had dreamed of for decades. Stepping off the plane, I inhaled the warm, fresh air and visually devoured the brightly coloured tropical flowers and sparkling azure-blue water.
Having taken several fine arts courses in university, I immediately understood why French post-Impressionist artist Paul Gauguin spent 10 years near the end of his life in French Polynesia, and why most of his paintings from that time depict the people and landscapes of the region. Capturing the stunning beauty, with its sculpted sky-piercing, moss-green peaks and vivid turquoise lagoons, is what Gauguin did best, and what I tried to recreate with the hundreds of photos I took.  But no painting or photo can fully capture all that makes these islands so magical. Sultry Tahiti and French Polynesia is a place to completely relax and experience the warm, laid-back island culture while fully unplugging from the rest of the world.
It's an island paradise for vacationers, rich in culture, nature and hospitality.  I liken it to Hawaii of 50 years ago.  And it is only two hours of flying time past Hawaii, with direct flights to Pape'ete from Los Angeles's LAX. With non-stop LAX connections all across North America, it has never been easier to get to this remote island paradise.
While French Polynesia is close to Hawaii, it feels as though it's a million miles away.  The eight Hawaiian Islands get nearly nine million tourists yearly; the 118 islands of French Polynesia get about 200,000. This is a destination where you can still have complete privacy and wear nothing more than a swimsuit and cover-up from morning to night.  You can spend days not seeing anyone while staying in a gorgeous overwater bungalow, jumping off the deck into the warm, crystal clear water to snorkel, passing time watching the fish through the house's glass floor, and have your meals delivered so that you never have to eat in a restaurant.
French Polynesia is composed of five groups of islands, or archipelagoes. Of its 118 islands and atolls, 67 are inhabited, and Tahiti, where the capital, Pape'ete, is situtated, is the most populated island.
I knew that I was going to enjoy my trip, but I had no idea just how amazing it would actually be. The uniqueness of each island is what stood out most; they are as varied as they are exotic. In many cases, the islands differ quite dramatically from each other, so it is important not to assume that you can do the same type of activities on each of them. For example, you can snorkel everywhere, but some islands are better than others, and some islands have high-end accommodations while others don't.
Another difference to note is that some beaches are smaller and more difficult to access than others. If you are accustomed to popular resort destinations, such as Maui or Mexico, with their wide, long stretches of beach, you may be surprised by these Polynesian shorelines. That said, the scenery will not disappoint – from geometric ridges strung with waterfalls on the high islands to flat, desert-like atolls, where lagoons far outsize the landmass.
If you are planning to island-hop, getting around is best done by flying on Air Tahiti, the country's only domestic airline, or by taking boats between the islands. All of the islands are small and require no more than a day or two to see the sights, but I recommend adding more days if you want to melt into the slow, peaceful pace of island life.
A French colony since the late 19th century, French Polynesia has been a "collectivity of France" since 2003.
I found the French influence there far more prevalent than I had expected. I was so surprised when I saw a delivery service dropping fresh baguettes to almost every home.
It was interesting to observe how the French culture has been kept alive in such a remote region.  I'm sure that this is why so many of the visitors I met were from French-speaking European countries: France, Belgium and Switzerland. Every local I met was friendly, happy and warm. We didn't always speak the same language, but I felt completely welcomed.
My favourite activity was walking around in the morning while so many Tahitians baked their breadfruit, spreading the aroma of a bakery around the entire island.
Island-hopping is a popular way to see French Polynesia.  However, in my opinion, cruising is a better option for a first-time visitor to this destination. Cruising allows you visit multiple islands and experience all of the different areas and activities without having to deal with unpacking and repacking, transportation, airports, changing hotels, ferries, and the like.  It would also be expensive and time-consuming to replicate the same type of trip on your own using ferries, planes and hotels.
When cruising, I recommend you venture into the towns to try the local cuisine. However, be forewarned that restaurants in tourist-heavy areas are expensive. With the exception of fresh seafood and tropical fruit, everything is shipped from a great distance. Also, the high cost of electricity and a currency tied to the Euro (making the exchange expensive for North Americans) drives up costs.
Cruising ensures that food, accommodation, drinks and entertainment are included in the price, allowing you to simply sit back and relax on the top deck and watch the sun set behind the islands. Some cruise lines offer regular sailings in Tahiti and French Polynesia, including Windstar Cruises and Paul Gauguin Cruises; others offer seasonal sailings.
While I was taking in the breathtaking views of these stunning islands, I came to  appreciate why the postcard-perfect allure of Tahiti and French Polynesia has drawn visitors – and had others dreaming about it – for centuries. Of course, when the Portuguese explorer Ferdinand Magellan became the first European to discover the islands in 1521, he wasn't exactly in search of a place to unplug from the busyness of life. But for those of us for whom, in the words of poet William Wordsworth, "the world is too much with us," this is an ideal – and idyllic – place to discover.
IF YOU GO, SIDEBAR:
Tipping : Not customary or expected
Language: French
Currency: French Pacific Franc (CPF)
Hello: "ia ora na"
Bring: Water shoes
Water: Safe to drink
Entry requirements: Passport validity of three months
Average temperatures: 28°C in January, the
hottest month, and 25°C in July, the coldest month
Wettest month: January – 240mm of rain
Best time to visit:  May – October