PHOTOGRAPHY: COLIN PERRY
STYLING: NEGAR REIHANI
The design of M8 Restaurant, a chic eatery on Vancouver's Seawall, is more than a simple amuse-bouche, according to Negar Reihani, founder and principal designer at Space Harmony interior design studio in Vancouver. "I wanted to provide a visual feast, to not only build anticipation for the meal to come but give something for the eye to explore while waiting to be served or lingering over a digestif," she says.
Owner and head chef Xin Mao wanted a decor that would be sophisticated enough to say fine dining, but laid-back enough so customers could enjoy the experience. Reihani, who was hired to oversee the design, was purposely theatrical in layering and juxtaposing various textures. There is a hint of an industrial look as hard surfaces are played against soft ones, cool tones against warm.
It sets the stage for the main attraction: the Asian-inspired menu. "I'm from the north of China, a region big on dumplings and noodles, but you won't find any dishes typical of that cuisine on the menu," Mao says. He also served up Italian-inspired dishes as co-owner of MoMa Contemporary Bistro in Richmond, and has worked under some of Vancouver's top Italian chefs at Cincin Ristorante and Cioppino's Mediterranean Grill.
Though both ethnic influences are evident in the food he prepares, this chef does not like the term "fusion cuisine."
"I do combine elements of Chinese and Italian cuisine, two of the oldest and finest in the world," he says. "But I think what I do is more conceptual, more of a deconstruction."
He also strives for an element of surprise and fun, using only in-season ingredients gathered from local farms or the small garden behind the restaurant.
Reihani began by giving some of the restaurant's original features an update. For some industrial edge, the off-white concrete floors were polished, and the high ceilings given a coat of black paint to minimize exposed ducts and pipes. The walls were softened with a velvety layer of Venetian plaster. When an imposing old-school cherrywood pub bar proved immovable, she gave it a chic makeover, cladding it in marble. The adjacent mammoth 23-foot-long banquette was also a permanent feature. But the black leather with which it was covered, an effect the designer described as "very dark and a little scary," would go. She reupholstered it in a rich and striking turquoise velvet in a variegated dye. On the wall above are panels of acid-washed mirror arranged to resemble a city skyline. "The colour and sparkle make a dark corner livelier and inviting, while the distressed finishes are elegant but not overly formal," she says.
The designer also added a 13-foot-long table in the centre made entirely of live-edge mango wood. The table's shape and elaborate veining give a sculptural effect while the natural finish adds warmth to the space. Seating up to 12, it encourages communal dining. It has proved a popular spot for locals who drop in as singles or couples for an opportunity to meet and mingle with their neighbours.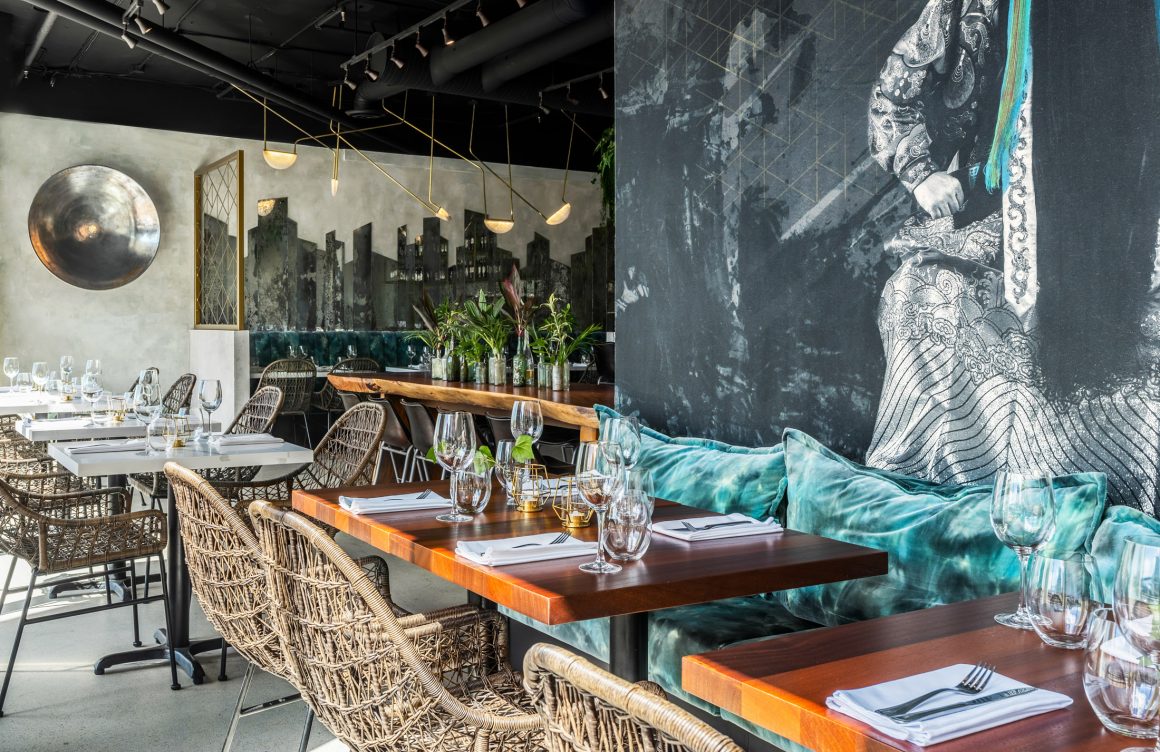 The chairs that surround it took a great deal of thought for Reihani. She weighed hundreds of options before deciding on contemporary wicker. They make just the right statement, she says: Asian and modern, casual and welcoming.
If she had to choose a favourite finishing touch, it might be the highly original alabaster and brass light fixtures by Randy Zieber, a Vancouver artist turned lighting designer. "Each of the stones is hand-carved and polished," she says. "They are so original and add a warm, natural ambience."
Customers' most-requested spot when reserving is the small lounge area toward the front, Mao says. Tables are set up in front of a comfy cushion-topped bench from which diners enjoy the sea view beyond. On the wall behind them is one of his favourite elements of the restaurant's design: a striking graphic panel that echoes a similar one on the ceiling over the bar area.
For these original creations, freelance graphic designer Aimee Kang rendered intricate drawings of classic Peking Opera characters on a black background, punctuating them with bright colour. One warrior's spear is puckishly replaced with a vegetable stalk; for the other, spatulas take the place of swords. Mao says it took a lot of back-and-forth communication to strike just the right note.
"In the end, I think the entire decor whets the customers' appetites and lets them know they can expect something surprising when they eat here," he says. •
Space Harmony
www.spaceharmony.ca
604-500-0120
M8
www.m8yvr.com
604-620-9586