PHOTOGRAPHY: DANIEL HWANG
STYLING: ALEXANDRA HRISTOVA
Alexandra Hristova has a passion for transforming the ordinary into something extraordinary. It's at the heart of every residential project she undertakes, enabling her to create enticing and intriguing spaces that reflect the unique personalities and lifestyles of her clients.
"I love the creativity of my job, especially when I'm able to build from an empty lot," says Hristova, the Vancouver-based interior designer with A2H Design Studio, who specializes in the design and creation of high-end residential projects that integrate interior design, architecture and landscape. "A well-designed space should be inspiring but also reflect the homeowner's core essence," she says. "Nothing gives me greater pleasure than seeing my client's vision become their beautiful reality." 
A case in point is her latest project: an 8,500-square-foot, open-concept house nestled in the prestigious neighbourhood of Morgan Creek in South Surrey, which Hristova designed for builder A&G Gill Bros. Construction.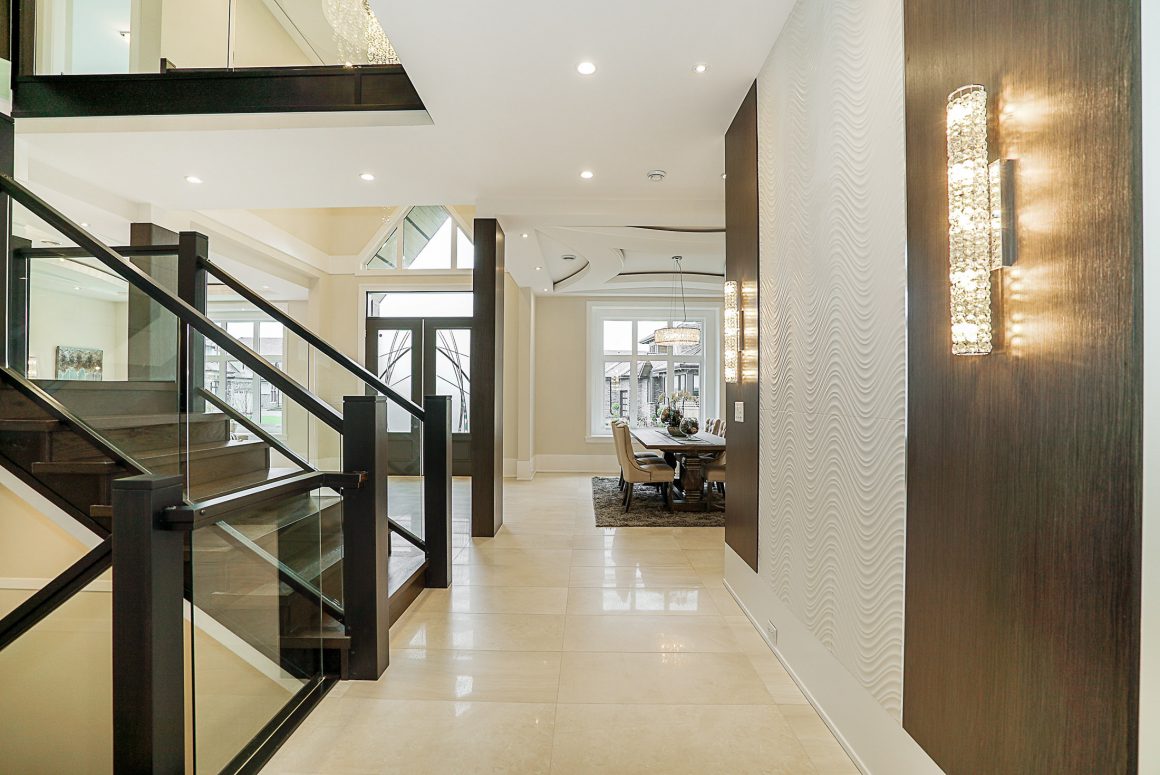 The sprawling eight-bedroom, 10-bathroom home with three-car garage is bright and airy thanks to its large rooms, high ceilings, expansive windows and, of course, the designer's touch. 
Set on a pie-shaped lot just steps from the Morgan Creek Golf Course, the house integrates traditional and contemporary styles to create a transitional look and flow that is timeless. Lines are simple but sophisticated; textures are compelling; and colours run the gamut from soft to vibrant. With rooms seemingly spilling into each other for easier sight lines, it's an oasis for a busy family whose members crave individual space but like to feel connected. 
The floor of the wide entrance foyer – with the dining room on one side and the living room on the other – is laid with 18-by-36-inch white Italian porcelain tiles that comprise 26 different patterns. "They're randomly placed to create different lines," Hristova says. "I love that! It's very natural." 
The living room, decorated in unexpected turquoise, boasts a glorious see-through gas fireplace with a floor-to-ceiling engineered stone surround of white, grey and brown that resembles waves – the same pattern echoed in the two ceilings. The wave appears in other nooks, too, while other fascinating angles and shapes provide eye candy "to create more drama in the space," explains the designer. 
The wow factor is evident in the sleeping areas and enormous basement, too. 
"This was such a fantastic project, especially because of its proximity to the golf course," says Hristova. "It's high-end. There's a lot of green space around. For people who desire space, that's what this house represents." •


A2H Interior Design
www.a2hinteriordesign.com
604-910-6546