PHOTOGRAPHY: DREW HADLEY
STYLING: CATLIN STOTHERS
In every direction but north, the Griffintown condominium of Johannes Kau and Annaliese Jagusch overlooks cityscapes, parkland and the Lachine Canal. So the couple have made these outstanding views the focal points of their custom-built home.
Johannes and Annaliese bought two adjoining condominiums – totalling 2,700 square feet – almost three years ago, in a canal-side complex before construction began, largely because of the developer's plans for large windows.
"The windows have an industrial, Old-Port feel, reminiscent of turn-of-the-century factories along the canal," says Johannes, president of Mobilia, a Montreal-based chain of contemporary European-inspired furniture and accessory stores with locations in Montreal, Toronto and Ottawa.
The space checked major boxes on their wish list: a central location, bright in all seasons, great potential. It had clean, simple lines and no walls to block natural light. They wanted to create a modern interior with a comfortable but uncluttered, understated look. Above all, they sought to bring the outdoors in.
"We wanted as much emphasis as possible on the environment," says Annaliese.
Beyond that, the challenge of customizing their new home was daunting. "Standing in that open box, it was difficult to know how to go about creating a floor plan," says Annaliese, who is senior vice-president of a global market research firm.
They asked designer Catlin Stothers of Catlin Stothers Design to combine their aesthetic vision and growing storage needs. "When you start with nothing, it's hard to envision what to do," says Stothers. "We didn't make impulsive decisions. We discussed and debated every design element. We considered proximity, and thought about how their lifestyle would change at different life stages."
Stothers collaborated closely with architect Maxime Moreau of MXMA Architecture and Design. Together they worked with the contractors to coordinate the project. "Our role was to ensure that all rooms were optimal in terms of efficiency, natural light, flow and finishes," Moreau says.
Bedrooms overlooked the city and canal in the contractor's plan. After much collaboration with Moreau and Stothers, it was decided that the layout would be flipped to create an open-concept living space with vantage points for watching sunrises and sunsets.
The couple also wanted a central hallway that would lead the eye to the view. A western branch leads to two bedrooms with ensuite bathrooms: the master and a child's room for their two-year-old son Thomas. To the east, there's an office, TV room and guest bedroom with ensuite, which doubles as a playroom. Every room has a view.
European white oak floors soften the harshness of exposed concrete. Original artworks, mounted on white walls, add splashes of colour. A central shelving unit displays books and souvenirs but hides sundries in closed cubbies.
"My vision for the kitchen was maple and white," says Annaliese. But the team persuaded the couple, with the help of three-dimensional renderings, to venture toward an all-dark kitchen to take advantage of the unique opportunity of so much light.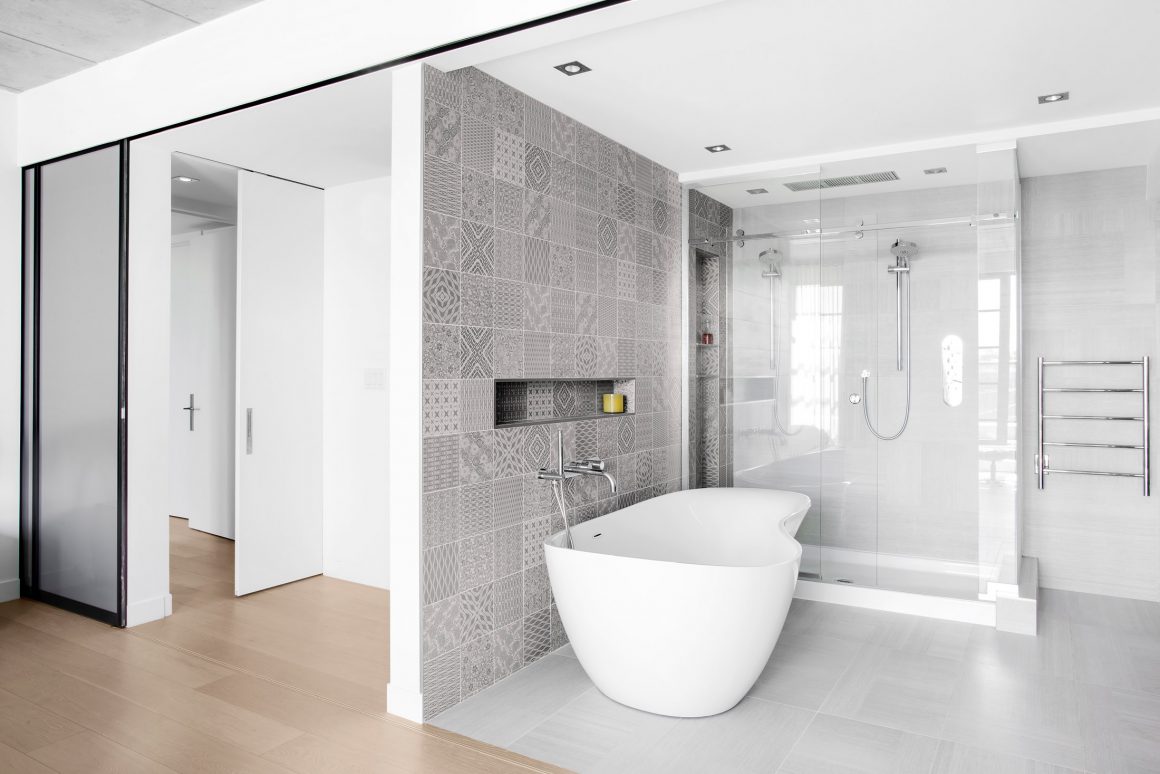 Lacquered matte charcoal kitchen cabinetry contrasts with cool, stark concrete. A bank of cabinetry against a wall contains Miele appliances, customized drawers, and a shiny back-painted glass backsplash.
Designing from scratch "was a pleasure" that enabled them to prevent the pitfalls of previous kitchens. Both Annaliese and Johannes are tall. Custom-built counters accommodate their height, as does the industrial-style brass light fixture above the island.
"We constantly played with scale, light and proportion," says Stothers. "We offset the massive with thin and simple." For example, the four-by-12-foot island countertop was hoisted in by crane. The ultrathin sintered stone material, called Lapitec, has a smooth, durable finish that offsets surrounding rough surfaces.
A major architectural feature is the wine closet, which holds about 360 bottles on aluminum and walnut racks. Inside, there's a small serving bar and enough room to open bottles. "It creates a real impression when you're coming down the hall," says Johannes.
Recessed lighting at the base of concrete pillars highlights imperfections in the structures to stunning effect. Other sources of ambient light are overhead track lights and tiny sparkling beads in the Italian ceramic panels above the gas fireplace.
The master bedroom has a walk-in closet and European-style bathroom. Recessed opaque glass doors slide shut to prevent early risers from disturbing light sleepers.
Two can admire the view from the stylish tub. A television is hidden in the grey storage unit, which contains another gas fireplace and drawers for linens and toiletries.
In Thomas's room, white cabinets blend into white walls. Toys in display boxes, mounted on an aluminum strip, and scattered over custom storage units add colour. As Thomas gets older, he can easily adapt the room to suit his needs.
A glass niche over his bathtub brightens the space with natural light and a glimpse of the canal. Italian porcelain graffiti tiles add fun and character.
In the preliminary architectural plans, Thomas's bedroom and a connecting playroom occupied the west side of the condo. However, by moving the playroom to the east side, the couple were able to enlarge the master bedroom and take advantage of two sets of double-door windows.
"Coming from the furniture industry, Johannes has a broad sense of design," Moreau says. "We challenged them on a few things, but once we showed them the visuals, they understood where we were going."
Moreau says that because the unit is custom-designed, it required a lot of on-site coordination; plumbing and electrical installations had to be relocated from where the contractor had originally sited them. "It was a challenge to ensure that we had the final product that we wanted," he says. "For example, all of the plumbing had to be reconfigured, so we wouldn't have drains in places like the ceiling of the master bedroom. We did a lot of work that made a difference. Who knows where the pipes would have been!"
Recessed glass sliding doors isolate the TV room to contain sound. Patio doors access the balcony, which spans the eastern side of the building. A similar balcony runs along the western side. "It's such a sanctuary, you don't need to go outside for green space," says Stothers. "You can see art installations and watch people interacting in parks or along the canal. The view is off the charts." •

MXMA
www.mxma.ca
514-746-9057

Catlin Stothers Design
www.catlinstothersdesign.com
514-984-5122

Mobilia
www.mobilia.ca