PHOTOGRAPHY: LARRY ARNAL
STYLING: VANESSA EMAM
Designer Vanessa Emam and her husband knew what they wanted in their new home and their guidelines for the architect, Arcica Architectural Design Studio, were clear: They wanted the lines between indoor and outdoor "blurred," as Vanessa puts it.
"Direct access to outside was one of the requests – and lots of big, big windows," she says.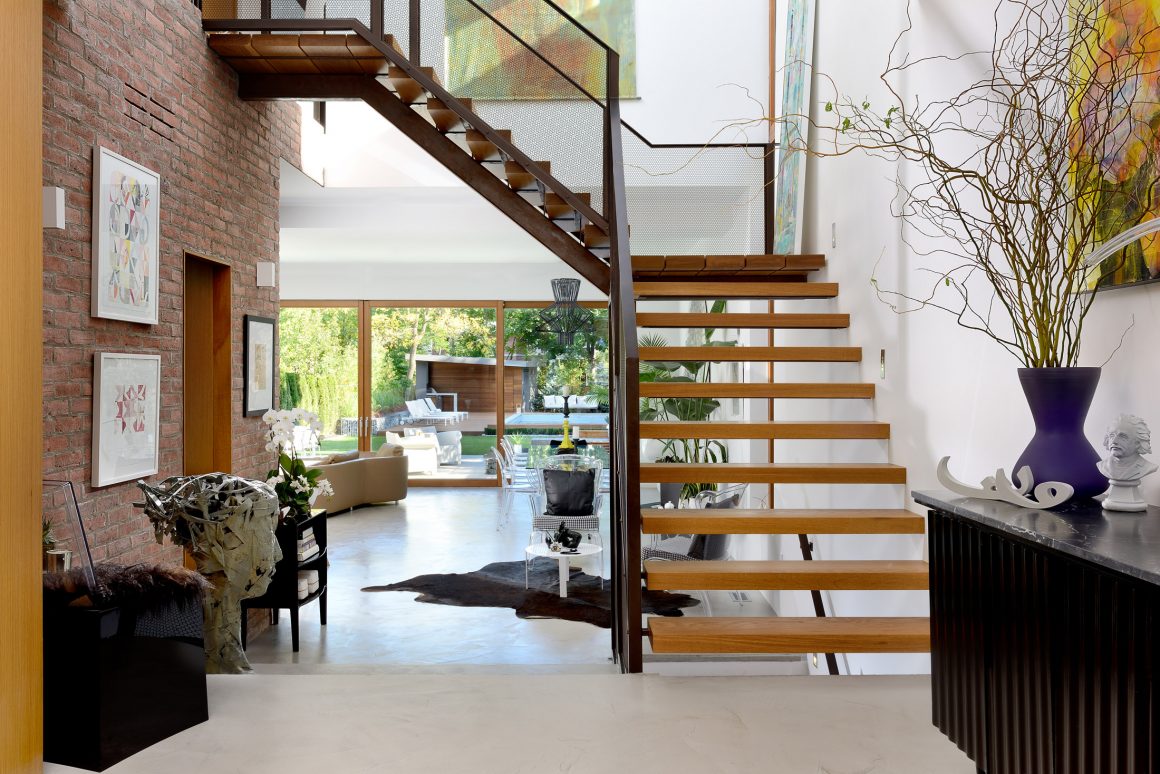 They also wanted a clean, minimalist look – and a house that would surprise. They got what they wanted.
From the outside, the two-storey structure, finished in smooth white stucco, looks "simple and square." When people enter, "that is where the surprise is," says Vanessa, a designer and principal at V+R Design Studio.
The house is a new build by builder Lawrence Park Development, but an exposed brick wall includes vintage bricks. It's a nod to the nearby Don Valley Brick Works, a former Toronto brickyard that has been transformed into a public space, Vanessa explains, and it's one way to introduce character to the space.
Another is through the judicious use of wood, from the wood-framed German tilt-and-turn windows throughout to the reclaimed wood flooring on the upper level. Plants wherever the eye is trained add texture.
"I love modernity, but I need to bring some history and warmth into the design," Vanessa says. "I really wanted to show that a modern home can be warm."
A few steps lead down from the foyer into a great room with 11-and-a-half-foot ceilings. "The idea was for it to be a loft style," she says. "That was our inspiration. We wanted a big room where everything happens: kitchen, dining, opening to the outside. We use this room all the time."
Floors on the main level are poured concrete, covered with a surfacing product to prevent cracking and to add warmth and texture. The homeowners had it coloured a soft grey.
A pair of rounded leather sofas adds curves to the great room space, as do an orb-shaped wood-burning fireplace suspended from the ceiling and a captivating round portrait created from magazine cutouts by artist Tad Biernot on the wall behind the dining table. "I really wanted round," Vanessa says. "We have this big box and we needed to bring in some circles."
A glass table and transparent Lucite chairs in the dining area are anchored by two end chairs upholstered in delightful fabrics referencing the cities of Milan and Shanghai. A little surprise. In her design work, "I try to have end chairs in the dining area different from the rest of the chairs," she says.
The kitchen space where Vanessa, her husband and their two sons take most of their meals features easy-care cork stools from Portugal. A wall of black, featuring cabinets and cooking area, stands at right angles to a bank of white cabinetry. The designer likes to feature two colours in the kitchens she designs. The white is repeated in the solid-surface island, the black in the durable porcelain around the cooking area.
Along the wall of black cabinets, a camouflaged door leads to a mud room. "People in the great room see us going through the door and think we're going into the kitchen cabinet," Vanessa laughs.
A leather towel strap in the powder room was created by designer Vanessa Emam and her shoemaker.


The master bedroom boasts a walk-in closet and dressing area.

Indeed, surprises abound and delight throughout – from a Japanese garden between the boys' bedrooms upstairs and a second-floor family room featuring a wood ceiling and small torch fireplace – "Our cozy cocoon room," Vanessa calls it – to an ingenious leather towel strap in the powder room created by the designer with her shoemaker. When clients see it, "they want the same," she says. "I like surprises with interior design – the unveiling, step by step, of different things."
For the railings of the floating staircase, with its three-inch-thick slabs of white oak, another designer might have used glass. "I didn't want a glass railing," Vanessa says. "Everyone has one. My husband and I are big fans of anything metal, so we decided to create a mesh railing for the staircase: It's just as see-through as glass."
Strips of LED lighting were applied to aluminum channels to light the staircase. Architectural metal staircase: Elite Iron Design, Mississauga.

Another surprise lies beneath the skylight at the top of the stairwell, where strips of LED lights in aluminum channels illuminate the space. "We needed to light it up," Vanessa says, "and I think it's a cliché to have a chandelier."
At the back of the expansive great room, wide doors that run almost to the ceiling lead directly to an exterior room complete with sofa, armchairs and dining area. Lines between the indoor and outdoor living spaces are blurred – just as the homeowners requested. •
V + R Design Studio
www.vplusrdesign.com
416-930-3407 ~ 647-883-0872
Arcica Architectural Design Studio
www.arcica.com
416-821-3960 ~ 647-705-3234