PHOTOGRAPHY: VALERIE WILCOX
STYLING: RANIA ISMAIL-CHERRY
The Junction Triangle home Heather Lewis bought with her husband was pretty much move-in ready when they got it, but even so, she was keen to put her own stamp on it. "I love neutral black-and-white spaces," says Heather, a principal designer and co-owner of Fohr Design Studio. So she started with paint. The semi-detached home is small, just 1,600 square feet, and has an open floor plan with windows in the front and back but none on the sides, so light was important. "The most drastic change (to the house) was just painting it," she says.
The original taupe/beige wall colour was replaced with Benjamin Moore's Oxford White.
Both Heather and her husband grew up in the west end of the GTA, and say they wouldn't choose to live anywhere else. So they jumped at the chance to buy a home that had been in their family, in this neighbourhood. They love the sense of community and being within walking distance to green space, restaurants and shopping. They also both share a similar design aesthetic, making it easy to match their styles.
Throughout the house, but especially in the living and dining areas, Heather mixed furniture and accents, and included some older pieces, some second-hand, with finds from stores such as Ikea, The Bay, HomeSense and Home Depot that didn't break the bank. "If you don't have a huge budget," she says, "you can mix things up, just like your wardrobe." The result is a style she calls modern eclectic, with a monochromatic palette. The couple kept most of their furniture from their previous apartment, including the sofa, which dates to her husband's former townhouse. "We didn't have to buy a lot of furniture, we wanted to work on the house, on the accessories and final details," she says.
Heather liked the footprint of the kitchen; it was practical, and easy for both her and her husband to share the space while cooking and entertaining. Replacing the cabinetry wasn't in their plan or budget, especially since it was in such good condition, so they had it painted, and replaced the backsplash with classic, white subway tile. "It was inexpensive, but we used contrasting grout that gave it a bit of a bistro effect," she says. As well, they added new, lighter countertops so the room wouldn't be too dark, and changed out the fixtures and hardware, choosing gold to accent the white and black. She even kept the appliances. The window, which directly faces the neighbours, was given a roman blind for privacy.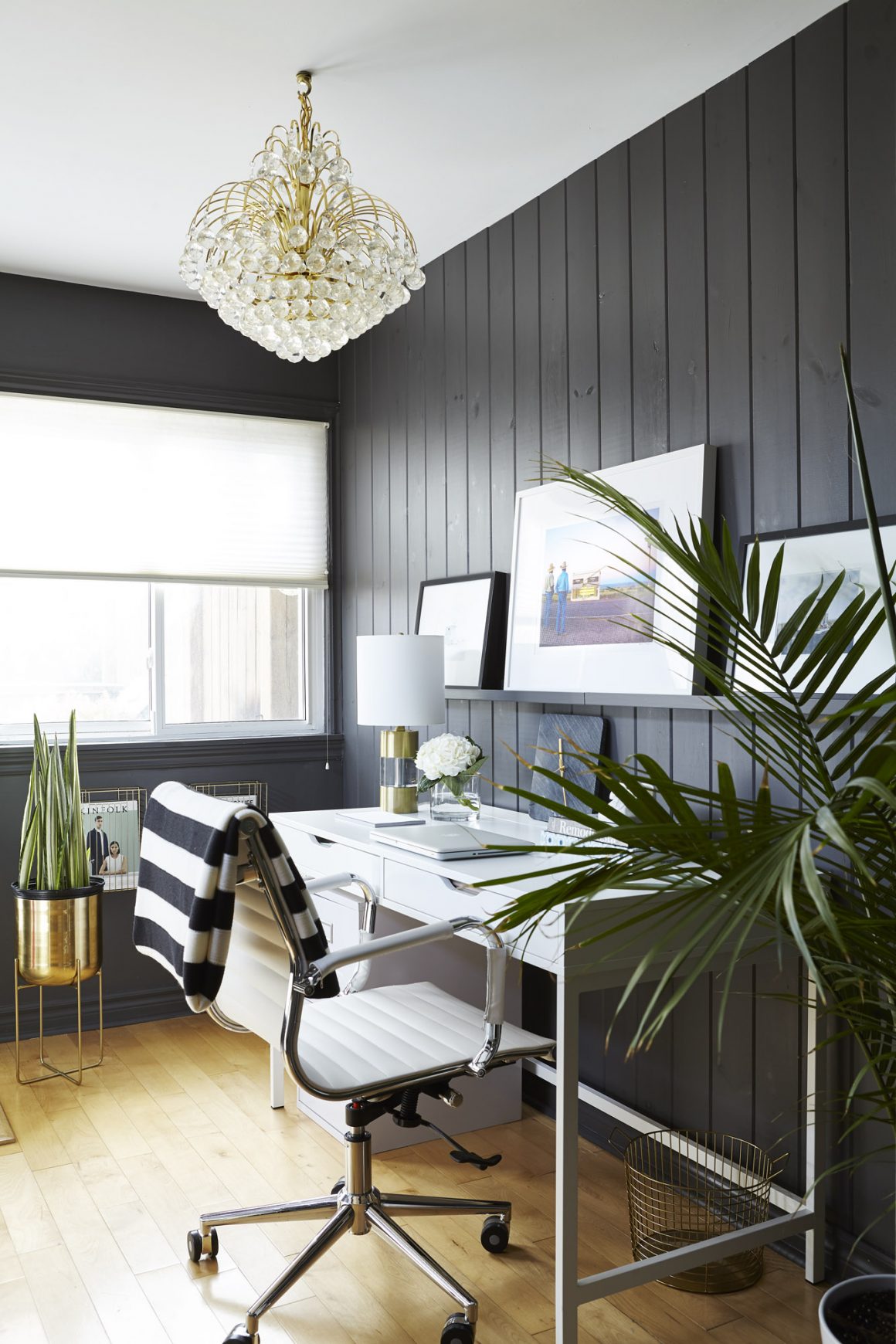 The master bedroom, guest room and office were located upstairs, but that changed when Heather got pregnant. To clear the way for a nursery, the couple moved the office downstairs into an addition that had been built previously at the back of the house. "We didn't really use that space before," Heather says. Now, in addition to being her work room, it's becoming daughter Clara's play space, so the room will probably be reconfigured again soon to make it more flexible and add storage for toys.
Since Heather didn't know the sex of her baby, she wanted to keep the nursery's design neutral. She avoided pastels, sticking to her black-and-white theme, knowing she could always add colour later. She chose the animal-print wallpaper because she found it fun and unusual. Because it's peel-and-stick, it can be replaced easily if they get tired of it or want to change it in case they have a second child.
"When Clara was born, I wanted to add some girly elements; that's where the gold pouf (footstool) came in," Heather says. "Since then, I've added a few pink things here and there."
Designing one's own home is a little different from working with a client, she says.
"I understand the uncertainty clients face. When you're designing for a client, it's easy to see what the best decision is," Heather says. "Designing for myself, it's a lot harder to make those decisions. But it's fun." •

FOHR DESIGN STUDIO
416.670.3047
www.fohrdesign.com