Photography: Brenda Liu
Styling: Kennedy McRae
The design of a new garden terrace in a downtown Toronto condominium was influenced by the building's sharp architectural lines.
"We made the arbour minimalist but angular in keeping with the building's linear style," says Kennedy McRae, project designer and a co-owner of Earth Inc., the company that created the space. "The cedar – which we used for all of the wood elements – will grey over time to match the building's concrete surfaces."
The terrace is connected to a condominium that is located in the lowest third of the the highrise building. It measures a spacious 25 by 25 feet.
Earth Inc. divided the space into distinct areas for barbecuing, dining and lounging without obstructing the outermost sightlines. "I never put any plants along the periphery because the planters would have to be a minimum of 42 inches high for safety reasons, and I really don't like anything in the way of people standing or sitting right at the railings to enjoy the fullest possible views," McRae says.
By using tall perennials, he created distinct zones without having to worry about the wind load associated with actual wall dividers.
Lilac-coloured hyssop (Agastache), globe thistle (Echinops), pink yarrow (Achillea millefolium), and purple coneflower (Echinacea), along with lime grasses, create vertical interest. Their slight wildness softens the strict lines of the building and arbour. "While each variety makes a nice impact within its own planted section, the overall looseness provides a feminine quality and balance to a predominantly masculine-oriented space," McRae says.
He selected perennials that flower for a long time but are able to withstand harsh outdoor conditions, including a cutleaf staghorn, a small variety of sumac.
McRae opted for galvanized steel planters to support the arbour structure because of the strength they offer. "The steel is also similar in appearance to the frosted glass panel
between this condo and the one adjacent to it," he adds.
The patio is further delineated by the dark pebbles between slightly spaced concrete slabs. "The beach stones open up the area a bit to make it feel like you're crossing over a bridge from one area to another," McRae says.
"I always advise clients on a limited budget to spend their money on the vertical interests that will make the biggest impact," he says. "They're as important as the art that we hang up inside our homes and, if done right, no one will notice a plainer walkway or planters." •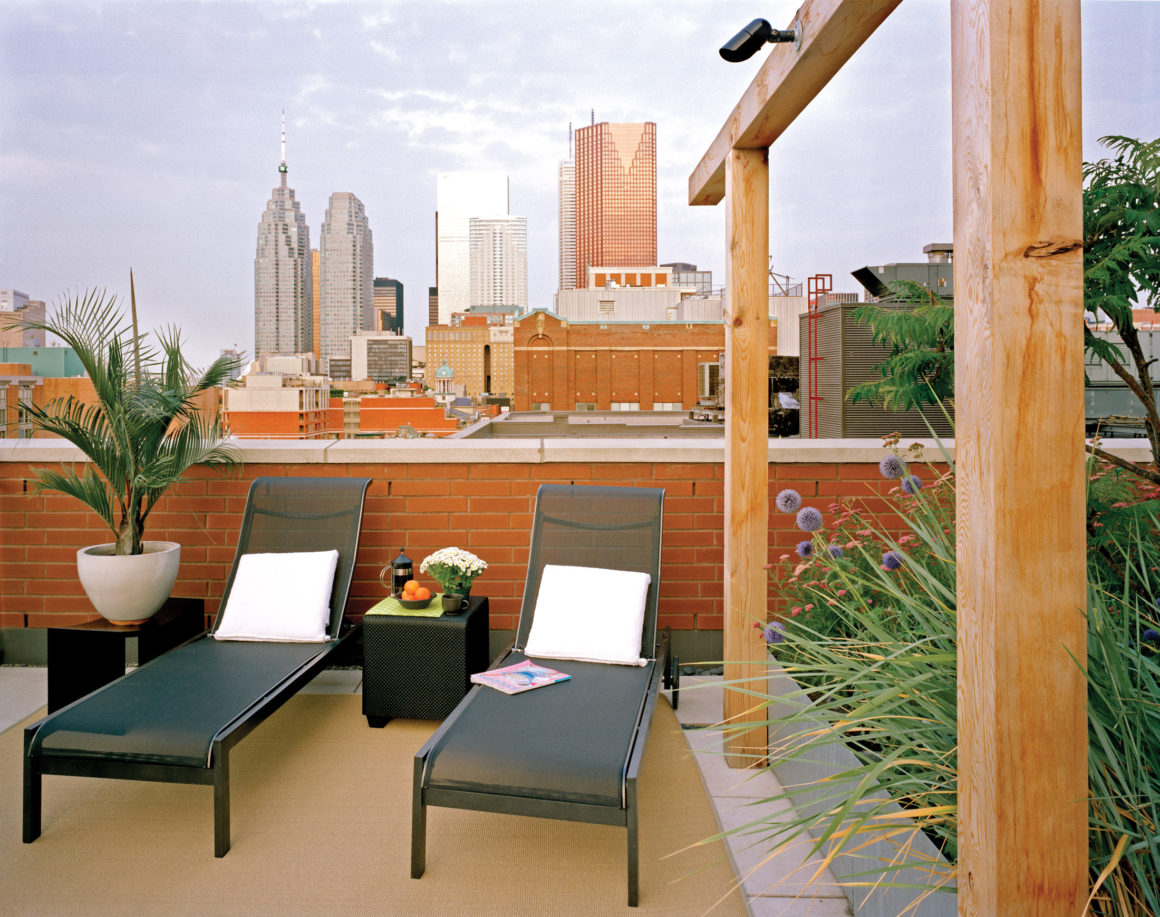 Originally published in the Autumn 2017 issue.
Earth Inc.
www.earthinc.com
416-216-0378