Novelist Isabel Allende contends that "real soup is to the body what peace is to the soul." It's the perfect food on a cold winter's day, as these experts readily attest.
Café Santropol
"It warms the heart," says Mary Lynn Munro, head chef at Montreal's Café Santropol. "A good bowl with bread and cheese makes a wonderful meal."
Santropol's kitchen switches to robust flavours in the autumn with root vegetables and such hearty seasonings as coriander, sage and paprika. It's also time for beef or vegetable-barley.
Curry is another winter favourite with sweet potato and almond butter, or cauliflower and lentils. "Our palates are so worldly nowadays," Munro says. "People travel and taste extensively, and exotic ingredients are readily available at local stores."
Good soups are made in stages, she says. "The base – onions, celery and garlic – must first be cooked well," she explains. "Then include the spices and, after that, build up the stock, adding vegetables and/or meat depending on how they cook so they don't become mush."
Aroma is key. "It sparks good memories for most of us," Munro says. "It also encourages appetite in people not feeling their best."
Leading nutritionist Julie Daniluk can't say enough about soup's healing qualities. She credits soup for playing a major role in her recovery from post-infectious colitis and joint pain. "Anyone with digestive issues should consider switching to soups and stews," she says. "And many vegetable nutrients become more bio-accessible when cooked."
Daniluk's Hot Detox approach incorporates traditional Chinese wisdom of warming energetically cooler food, such as tomatoes, so that the stomach easily processes it. "There's been a shift toward raw food because of its higher enzymes but that approach comes from warmer places like Florida and California," Toronto-based Daniluk explains. "We need a diet suited to our climate: salads and fruit in summer but leaning into soups come winter."
Enjoying a cornucopia of colours is a nutritious practice. "Vitamin A foods tend to be orange, vitamin B is found in greens, while vitamin C foods are often red, such as a red pepper soup," Daniluk says. "In order to maintain water-soluble nutrients, it is important to not overcook the soup."
Ginger, turmeric and other spices not only heat things up but have anti-inflammatory benefits. "And science is now finding that bone broth provides amino acids that may nourish our digestive lining to heal us faster," she says. "That's why taking soup to an ailing friend is usually the best gift."
Bone broth may have been sipped as far back as the Neanderthal days, some 28,000 to 200,000 years ago, according to archeologist John Speth, professor emeritus of anthropology at the University of Michigan. Soups as we more commonly know them probably came into existence between 5,000 to 20,000 years ago, once leak-proof containers could be fashioned.
Over recent centuries, soups have been a great equalizer with both rich and poor having the means to cook them or buy a bowl. The first restaurant, according to Larousse Gastronomique, opened in Paris circa 1765 when a soup salesman named Boulanger allegedly posted a sign reading, Boulanger débite des restaurants divins (Boulanger sells restoratives fit for the gods). His claim led to the word 'restaurant' being derived from restaurer – to restore – in reference to the broths he considered capable of rejuvenation.

Soupa Café
Offering nutritious food at affordable prices is why Carly Murray and Avi Lugassy run Soupa Café in Victoria. "It's a way for us to do what we love in service to the community," Lugassy says.
The couple inherited about 100 recipes from the souperie's previous owners, and Murray has concocted another dozen. The chicken stew, Boston clam chowder and cream of broccoli are winter favourites.
Murray roasts and spices vegetables to intensify their flavour before they are boiled.
Daily vegan, dairy-free and gluten-free options have her being quite creative, something that began while she was vegetarian for several years. "Our African peanut soup is another winter favourite, with yams, tomatoes, peanut butter and peanuts, coconut milk, curry and a touch of cayenne," she says. "So is the red lentil mulligatawny."
While it might not be as cold in Victoria as in other parts of Canada, Soupa Café's locations are packed on rainy days. "People want something to warm them up and remind them of home," Lugassy says. "We've had some customers declare that no one makes soup better than their mom and then change their mind once they've tasted ours but, no worries, we won't tell on them."
Kitskitchen
Of course, it always depends on the mom. Joni Lind gives her mother, Wendy, full credit for making soup integral to her life. "I grew up on her delicious soups," says the co-owner of Kitskitchen in Vancouver. "It's her recipes we use."
When Lind returned from London, England, not feeling well, her mother, who also takes a Traditional Chinese Medicine approach to balancing food, suggested incorporating more soup into her meals. "I almost immediately had an easier time digesting, regained my energy, and even moderated my weight," Lind recalls.
When her former coworkers smelled the soups she took to work for lunch and saw how great she felt, they left money on her desk to ensure she cooked enough for their lunches, too. "That's when I asked my long-time friend, Amy Kaye, to help me to sell these soups to stores," Lind says.
The butternut squash with a spicy ginger kick is a big winter seller, as is the yam and coconut with chili, garlic and lime. "I love a splash of citrus," Lind says. "It gives the soup a fuller taste all the way to the back of your mouth."
Lind prefers simmering to boiling whenever possible to give the ingredients' flavours an opportunity to combine. "The ingredients used makes the biggest difference," she says.
She follows in her mother's habit of cooking soup every Sunday at home to fill the house with aromas and to eat well all week. "When you're not feeling your best for whatever reason, soup is the ultimate comfort food," she says. "There's an emotional connection to every family's traditions and that warm goodness." •
…………………………..
Recipes
…………………………..
Soupa Café's Leek and Potato Soup
INGREDIENTS:
1 tbsp butter
4-5 stalks of asparagus
2 cups of peeled diced potatoes
2 stalks of diced leeks and greens
1/2 bunch of diced kale
Salt should be added to taste
White and black pepper to taste
8.5 cups of water
DIRECTIONS:
Melt butter in pot and sweat leeks and greens and asparagus until tender, add a pinch of salt during this process. Next add the water, diced potatoes, salt, white pepper and black pepper and bring to a boil. Reduce heat and simmer until the potatoes are tender, then add kale and remove from heat, once kale is tender, serve and enjoy.
…………………………..
Kitskitchen's Hearty Chicken Curry Soup
(Dairy-free, wheat-free, serves 6)
INGREDIENTS:
1 tsp cooking oil
2.5 cups chopped yellow onion (big chop)
3.5 cups chopped potatoes (big chop)
2 cups diced carrots, bite size
1.5 tbsp dill, fresh or dried
1.5 tbsp mint, fresh, chopped
0.75 tbsp curry powder
0.75 tbsp – masala powder
0.5 tbsp – sea salt
7 cups – distilled water
1.5-2 cups – brown rice, cooked
2 cooked & shredded chicken breasts
DIRECTIONS:
• Sauté onions and potatoes, mixing in all spices and salt.
• Add the water, cover and bring to a boil. Using an immersion blender or countertop blender, blend this mixture to create a puree.
• Sautee the carrots, seasoning with a small amount of salt, until they're soft. Transfer the blended mix back into a pot and add the carrots and herbs to the blended mix.
• Combine the brown rice and shredded chicken breast to the puree mix. Add salt and pepper to taste.
…………………………..
Kitskitchen's Cracked Pepper and Mushroom Soup
(Wheat-free, vegan, serves 6)
INGREDIENTS:
1.5 cups cooked buckwheat
2.5 cups Cremini mushrooms, sautéed
1 tsp cooking oil
2.5 cups chopped yellow onion (large chop)
1.75 tbsp pressed garlic
2.5 tsp fresh thyme
3 tsp sea salt
1.5 tsp cracked pepper (we like fresh, strong pepper)
2.25 cups chopped mushrooms
3.5 cups chopped yellow potato
7 cups distilled water
DIRECTIONS:
• Combine ingredients #3 – #9 in a large pot over medium heat. Stir until onions are transparent, between 5-10 minutes.
• Add potatoes and water. Cover, and increase heat.
• Once potatoes are soft (check by piercing one with a fork), blend with immersion blender or transfer to a blender (tip: cool the mixture slightly before blending). Blend ingredients until a smooth consistency is achieved.
• If blended in a blender and not an immersion blender, transfer contents back into pot.
• Fold in ingredients #1 and #2 and stir. Add salt and pepper to taste.
…………………………..
Kitskitchen's Simple Dairy-Free Potato Leek Soup
(Wheat-free, serves 6)
INGREDIENTS:
7.5 cups chopped leeks
1 tsp olive oil or butter
5 cups chopped yellow potatoes
8 cups chicken broth (option to split this: 4 cups chicken broth and 4 cups water), or vegetable broth for a vegan version
1.5 tsp sea salt
DIRECTIONS:
• Combine oil/butter and chopped leeks in a large pot. Stir over medium heat until leeks are wilted. Sprinkle in the salt, and stir again.
• Add the potatoes, chicken broth (and water, if split).
• Cover and increase the heat. Bring to a light boil until potatoes are soft.
• Use an immersion blender to blend until smooth. If you do not have an immersion blender, use a blender (let the mixture cool before blending if using a counter top blender).
• Salt to taste.
…………………………..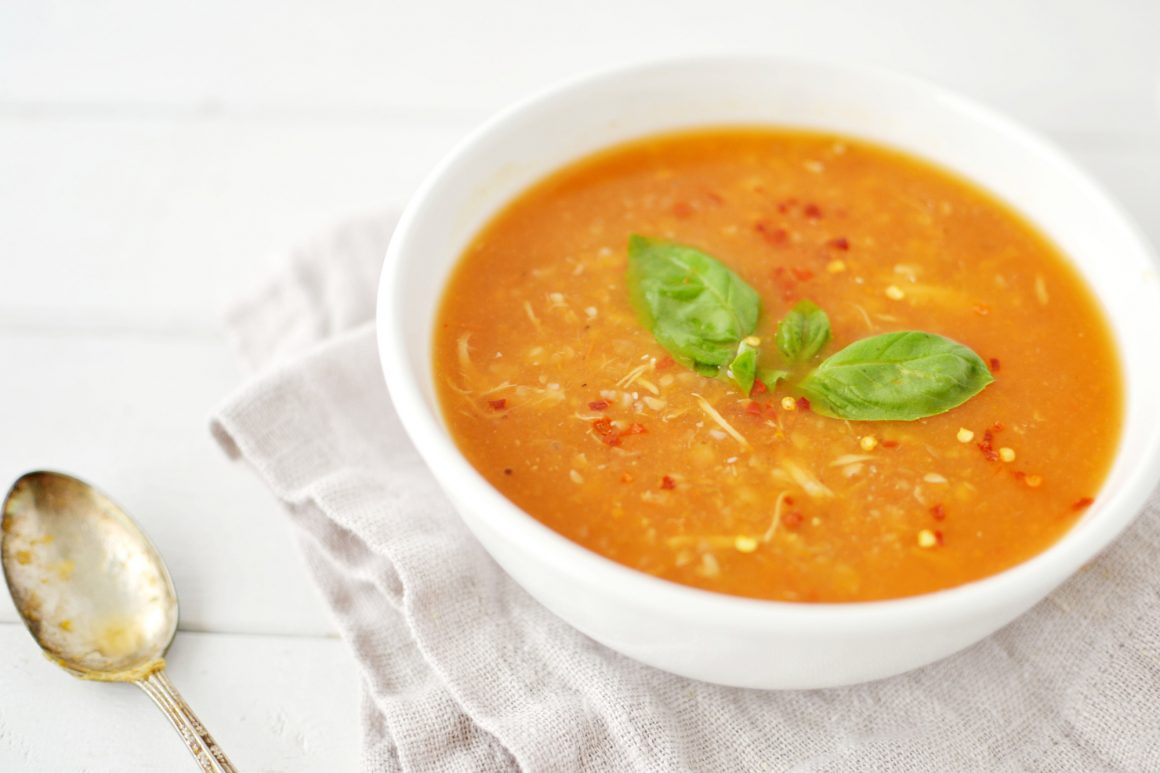 Kitskitchen's Spicy Tomato and Chicken Soup
(Wheat-free, dairy-free, serves 6)
INGREDIENTS:
1. 1 cup chopped red pepper (about 1 whole)
2. 2 cups chopped yellow onion (big chop)
3. 2 tbsp pressed garlic
4. 1.5 cups chopped carrot
5. 5 cups chopped tomatoes (big chop); (we like ripe, local field tomatoes)
6. 5 tbsp fresh basil
7. 1.5 tsp fennel seed
8. 0.5 tsp chili flakes
9. 4 tsp sea salt
10. 1.5 tsp crushed black pepper
11. 1 tsp dried thyme
12. 4 cups distilled water
13. 1.5 cups cooked buckwheat (or rice or quinoa)
14. 2 cooked & shredded chicken breasts
DIRECTIONS:
• Combine ingredients #1- #12 in a large pot over medium heat. Cover and bring to a boil, then turn the heat down to a simmer and cook the vegetables until they're soft.
• Using either an immersion blender or countertop blender (ensure the mix has cooled slightly to prevent blender explosions), blend this mixture to create a puree/base.
• Combine the pureed mixture with the last two ingredients; add salt and pepper to taste.
…………………………..
Julie Daniluk's Hot Detox Butternut Squash Soup
Both traditional Chinese medicine and Ayurveda promote quashing your sweet cravings by adding naturally sweet, highly nutritious orange foods to a recipe. Butternut squash is a great example, with its deep-orange-coloured flesh and sweet flavour. It's filled with alpha- and beta-carotene, powerful antioxidants and anti-inflammatory agents.

INGREDIENTS:
1 large butternut squash (about 6 cups)
2 tbsp coconut oil
1/2 tsp pink rock or grey sea salt
1 tsp organic lemon zest
1 tsp organic lemon juice
1⁄8 tsp ground cinnamon
1 tsp coconut nectar or honey
1 tsp pure vanilla extract
1 cup bone or vegan broth
1 1⁄2 cups organic coconut milk

DIRECTIONS:
1. Preheat the oven to 350°F.
2. Halve the squash lengthwise, and remove the seeds and stringy matter. Rub the insides and cut surface with coconut oil, and season with salt.
3. Place cut side up in a roasting pan, and bake for 1 hour or until fork-tender.
4. Remove the squash from the oven. Scoop out the flesh and place in a food processor.
5. Add the lemon zest, lemon juice and coconut oil, and coconut nectar and vanilla if using. Puree until smooth.
6. Add the cinnamon, and more salt to taste, and pulse a few times to mix well. Serve as a puree.
7. To make this into a soup, place the puree in a saucepan. Stir in broth and coconut milk, and heat until simmering.
Makes 4 cups puree or 10 cups soup. Keeps in the fridge for up to 1 week.

Recipe reprinted with permission by Julie Daniluk RHN and Harper Collins Canada
…………………………..
Kitskitchen
www.kitskitchen.ca
778-968-1987 ~ 778-855-0841

Café Santropol
www.santropol.com
514-842-3110

Soupa Café
www.soupacafe.com
250-380-0856

Julie Daniluk
www.juliedaniluk.com