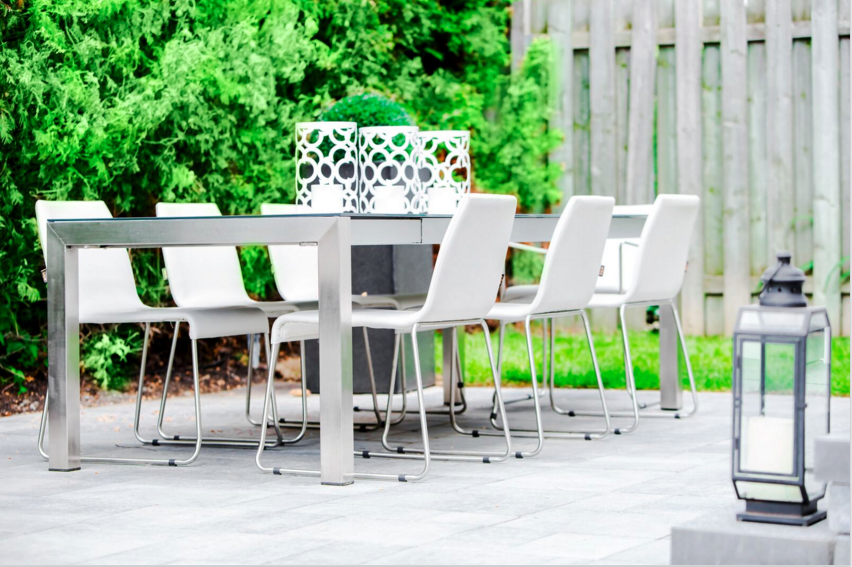 BACKYARD BLISS
A new outdoor room becomes a focus for entertaining
BY PHILLIPA RISPIN
PHOTOGRAPHY: DREW HADLEY
STYLING: JEAN MONET
This suave and contemporary backyard was a mundane patch of grass and concrete just one summer ago. "It was really a mess," says Vic Bertrand bluntly. Bertrand, the president of full-service landscaping company Northstone, describes the area's 2,000 square feet as an unappealing concrete patio and "just grass, weeds, shrubs."
Homeowner Howard Codas says the family "usually hung out inside the house." But they wanted better.
"We love to entertain, to sit outdoors, cook outdoors, drink outdoors and have people over," Howard says. "We enjoy our nighttimes as well, so we wanted something that was great for nighttime entertaining, nighttime parties, nighttime barbecuing – all that type of stuff."
For that kind of life, the family needed an outdoor room. And Howard was certain of the style. "We're pretty modern," he says. "We like greys, whites, blacks." He even knew that he wanted "stone that was not grainy or veiny."
He turned to Northstone because "they're young," he says. "They understood what I was trying to do. And they were able to complete it fast because I wanted to enjoy my summer."
It was fast indeed. Northstone started and completed the project in three weeks. Despite the simplicity of the original space, the going wasn't entirely easy.
"What was difficult about Howard's backyard was the access," Bertrand says. "Like many homes in Hampstead or Westmount or TMR, where we work, there's often tight access. We had a two-ton excavator versus a five-ton. We had no skidsteer; we had to use a gas wheelbarrow instead.
"Breaking that concrete patio, which was part of the foundation of the house, that took three guys three days with equipment. Howard's project was difficult in terms of site preparation, but once the site was prepared, it was smooth from there."
The construction process was also hastened because Howard had previously had a plan drawn up that accommodated all the features he and his wife wanted. They had already bought a barbecue, and a fridge and freezer for the bar they envisioned.
The space that resulted from those three busy weeks in June is a multi-level outdoor room. Having various levels adds character to the landscape and breaks up sightlines, says Bertrand. It also helps to delineate distinct areas of activity. Closest to the house is the outdoor kitchen, incorporating the barbecue, and dining area. Between it and a lounge area that is centred around a firepit is the bar. The spa beyond the lounge area is used by the family year-round.
Howard and family are now into their second summer enjoying their outdoor room. "We have people outside almost every night, drinking scotch or tequila or wine, just sitting around," says Howard. "We have the fire going if it's cold, and we have electric infrared heat lamps also to keep us warm. Pretty much every night there's someone there having drinks or cocktails or making a barbecue, and we use the hot tub a lot. It fits our lifestyle totally."