COSENTINO PARTNERS WITH DINNER BY DESIGN IN CALGARY
New Silestone Eternal collection plays prominent role in western design community's design event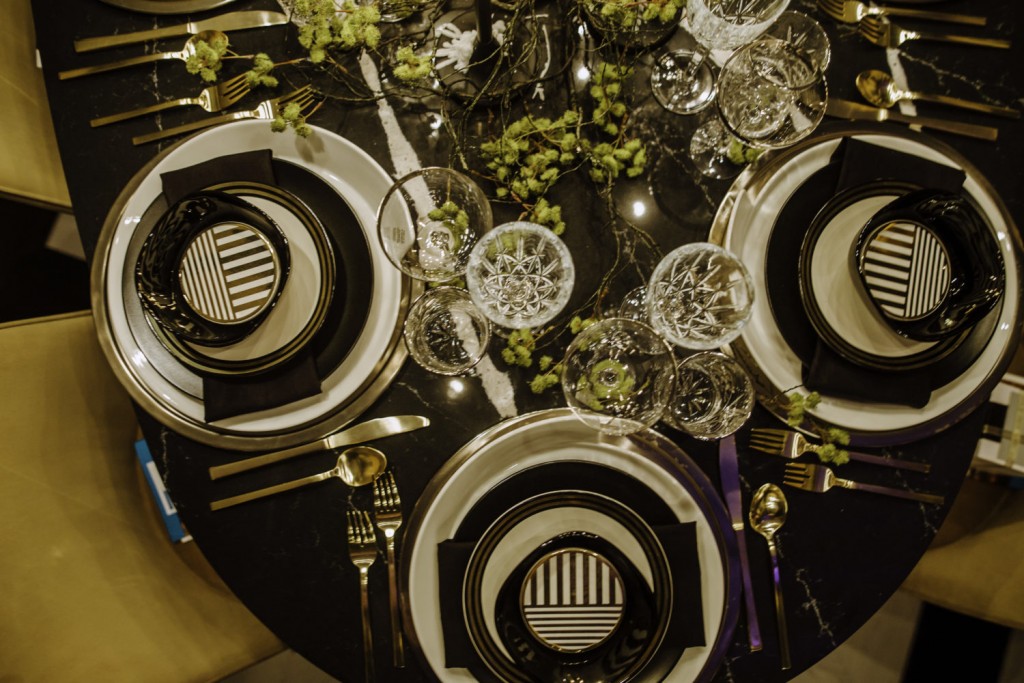 CALGARY – June 12, 2017 – Cosentino, the global leader in the production and distribution of innovative surfaces for architecture and design, recently partnered with Dinner by Design as the event's Presenting Partner for the second consecutive year. Hailed as the Met Gala of Calgary, the affair took place on June 1st and 2nd at the Chinese Cultural Centre and welcomed over 750 design enthusiasts over the 2-day period.
This year, Cosentino joined creative forces with three of Calgary's leading design firms; Rochelle Cote Interior Design, Smitherickson Designs and Dade Loft. Each of the three designers created their own unique and elaborate table settings using surface elements from Silestone by Cosentino's new Eternal Collection, which recently launched in Canadian market earlier this year.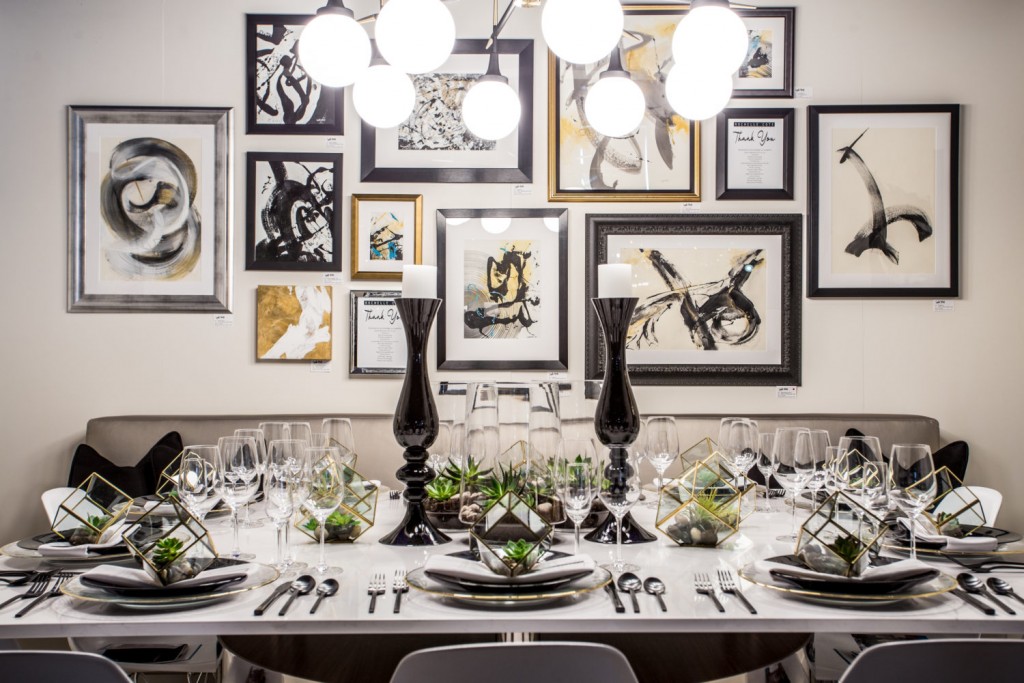 "Our concept was to create a gallery-like dining room as the neutral backdrop for some great art. We had white hardwoods, white walls, and Silestone's Eternal Statuario as the white background. It was very current and fresh looking, and fit in with our contemporary tablescape beautifully," said Rochelle Cote, Owner of Rochelle Cote Interior Design.
Designers from Smitherickson Designs and Dade Loft chose to work with a slightly darker colour palette, using Silestone Eternal Marquina as the backdrop for their tablescapes.
"We chose Eternal Marquina because of the dramatic high contrast in colour and the natural movement that replicates the true marble. We wanted our table to be a bold statement piece and the Marquina lent well to the design style for our table scape, highlighting high-end finishes," said Stephanie Smith, Principal Designer at Smitherickson Designs.
"This year was our first time participating in Dinner by Design and we wanted to take the opportunity to create a unique dinning installation, rather than just a dining room. We were quickly drawn to the contrast of the black and white in the Eternal Marquina and in particular the suede (matte) finish, which worked beautifully with our black stained pavilion and black monkey light installation," said Greg Fraser co-owner of Dade Loft.
Additionally, a slab of Silestone by Cosentino in Magenta Energy was custom fit to top one of the main bar areas, adding a sophisticated pop of colour to the event space.
This is the second year Cosentino has partnered with Dinner by Design in Calgary. The 2-day event brings together international and local design talent to create three-dimensional elaborate dining installations. Open to the public, the event consists of a Cocktail Art party and a gala dinner with a portion of the proceeds raising funds for art and design-focused not for profits including ACAD (Alberta College of Art + Design) and Contemporary Calgary.
"We're very proud to sponsor such an amazing event for the Calgary design community.  We were impressed with how the designers we partnered with incorporated the Eternal Collection into their tablescapes, showing the diversity of design ideas with each installation," said Massimo Ballucchi, Marketing Director for Cosentino North America.
For high resolution images of the Dinner by Design designer table scape installations featuring Cosentino products, please contact Erin McKay at erin@flyingcamel.com.
About the Cosentino Group
The Cosentino Group is a global, family-owned company that produces and distributes high value innovative surfaces for architecture and design. As a leading company, Cosentino imagines and anticipates together with its customers and partners design solutions that offer value and inspiration to people' lives. This goal is made possible by pioneering brands that are leaders in their respective segments such as Silestone®, Dekton® and Sensa by Cosentino®. Technologically advanced surfaces, which allow the creation of unique designs for the home and public spaces.
The group bases its development on international expansion, an innovative research and development program, respect for the environment and sustainability, and its ongoing corporate commitment to society and the local communities where it operates, education, equality and health & safety.
The Cosentino Group currently distributes its products and brands in more than 80 countries, from its headquarters in Almeria (Spain). Currently Cosentino is present in 32 countries, with its own assets in 29 of them. The group has seven factories (six in Almería (Spain and one in Brazil), one intelligent logistic platform in Spain, and more than 120 commercial and business units throughout the world. More than 90% of Cosentino Group's financial turnover comes from international markets.
Cosentino has five centres in the Canadian market, created for exclusive display, distribution, education and service in Montreal, Stanstead, Toronto, Calgary and Vancouver. https://www.cosentino.com/en-ca/
Cosentino Canada Newsblog: https://www.cosentino.com/en-ca/blog/
Media Contact: For more information, please contact Erin McKay at Flying Camel: (416) 455-9960 or via email erin@flyingcamel.com