For most people, having an in-house artist means tacking a few children's drawings onto the fridge. But this east-end condominium has become a showcase for work by the owner's spouse, an artist from Miami who has brought those South Beach-inspired hues north to Montreal.
Located on two storeys of a 1931 building, the two-bedroom condo is a blend of restored historic touches set off by modern decor, all of it bathed in colours that reflect those on its many canvases.
"The property has a very homey feel to it," says Marie-Josée Rouleau, a real-estate broker with Sotheby's International Realty, who recently listed the property for sale.
"It's like walking into a story. And, now that you've arrived, you can make the story begin. Everywhere you look you have history, but it doesn't feel like it's stuck in the past," she says.
The building's history has been reflected in its renovation and its decor. The original wooden baseboards and doors have been restored, as have the floors, which are both hardwood and concrete. Furniture and accents range from contemporary to mid-century and older, and they blend together easily.
The main floor includes a living room with fireplace, powder room, dining area and kitchen, with an island and extra-large pantry. The deep blue of the kitchen's cabinets and coral backsplash are mirrored in the colours of the room's art showpiece: a painting of a Volkswagen bus.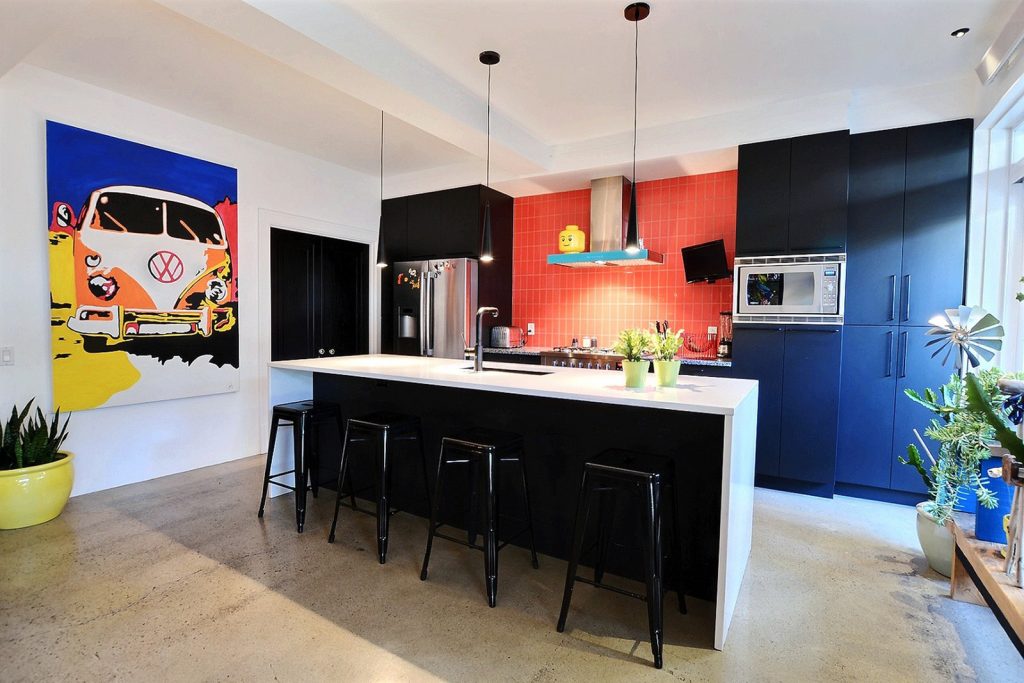 That same painting's yellow tone is reflected in the chairs of the dining set. Next to that dining area, a large black light fixture with multi-coloured glass shades dominates the open staircase of wide wood risers.
The whole area is surrounded by a metal railing that leads down to the half-basement level. On that lower level, wood-beamed ceilings and old wood sliding barn doors bestow a historic look on the main bedroom and another area that can be used as a second bedroom or living space.
The main bath, though, looks anything but vintage. Its sleek black-tiled walls, freestanding tub and glass shower are contemporary in style.
But there is a yesteryear touch here, too, one that's not immediately apparent. The black-and-white upholstered benches in the centre of the room might look very modern, yet they have been restored from the original home.
Being on the ground floor, the condo has access to its own outdoor space as well, with another feature that makes it atypical.
Sliding glass doors lead to a garden, with a seating area that comes complete with its own small, private pool. "It's like a Montreal heated oasis," Rouleau says. It's one more element borrowed from South Beach that feels perfectly at home in Montreal.